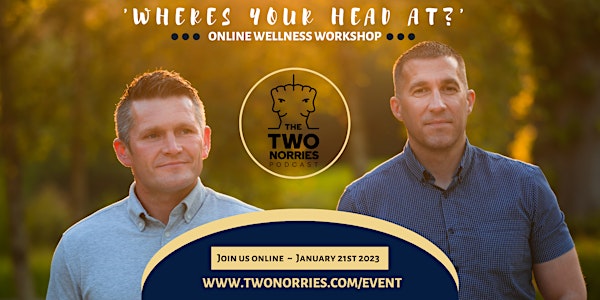 The Two Norries - "Where's Your Head at?" Wellness Workshops
Together with Timmy & James you will take time out from your busy life to focus on yourself and take charge of your own mental health
Refund Policy
Refunds up to 7 days before event
About this event
The Two Norries podcast, hosted by James Leonard and Timmy Long is the first show of its kind in Ireland. Focusing on trauma, mental health, addiction, recovery, overcoming struggles and much more, The Two Norries address and deal with the challenges and realities of life through personal storytelling, experience and education.
Now, they are sharing their own learnings with you in a series of Wellness Workshops
"Wheres Your Head at?"
Together with Timmy & James you will take time out from your busy life to focus on yourself and take charge of your own mental health journey, while they share how they overcame challenges and how they maintain their own mental wellness in an ever challenging world.
Learn Life Skills & Techniques
Improve energy, reduce stress, Improve your focus
Learn 'wellness' techniques to use every day to improve your own life.
Discover your own mental health journey, through a deeply personal experience.