The TV of Tomorrow Show 2010 + [itvt] EBIF Intensive

Wednesday, March 3, 2010 at 8:00 AM

-

Friday, March 5, 2010 at 6:00 PM (PST)
Event Details
InteractiveTV Today [itvt] is pleased to present the fourth annual
TV of Tomorrow Show 2010
The first three TV of Tomorrow Shows were praised by sponsors, speakers, exhibitors and attendees not only as true experts' conferences that attracted a veritable "who's who" of the interactive TV industry, but as offering a thoroughly unique and enjoyable experience.
We are working hard to ensure that the TV of Tomorrow Show 2010--which is already attracting an array of high-powered speakers and which will feature a line-up of fascinating entertainments--is even better.
Dedicated Site for TVOT 2010
http://www.thetvoftomorrowshow.com

TVOT 2010 Show Dat
es
March 3-4, 2010 (Wednesday-Thursday)
March 5, 2010 (Friday - EBIF Intensive Only)

Location
Yerba Buena Center for the Arts, 701 Mission Street (Corner of 3rd & Mission), San Francisco, CA
Hotel Arrangements
If you have questions about accommodations in San Francisco that are convenient to the Yerba Buena Center for the Arts, please emai us at  hotels@itvt.com.
Photos from Previous Years of TVOT
For an extensive gallery of photos from the TV of Tomorrow Show 2009, click here:
http://itvt.com/TVOT2009_Images/attendees

For an extensive gallery of photos from the TV of Tomorrow Show 2007 and 2008, click here:

http://www.flickr.com/photos/67523235@N00/
Topics We Will Explore this Year at TVOT 2010

[itvt] will publish the complete schedule of TV of Tomorrow Show 2010 editorial sessions and special events shortly (note: to view the schedules for TVOT 2007, 2008 and 2009, click here). The show will feature a mix of keynotes, panels, debates, general sessions, in-the-round sessions, new technology presentations, and more. Some of the issues to be explored include:
Recent and pending developments in interactive TV standards and initiatives, such as tru2way/OCAP, ETV/EBIF, Canoe, MHP, Canvas, HbbTV, OIPF and MHEG.
Reports from the field: How ETV and tru2way are fairing in the real world.
IP-based alternatives to tru2way for smaller operators.
The emerging interactive TV widget space.
The impact of new interactive broadband video applications (hotspotting, overlays, image tracking, etc.) on the interactive TV space.
The re-emergence of tcommerce/vcommerce as a content-monetization strategy.
Over-the-top TV/"cutting the cord": the emergence of CE manufacturers as content providers and distributors, and how this impacts traditional pay-TV.
TV Everywhere and the prospects for re-establishing paid content models in an age of free online content.
The significance of the iPhone and other smartphones for the interactive TV space, both as a means of interacting with content on the TV and as a platform in their own right.
Augmented reality, tablet devices, cloud-based computing and other newly emerging technologies with the potential to impact the interactive TV space.
Interactive TV and audience measurement.
New tools for creating and delivering interactive and multiplatform televisionSocial TV: the intersection of television and Web 2.0/social-networking platforms.
Next-generation DVR- and VOD-based interactive TV experiences.
New technologies and initiatives for interactive and on-demand cross-platform, targeted advertising.
The future of metadata.
The impact of interactive broadband video on the Internet infrastructure.
The future of multiplatform interactive gaming.
The future of participation TV.
Building multiplatform relationships with viewers.
Interactive TV and alternate reality gaming (ARG).
Interactive storytelling.
Strategies for growing interactive TV-related businesses in a slow economy.
The impact of 3D and other new display technologies on interactive TV.
Emerging paradigms for content discovery and navigation.
The practicalities of interactive content development, deployment, and tracking.
Emerging business models for cross-platform interactive media.
Cross-platform interface design strategies.
To discuss the TV of Tomorrow Show, or to give us feedback and suggestions (including new technologies you would like to see showcased and topics you would like to see discussed), email Tracy at swedlow@itvt.com.
[itvt] EBIF Intensive
Special Supplemental Event - See Ticket Information Above
EBIF Intensive is a special one-day workshop/dialog event that will take place in San Francisco's Yerba Buena Center for the Arts on March 5th, the day after The TV of Tomorrow Show (March 3rd and 4th). EBIF Intensive is designed to give interactive TV industry stakeholders a unique opportunity to engage in productive dialog with Canoe Ventures and CableLabs, the two organizations tasked with developing and implementing the US cable industry's vision for interactive TV based on the Enhanced TV Binary
Interchange Format (EBIF), and marks the first time that those organizations have participated in such a dialog-driven event. Participants will learn how to work with Canoe Ventures and CableLabs to realize their interactive TV roadmaps.

Participants will not only gain an in-depth understanding of the US cable industry's plans for implementing EBIF-based interactive TV, but--through questions, feedback and frank, face-to-face discussions--will have a voice in shaping those plans. If your company is planning to launch interactive TV programming, advertising, applications or services on US cable platforms, you need to attend this event.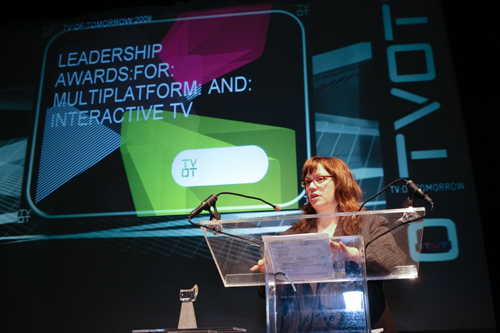 [itvt] Awards for Leadership in Multiplatform Interactive Television
[itvt] will present our prestigious annual Awards for Leadership in Interactive and Multiplatform Television at an evening ceremony at the TV of Tomorrow Show 2010. The awards, which debuted at the NCTA National Show in 2004, recognize both corporate and individual achievement in the multiplatform interactive TV space. We will begin accepting nominations for the awards shortly: the winners will be determined by [itvt] readers and a panel of industry experts through a rigorous voting process.
This year we are also introducing the
Click Awards
,
a new sub-category of the Awards for Leadership in Interactive and Multiplatform Television
. Initially, they will recognize creative excellence in three emerging areas of broadband/Internet video:
Interactive video programming (i.e. programming that includes annotations, hotspotting, and other forms of clickable video);

Interactive video advertising/marketing;

Interactive video commerce (vcommerce).
Show Sponsorship & Exhibition Inquiries
The TV of Tomorrow Show offers several different sponsorship levels, each designed to ensure maximum marketing exposure for your company--at the event itself, in the [itvt] newsletter, and in our talk radio show. If you would like to find out more about sponsoring the event, email us at sponsors@itvt.com or call 415-824-5806.
The TV of Tomorrow Show's exhibit floor is located in an area that is highly trafficked by the event's attendees. Exhibit space is limited and we are assigning it on a first-come-first-served basis. So to guarantee that your company will have a booth at the show, please contact us as soon as possible at exhibitors@itvt.com or 415-824-5806.
Speaker Submissions
[itvt] is currently in the process of assembling an impressive line-up of speakers and moderators and will be announcing more details about this in an upcoming issue. If you are interested in applying for a speaking position at the event, email us at speakers@itvt.com or call 415-824-5806.


Art Exhibit
The show will once again feature a curated exhibit of contemporary artworks that exemplify the theme, "TV of Tomorrow." If you are an artist interested in participating in the exhibit, please see our CALL FOR ARTISTS.


Contact Us

Conference: please contact Tracy Swedlow at swedlow@itvt.com or 415-824-5806.
Press: please contact Pam Kulik at pam@dialogikdigital.com or 310-694-3135.
When & Where
701 Mission Street
Corner of 3rd & Mission Streets
San Francisco, 94103


Wednesday, March 3, 2010 at 8:00 AM

-

Friday, March 5, 2010 at 6:00 PM (PST)
Add to my calendar