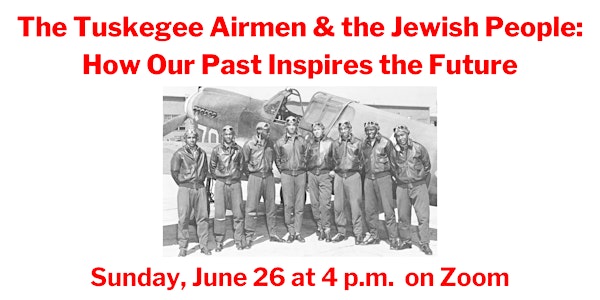 The Tuskegee Airmen & the Jewish People: How Our Past Inspires the Future
The Tuskegee Airmen and the Jewish People: How Our Past Inspires the Future
About this event
This program will bring to life the challenges, accomplishments, and heroism of the Tuskegee Airmen and their lasting impact on society today.
Rabbi Heidi Hoover of B'SHERT will introduce our panelists. We will be joined by Lt. Herbert Thorpe, an airman who did not fight the Nazis in the skies but fought hard against discrimination on the ground, and Patt Terrelongue and Kimberly LeBlanc, both of whom are descendants of fighter pilot airmen and found inspiration in the lives of their elders.
It was through the driving force of discrimination that the airmen related to the Jewish people because they understood what it was like to feel less than human. And a surprising, a little-known fact about the airmen is that they went against the orders of President Roosevelt and took part in the bombing of railroad bridges and railroad yards in Budapest and on Nazi industrial sites in the Auschwitz region during the war.
The panelists will be engaged in conversation by supervising attorney, Cynthia Groomes Katz of the Hebrew Immigrant Aid Society (HIAS).
The story of our Tuskegee Airmen began in WWII with discrimination but gradually built a foundation for generations of families inspired to do good because they stood on the shoulders of giants.