We're back!!! ✨THE TUESDAY JAM✨ We're playing straight-ahead Jazz … running it like a traditional jam session.
About this event
Thank you to everyone who has been supporting our Tuesday Jam at Tabor Ethiopian Restaurant. You have helped us make this event special.
Tuesday Jam will be featuring: Joel Santiago, Theljon Allen, Dustin Mollick, Tim Murphy, and Jeron White
See you there!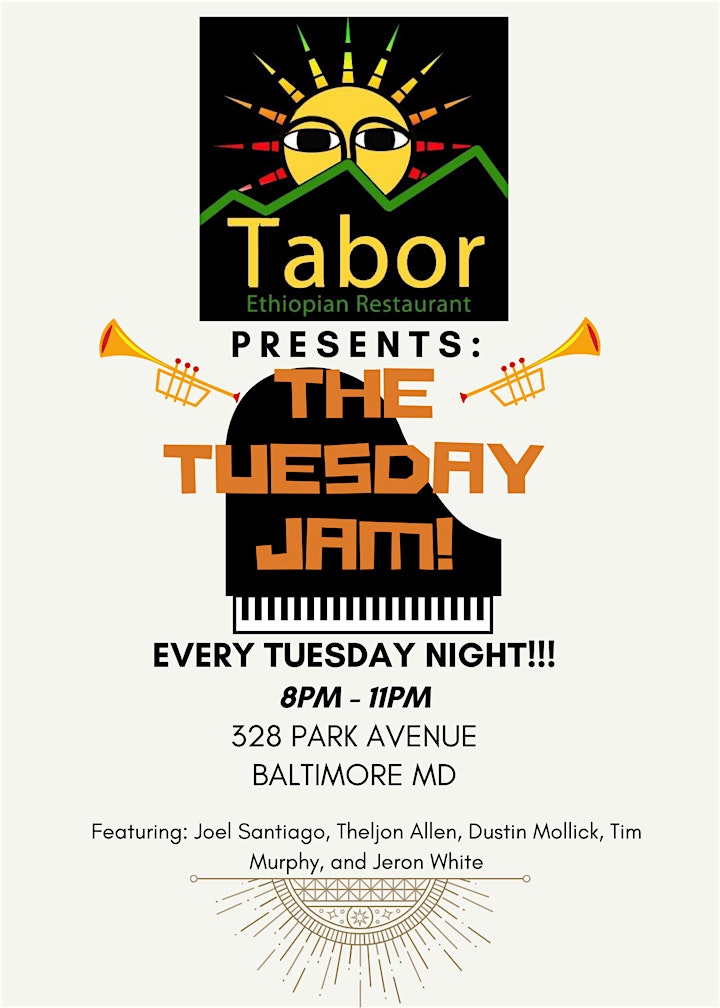 Organizer of The Tuesday Jazz Jam: Baltimore!
Joel Santiago is a recording and performing artist, producer, and songwriter/composer, among other artistic mediums. His father and long-time minister of music is also a recording artist/producer having completed two Gospel albums, leading on guitar, all of which exposed Joel to music at an early age. 
Joel began playing percussion at the age of three, played drums in the church on Sundays by the age of six, and started receiving professional instruction in drums, music studies, and theory at the age of twelve, in Victor Litz where his dad taught guitar. After a year-long of private lessons with John Zidar, Joel was admitted to the Duke Ellington School of the Arts in Washington, DC where he majored drums and percussion in the music department under Francis Thompson and David Yarborough. some of his other direct influencers are Carlos Caro, Alfredo Mojica, Renee Ibanez, "Fish" Howard, and Masaga Wolf. As a professional drummer, Joel is currently endorsed with The Grombal and Soultone Cymbals. 
In his adult life, Joel began honing his skills on the guitar, which is the melodic instrument on which he now writes his songs and arrangements. Subsequently, Joel has taught music at several local music academies such as All About Music in Towson Maryland, Center Stage Theatre in Baltimore, and at local public and charter schools in Maryland and DC. He also subcontracts his services and leads artistic portions of youth programs through his company Iyoel Music LLC, to nonprofits such as Holistic Life Foundation and national enrichment partners such as Tonsar Media.
Joel is an event curator who has performed and recorded drums, percussion, and guitar extensively on his projects and alongside others, in the genres of Jazz, Reggae, Gospel, Salsa, Bachata, and R&B. Some of the people he has worked with include Il'a Benjamin and Ila Vibez Band, Roots Radics, Khalid Thompson, Benito Gonzales, Theljon Allen, Herb Scott, Clarence Ward III, Leonardo Lucini, Sin Miedo Salsa Orchestra, Bachata Plus, Laura Sousa, Alfredo Mojica and friends, Antonio Luis Orta, Jorga Mesfin, and Mulato  Astatke's Asli Ethio-jazz. Joel has also played leading roles in productions featuring some of the areas most prominent producers including Blaqstar, Kariz Marcel, Jay "Funk" Carter, Nate Middleman, Jim Fox, Ricky "Swan" Richardson, and Joe Cooper. 
Joel's leadership has been responsible for formulating diverse groups in different genres to cover venues ranging from gospel, Latin and jazz, to reggae, hip-hop and contemporary R&B. Joel is co-director of Rufftone Productions, where he works alongside master engineer and producer Ricky "Swan" Richardson. His goal is not only to create quality music, but to provide professional quality music production as a service on an audio, video, and media level by formulating diverse teams to approach projects with a distinct taste and authenticity.