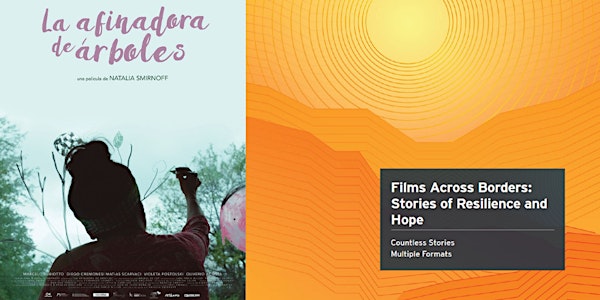 "THE TREE TUNER" premiers at Films Across Borders
This year, the Embassy of Argentina will be part for the first time of Films Across Borders with the film "The tree tuner".
About this event
This year, the Embassy of Argentina will be part for the first time of Films Across Borders with the film "The tree tuner", directed by Natalia Smirnoff. This festival showcases critically acclaimed films, documentaries and shorts and from around the world. Co-presented by American University in partnership with embassies, cultural organizations, arts institutions and environmental groups.
"The tree tuner" will premier October 15th at 6:00 PM. The film will be available for viewing until Oct. 31st.
Synopsis
Clara (38) is an Illustrator and writer of children's book, that has a lot of recognition for her lovely work. She is selected to receive the most important international award in children literature, her life become a little bit intense... she lost the north. That's why she decided to move to her home town with her family, Francisco (42), Violeta (14) and Lisandro (11). In the town Clara is reunited with Ariel (39) her first boyfriend and with Carlos, Ariel's brother, a priest that ́s running a soup kitchen where a lot of children's go daily. Without really knowing why, she began to collaborate with Carlos in the kitchen. These meeting makes Clara discover her new book. She shares with the children and her sons the creation of the new book. "The tree tuners". The relationship with her husband must survive these changes in Clara that don't occur in Francisco in the same way, who doesn't understand well what is happening or feels part. The relationship with her husband must survive to these changes that Clara are transiting, changes that don ́t occur in the same way in Francisco, who also doesn't understand well what is happening and doesn't feels part of it.
Get to know the Film Director
Also, get to know the Film Director, Natalia Smirnoff in a conversation with her and Melissa Haughton, Executive Directod of Women in Film & Video of Washington, DC (WIFV) an NGO dedicated to advancing the career development and achievement for professionals working in all areas of screen-based media and related disciplines and an argentine Journalist specialized in cinema and culture, María Núñez who worked in important print media such as Página / 12, La Nación, La Razón and the publishing houses Atlántida and Perfil, among others, and on radio and cable TV.
Director Bio-filmography
Natalia Smirnoff was born in 1972 in Buenos Aires. She studies direction at the University of cinema. She worked as an assistant director and director of casting with Lucrecia Martel (La ciénaga, La niña santa, La mujer sin Cabeza, Zama), Jorge Gaggero (Cama adentro) Marcelo Piñeyro (The widows of the thurday), Pablo Trapero (Born and raiced), Ariel Rotter (The other).Her debut opera prima was Puzzle (2009), nominated for the Golden Bear at Berlin festival 2010, Fipresi award for the Fest Opera Prima in Guadalajara, Audience Award at San Pablo Film Festival, Besta Actress award ant international critical mention at LimaFilm Festival, Best Film and bet Director at the Festival of Santa Cruz Bolivia, Best Screenplay International Salé Festival. Best Script Cartagena Festival. She directed documentary for NatGeo of living positively, with a recognized group of latin directors. The locksmith (Lock Charmer), her second feature film was selected at the Havana Festival laboratory, premiered at the World Dramatic Competition of the Sundance Festival. Opening at the Sao Paulo festival, and competition in Busan, Guadalajara, Cartagena, Freiburg, Toulose, Australia, among others. She received the award for the best direction of Punta del Este International Film Festival, the best artistic direction award at the Havana Festival, the best actress Erica Rivas in the international three borders festival and the best direction of Dec at Unasur. The remake of Puzzle ocurred on USA in 2018. In 2019 She finished her third feature film, The tree tuner, a co-production with Mexico-Argentina. Currently she is working in the script of her fourth film, "Roger".
Production Company: www.tareafina.com & www.animaldeluz.com