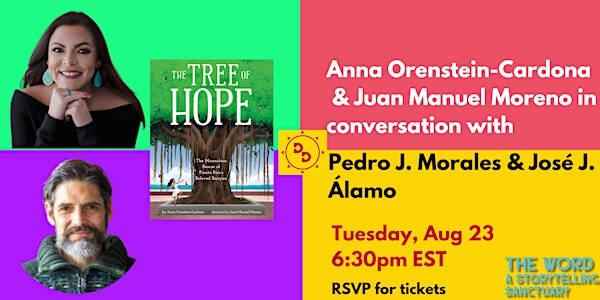 The Tree of Hope: A Conversation and Reading with Anna Orenstein-Cardona
The Tree of Hope: A Conversation and Reading with Anna Orenstein-Cardona Hosted by Duende District in partnership with The Word.
Refund Policy
Contact the organizer to request a refund.
Eventbrite's fee is nonrefundable.
About this event
The Tree of Hope: A Conversation and Reading with Anna Orenstein-Cardona, feat. Juan Manuel Moreno, Pedro J. Morales, and José J. Álamo
Hosted by Duende District in partnership with The Word | A Storytelling Sanctuary
Registered attendees will be emailed the link 50 minutes prior to the event. Please reach out to info@thewordfordiversity.org if you have registered and do not receive the link.
Anna Orenstein-Cardona was born and raised in Puerto Rico. After attending the Massachusetts Institute of Technology (MIT), she worked for over two decades in finance in the U.S.A. and Europe, before turning to writing for children. Anna is an alumna of Faber Academy and an active member of the Society of Children's Book Writers and Illustrators (SCBWI).
Juan Manuel Moreno is an illustrator based in Buenos Aires, Argentina. He spent most of his childhood living in the countryside and cultivating his passion for painting. After studying graphic design, he lectured at the university and worked as an in-house illustrator for different studios. He has illustrated several picture books for international publishers.
Pedro J. Morales is an internationally acclaimed Puerto Rican tropical bonsai master, teacher, and author with over thirty-five years of experience in the field of design, planning, and maintenance of landscapes.
For over twenty years, he held various positions as Professor of Basic & Intermediate Gardening at both Interamerican University and Scared Heart University in Puerto Rico. He was also the Director of Landscape, Ambience and Special Services for the Superintendence of the State Capital of Puerto Rico from 2017 to 2020. It was in this role that he helped lead a team in the recovery efforts of important natural areas after the devastation from Hurricane Maria, including the rescue of the ancient banyan tree (Ficus Citrifolia) by the San Juan Gate that features in The Tree Of Hope.
Pedro currently lives in Trujillo Alto, Puerto Rico, where he runs Futago Bonsai and works passionately to develop local talent in the art of bonsai.
José J. Álamo is a Lead Meteorologist for the National Weather Service in San Juan, Puerto Rico. For over thirteen years, he has worked firsthand with floods, wildfires, and hurricanes.
During Hurricane Maria, José was in charge of issuing watches and warnings, as well as of briefing state and federal agencies regarding the forecast of the hurricane and possible impact. He was extensively interviewed by the local, national, and international press.
Thanks to his studies and profound experience with Geographic Information Systems, after Hurricane Maria, he was able to create a map that showed the observed rainfall amounts across Puerto Rico and the U.S. Virgin Islands. This map was and continues to be a key tool used by media, federal agencies, and academia.
José is a graduate in Meteorology from Iowa State University. He currently lives in Puerto Rico with his beloved wife and two daughters.
Grab a copy of the book from Duende District!
Duende District is a collaborative pop-up and boutique bookstore, for and by people of color—where all are welcome.
Duende District specializes in curating the best new trade adult and children's books in English and Spanish. We serve BIPOC communities across the nation, from Washington, D.C., to Albuquerque, N.M. Each Duende District pop-up, boutique bookstore, and event series focuses on engaging our Black and brown communities, while also inviting all people to participate in the resulting conversation and experience.
The Word, A Storytelling Sanctuary is a 501(c)3 nonprofit organization founded in 2016 to support literary creatives identifying from marginalized communities across race, ethnicity, gender, sexual orientation, religion, and emotional and physical disabilities. The Word is community-led, with a 100% BIPOC-identifying board and staff, with intersectional identities in LQBTQ+ and disabled communities. The Word challenges the practices that perpetuate bias that are reliant on outdated stereotypes to determine who writes, publishes, and reviews literature. The Word does this by providing concrete tools and knowledge; building intentional community; increasing visibility; amplifying equity conversations; and advocating for systemic change within the industry. For more information visit https://www.thewordfordiversity.org/ and follow us on Instagram/Twitter @wordisdiversity.
This event is brought free of charge to promote wide access to publishing knowledge. The Word is a nonprofit organization and we rely on community support to run our writing and publishing programs in support of writers from marginalized backgrounds, including workshops, community-building opportunities, our [margins.] publishing and writing conference, mentorship opportunities, and more. If you are able to support this event with a donation you ensure that we can provide access to groups and individuals who have been denied.