Description
Does your treasury department need new treasury technology? Would you like to learn about how technology will change in the next decade? Do you need to select and implement a new treasury management system soon? Would you like to discover if your current treasury technology is effective? Are you aware of blockchain technologies and how they might influence treasury operations?

The Treasury Technology Forum is a one day training event that is focused on everything pertaining to treasury technology. During the Treasury Technology Forum we will discuss the current treasury technology environment, how to select & implement a treasury management system and what technologies will fundamentally change treasury management in the future!
This CTP credit eligible event will facilitate active learning by studying real-world examples and treasury technology best practices. Furthermore, the Treasury Technology Forum will encourage group discussions and provide opportunities for professional networking.
---
What is the Treasury Technology Forum Agenda?

Introduction to Treasury Management & Treasury Technology

Discovering, Documenting and Anticipating Treasury Technology Needs
Spreadsheets, Bank Technology or Treasury Management System?
Developing a Treasury Management System Cost Benefit Analysis
Developing a Treasury Management System RFP & RFP Scorecard
Implementing a Treasury Management System
Just Around the Corner: AI, APIs, Real-time Payments, Blockchains & More!

The Future of Treasury Technology
---
Why Attend The Treasury Technology Forum?

Learn and Discuss the Latest Trends in Treasury Technology
Discuss how Blockchain & Distributed Ledgers Can Affect Treasury Operations
Discover How to Assess and Scope Treasury Technology Functionality
Discuss the Key Aspects of a Comprehensive Treasury Technology RFP
Learn How to Create a Robust and Transparent Treasury Technology RFP Scorecard
Return to Work with Actionable Knowledge and Detailed Course Materials
Discuss Treasury Technology Best Practices in a Friendly Environment with Colleagues

Case-Studies and Real-World Examples will be Used to Facilitate Active Learning

The Instructor Has Over 19 Years of Treasury & Risk Management Experience
Network With Other Treasury Management Professionals
The Treasury Technology Forum Qualifies for CTP Credits
Earn a Treasury Technology Forum Certificate of Completion
This Event is Conveniently Located in Chicago Near O'Hare Airport
Continental Breakfast and Lunch will be Catered

Separate Working Area with Free Wi-Fi for Work Check-In's & Phone Calls
We're Happy When You're Happy - So of course there's a 100% Satisfaction Guarantee!

---

About the Instructor:
The Treasury Technology Forum is led by Daniel J. Carmody, CTP who is the Executive Director of TreaSolution and has taught a Certified Treasury Professional class at Northwestern University since 2013. (View Dan's LinkedIn Profile Here.)


What other have said about Dan's teaching:
"Dan is very personable, engaging and interactive. It's no easy task to keep the attention of 20 professionals... yet Dan was able to do just that." - Benjamin R.

"Dan has extensive experience in the field of Treasury, but what's more important is that he has the ability to transfer that knowledge on to others." - Courtney B.

"[Dan's] presentation of the massive amount of information was precise and logical. He answered any and all questions thoroughly which helped me to better understand the information." - Paula R.

"I've had the pleasure of seeing Dan present many times over the years at both regional and national conferences; he has such vast knowledge of all things Treasury and is one of the most engaging and dynamic speakers around. If the opportunity presents itself, don't miss attending one of Dan's speaking engagements."
- Ann N.

---
Who Should Attend The Treasury Technology Forum?

Treasury Practitioners

Treasurers
Assistant Treasurers
Directors of Treasury
Treasury / Cash Managers
Treasury / Cash Analysts


Treasury Management Bankers

Treasury Sales Representatives

Treasury Management Officers
Treasury Product Managers
Commercial Banking Associates

Cash Management Sales Representative
Executive Directors / Senior Vice Presidents / Vice Presidents

Treasury Vendors

Treasury Consultants
Treasury Services Salespeople
Treasury Technology Vendor


Other Professionals

CFO's
VP of Finance
Controllers
Risk Management Professionals
Corpate Tax Professionals
Accountants
Internal Audit Professionals
IT Professionals
Others Interested in Treasury & Risk Management
---
FAQs


How can I contact the organizer with any questions?
You can contact Dan Carmody directly via phone at 773-209-2094 or email at dan@treasolution.com.


How do I obtain a Promo Code for the Treasury Technology Forum?

Easy... In order to qualify for a 5% discount promo code, please share this page on LinkedIn with the hashtag #TreasuryTechForum in the description. Once completed, email Dan Carmody at dan@treasolution.com.


What's the refund policy?
TreaSolution will refund your entire registration fee, less $100, for all cancellation requests received by 12:00 PM CST on November 7, 2017. To cancel your registration, please email Dan Carmody at dan@treasolution.com. No refunds will be issued after 12:00 PM CST on November 7, 2017.


What is the Treasury Boot Camp's Satisfaction Guarantee?

TreaSolution wants to ensure that you are completely satisfied with our Treasury Technology Forum. Therefore, if you are not satisfied with the Treasury Technology Forum, TreaSolution will refund 100% of your registration fee (not including Eventbrite fees). To qualify for a refund you must 1.) attend the Treasury Technology Forum all day, and 2.) email a refund request to dan@treasolution.com by 11:59 PM CST on November 15, 2017.


What is the course cancellation policy?

TreaSolution reserves the right to cancel a course. If a course is canceled, TreaSolution will refund the entire registration fee. TreaSolution is not responsible for any travel expenses incurred due to a course cancellation. Once there are sufficient registrations to conduct a course, TreaSolution will distribute a course scheduling confirmation email. In the rare event that the course instructor is unavailable, TreaSolution will find a replacement with equal ability.


What are the hotel / lodging option near the Treasury Technology Forum?
There are numerous hotels near the Treasury Technology Forum location:

What are my transportation/parking options for getting to and from the event?
There is free surface and garage parking at the Treasury Technology Forum location.


What do the Treasury Technology Forum facilities look like?

Below is a picture of the building and the type of classroom that will be used for the Treasury Technology Forum.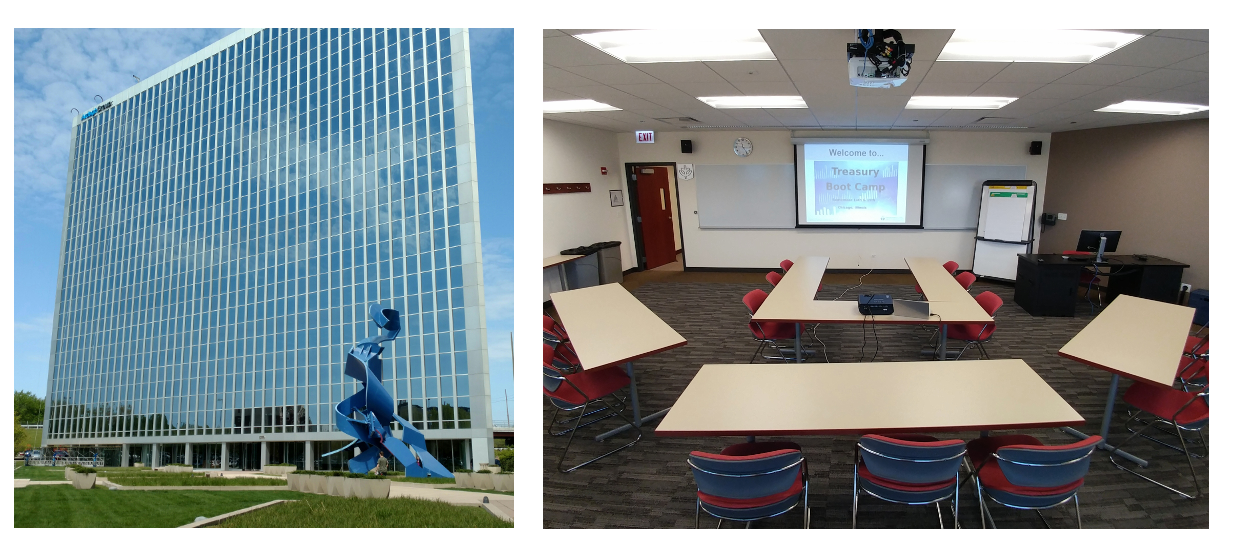 Are there advertising opportunities at the Treasury Technology Forum?

Yes, feel free to email Dan Carmody at dan@treasolution.com to learn more!