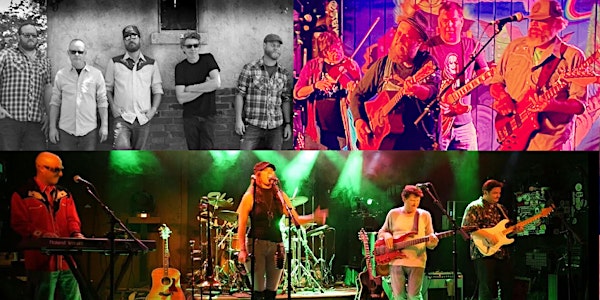 The Travelin' Kine + Big Stoner Creek + Radio Bomb
THE CHARLESTON POUR HOUSE
UNDER 21 WITH PARENT OR LEGAL GUARDIAN
Performers
Travelin' Kine, Big Stoner Creek, Radio Bomb
Location
Charleston Pour House - Main Stage
1977 Maybank Hwy.
Charleston Pour House, SC 29412
Sales Have Ended
Ticket sales have ended
Tickets may still be available at the door after online sales have ended.
Red Dirt Americana, Post Modern Industrial Appalachian Trailer Park Music, Country
About this event
The Travelin' Kine + Big Stoner Creek + Radio Bomb
Saturday, August 6th, 2022
Charleston Pour House Main Stage
8pm Doors / 9pm Show
Tickets - $13 Advance / $15 Day of Show
The Travelin' Kine
Five time City Paper Americana Artist of the Year winners The Travelin' Kine are on the move. This hardworking local outfit has logged serious miles honing their sound: a mix of potent songwriting and fiery country chops, doused with a few shots of whiskey. With the help of a seasoned crew of local talent, singer Slaton Glover delivers a musical message of hellfire and heartbreak, leaving it all on the stage at every performance. Releasing their first album in 2016, the Kine's first single "Change in the Wind" was voted 2015 CPMA Song of the Year. Their new album "Ride" was recorded at Truphonic Studio and is due out this fall. The Travelin' Kine amounts to some of the best lowcountry music in years. Catch them if you can!
Big Stoner Creek
Taking their name from a stream running through the bluegrass hills of songwriter George Fox's Kentucky home, Charleston SC based Big Stoner Creek set out in search of their roots in 1991. True road warriors with support from Trumpeter Records and Cellar Door Productions, BSC hit it hard throughout the '90s pushing 300+ shows a year opening for everyone from Hootie and the Blowfish, Edwin McCain, Marshall Tucker Band, Leftover Salmon, Squirrel Nut Zippers and even Guy Clark. They headlined music festivals such as Black Mt Music Festival, Round Mt and Flat Rock Music Festival. BSC brought their music to Charleston's Music Farm, Asheville's Be Here Now, Ziggy's in Winston Salem, Ludlow's in Columbus, Garton's in Vail and more recently Charleston Pour House and Awendaw Green establishing themselves as a hard driving force of nature, bound and determined to get the music to the people and the people up and moving.
Big Stoner Creek decided to get off of the road in '99 and hone their craft while pursuing music individually and raising some kids. Fast Forward to 2017 when they decided to do a reunion show of sorts. George Fox was joined by long time friends and bandmates guitarist Jesse Prichard and bassist Jamie Crisp and Fox's son Jeremiah on drums. Having lost their original fiddle/mando player Hawke Morrfi to a drunk driver, the band reached out to good friend and multi instrumentalist extraordinaire Don Lewis. The chemistry and the magic was there and the result was better than ever. Big Stoner Creek decided to crank it back up. They went in the studio and recorded their first album in years, the eponymously named LP, Big Stoner Creek.
Keeping one musical foot in the Bluegrass Hills of Ky, the other firmly planted in their SC Lowcountry home and a couple of hands in the Blue Ridge Mts of NC, BSC draws inspiration from all of these influences and hammers them into something uniquely theirs. They remain committed to the pursuit of the groove and connecting with people through solid songwriting, tight vocal harmonies and fireworks of the stringed variety.
Radio Bomb
It was with a common desire to move people with both groove and soul that Radio Bomb was born. Looking for the next phase of the musical journey, in 2017 Bryon Moore, Robert Thorn and Jason Moore of local favorites Uncle Mingo joined forces with vocalist Jenny Lee Ford and guitarist Jason Ridge. The result has been bringing smiles and good vibes to the Charleston area ever since. With their unique blend of an eclectic mix of atypical cover tunes and well written original music, Radio Bomb gets the people moving. Whether it's smooth vocal harmonies, hammering horn lines or funky grooves, Radio Bomb has it all!!