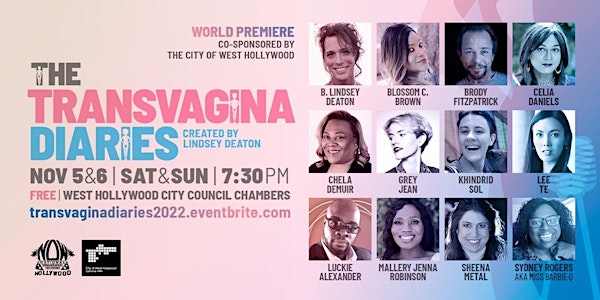 The TransVagina Diaries World Premiere 2022
The TransVagina Diaries World Premiere is co-sponsored by the City of West Hollywood and produced by Karen Eyers and HollywoodNOW.
When and where
Location
West Hollywood City Council Chambers 625 North San Vicente Boulevard West Hollywood, CA 90069
About this event
The TransVagina Diaries is a theatre event created by Lindsey Deaton. This evening length program features authentic first-person accounts of the transgender/gender non-conforming/intersex, queer and BIPOC communities brought to life by performers from the communities whose stories we tell. It honors the people who came before us, their current place in our history, and our hope for radical inclusion in the future. These stories illuminate things rarely shared—from illegal surgeries, intersex life, and phalloplasty—to challenges in daily life like airport screenings, using public bathrooms, and having voices that literally out a transgender person. It also shares the joy of embracing, and finding the people who fully accept, your true self.
A project in development over the past two years, TD engages tgi/queer/BIPOC creative team members who value sophistication and beauty to create a theatre project that is artistically challenging, accessible, and of queering form and content.