Description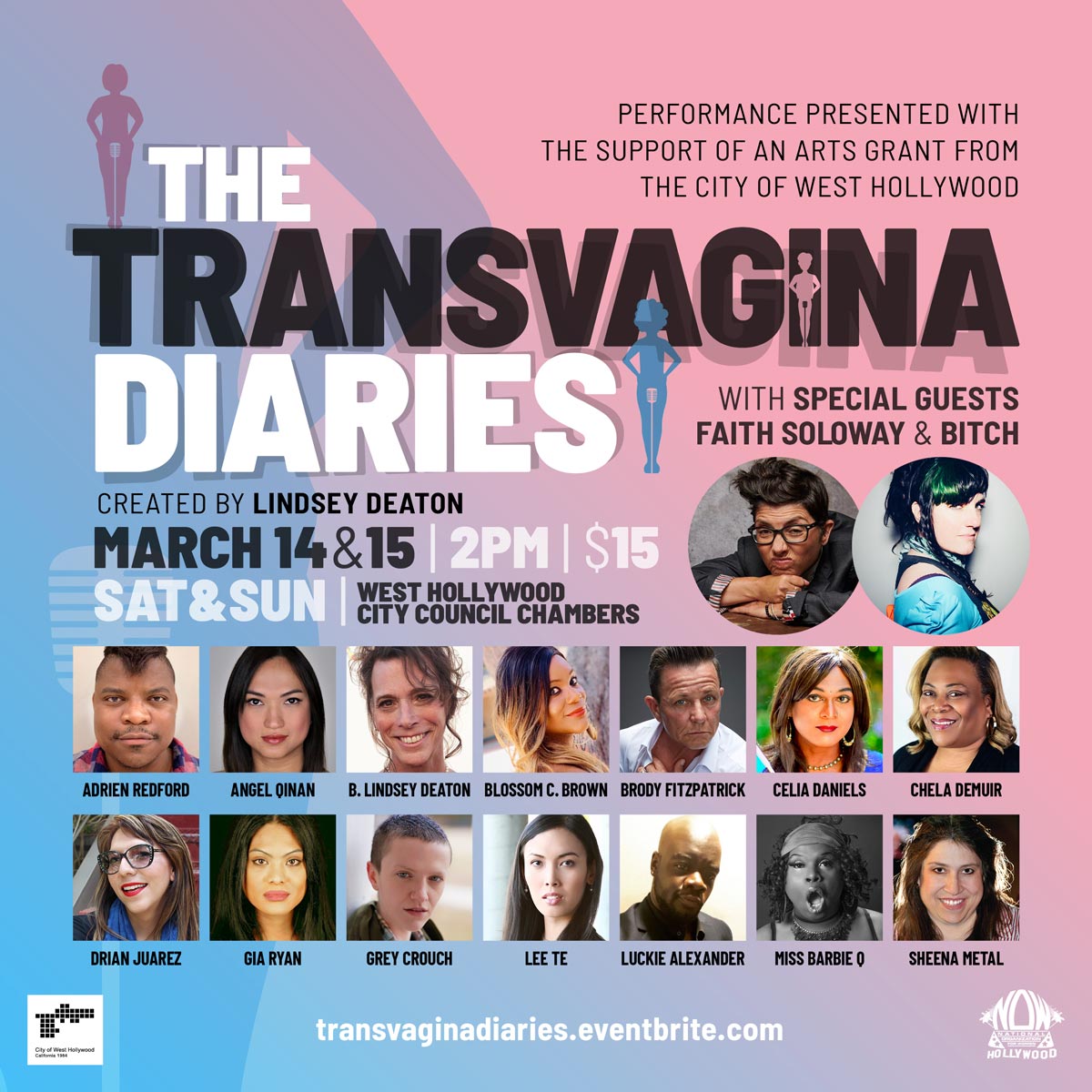 ***UPDATE*** This event has been postponed to a date uncertain due to concern over the coronavirus. We will be working with all parties to identify a new date and announce that in the future. We are aiming for June/August 2020. All tickets will be valid for future show dates. Starting on 3/16/20, no more refunds will be given and all tickets will be valid at the future show dates.****
The Hollywood Chapter of the National Organization for Women (Hollywood NOW) with the support of an arts grant from the City of West Hollywood presents The TransVagina Diaries, a new original work featuring a cast of diverse transgender artists.
The event celebrates the next International Transgender Day of Visibility on March 31, 2020, with the goal and objective in creating these TransVagina Diaries is for those of us within the trans/gnc/enby/intersex communities to take our bodies back; to exercise our right and privilege to talk about them openly and to share our diverse stories and experiences with you.
The TransVagina Diaries production is led by John Erickson and Karen Eyres with Lindsey Deaton, writer, and artistic director.
Tickets are $15.00*
*20% of tickets are set aside for free admission for members of the transgender community. If you cannot afford a ticket, please email: hollywoodnowchapter@gmail.com and we will arrange for you to be able to see the show.

Questions? Please email hollywoodnowchapter@gmail.com or call (323) 596-7389
---
FAQs
What are my parking options for getting to and from the event?
Validate parking is provided in the 5-story parking structure located in the same complex as the event. Bring your ticket with you to check-in and we will validate it for you so parking is free!
How do I become a member of the Hollywood Chapter of the National Organization for Women (NOW)?
Easy peasy, click here! (Make sure to select CA 0145 Hollywood NOW when filling out the form!)
How do can I get more involved with the Hollywood Chapter of the National Organization for Women (NOW)?
Click here to sign up for our mailing list! We have monthly meetings, sponsor and co-sponsor events around Southern California and get involved in a number of topics impacting women and girls!