The TCDFW Feb 2022 Luncheon w/ Keith Winters, CEO at Crane Worldwide Logistics
About this event
February Luncheon + Networking
Keith Winters, CEO at Crane Worldwide Logistics
Date: WEDNESDAY, Feb 2, 2022
Time: 11:00 AM (Networking Begins)
Lunch/Presentation: 11:45 AM
BONUS: 1:15-1:45PM Networking BreakOut session!!
Location: La Cima Club, The Tower at Williams Square, 26th Floor
-->Annual MEMBERSHIP can be purchased through this Eventbrite invitation. Just add it on to your $38 Member Advance lunch ticket (+$100)!
SAVE THE DATE: Next HH Fundraiser is Feb 23, 4:30-7p at Crush It! Sports Lounge in Grapevine "Mardi Gras, Golf, Games n Guns"
Events & more at https://tcdfw.org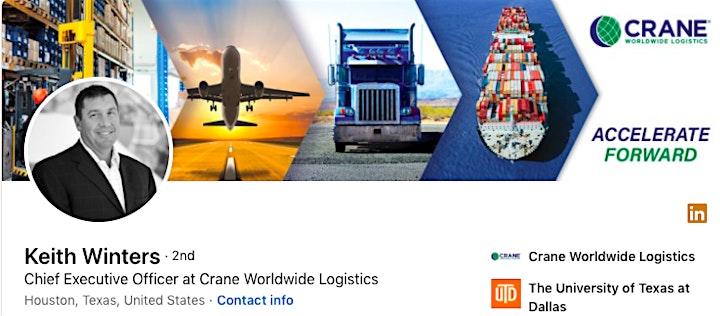 Organizer of The Transportation Club of DFW Feb 2022 Luncheon