The TranceFormation™ eBook Series

Saturday, July 23, 2016 at 8:30 PM

-

Saturday, December 31, 2016 at 11:30 PM (CEST)
Event Details
THE MARILYN DEVONISH LIFE TRANCEFORMATION™ eBOOK SERIES
I have got TONS of material so I am just exploring what I might want to 'bookify' in the future and turn into something more substantial.
As part of that process I am creating a series of taster eBooks to get some feedback about which you would find most useful.
The fuller versions will at some point be available for purchase and offered a part of the the package for my new Membership website.  For now as I test out the ideas, do make the most of it!  New titles will be added between now and the end of the year.  
If you are on my eNewsletter list I have sent you the direct Hightail (dropbox style) link where you can directly download your copy.  If you are not on my email newsletter list, each eBook will be made available for a limited period of time, so if you would like a copy of the latest one, just fill out your name and email address and you will be sent the download link. I can also email you the pdf directly if you would prefer. 
eBook topics to come include:
Dealing with relationship breakups 

Healing and resolving negative emotions

Overcoming the Dark Night of the Soul - Understanding Your Archetypal Jourey 

Delving into the depths of understanding the plan of your soul

Life, love and death

Accelerated learning tips and insights

Changing and transforming your mindset 

Accelerating your brain and the latest in NeuroSuccess

Divine guidance with and from your angels

Accelerating your personal and business performance

Dealing with boardroom bullying 

And so much more!
Also indicate whether you would like to join my eNewsletter Update list in order to receive advance notice of free Teleseminars and Webinars, eBook releases, advance Workshop dates, and eNewsletter special offers and discounts.
CLAIMING YOUR FREE EBOOK
You simply need to enter your name and a valid email address.  You will get access to the download link on the second page.  
If you are on my eNewsletter list you will receive a link where you can download each eBook directly without an expiration date or having to register here so do check your email inbox for the 'Hightail' download link. 
WHY THE FREE SERIES? - THE NEW MONTHLY MEMBERSHIP WEBSITE
I am currently gathering feedback on what people found most useful, and the ideas and concepts that they would like to see expanded upon.  The fuller versions of the eBooks will then either be on sale, or offered as part of the Bonus Items Package for my new Membership website.
The Monthly Membership website will consist of access to some of my online DVD Programmes, a monthly Angel Tarot Reading and Huna Energy Clearing Session, my favourite empowerment quotes and mindset reminders, free Teleseminars and eCoaching calls, and whatever else I decide to add into the mix as the year progresses. 
WHAT CAN YOU EXPECT FROM THESE TOPICS & TECHNIQUES IN TERMS OF CHANGING & TRANSFORMING YOUR LIFE?
I do an eclectic mix of cool stuff.  Below are a couple of videos and testimonials from clients who have experienced it all as a result of taking part in my TranceFormation Programme:
"Love the write up Marilyn. 
I am cheshiring from ear to ear. 
I totally envy those new starters…what a fabulous journey they are about to go on and don't even know it."
We mentioned someone called Ammana in that video, and this is what she had to say upon watching it:
Ammana Shaka Hi Marilyn Devonish and Claudette I can certainly identify with the energy being expressed on this video . To onlookers who have not experienced the transformation all I can say is ...you change on a molecular level and your sense are heightened as Claudette vividly describes. Sending cyber hugs to you both...still transforming.... forever growing and inviting miracles into my life daily....and receiving just that!
 As one of the first participants in the Programme put it: 
"As for the TranceFormation Programme, it does what it says on the tin.  I am transformed!"


"I want my old self back.  I want to be the authentic me."
Another client who took part in the first live version of these combined processes said:
"I wanted to get back to my old self after a head injury and The TranceFormation Programme has been like a a tonic for me. Marilyn has picked me up, shaken me around and helped me to see a brighter future. Marilyn's energy, knowledge and the ability to challenge me to move forward has been the basis of my life changes. The mix of modalities has helped me to discover more about who I am, and how to be the best version of me both now and in the future. I recommend Marilyn as a personal coach and mentor."  Louise shares her experience in the video below:
CAN THIS REALLY WORK VIA TELEPHONE, EMAIL & SKYPE?
One of the first clients to embark upon the first live iternation of this telephone and Skype Coaching Programme said: 
"Marilyn was running it for a start, somebody who I met many many years ago and I followed her with interest.  I jumped at it without a second thought, in fact I did think that the price you were offering it at was really cheap but I wasn't going to look a gift horse in the mouth!
It's been brilliant, absolutely brilliant; Marilyn has been like the rocket to launch me into the stratosphere.  I thought I was flying but there is nothing like seeing things from a rocket point of view but now something now seems clear.  Even though I thought I was confident, I didn't really feel confident inside, everyone thought I was confident because that was the exterior that I gave them but after these sessions I know I am the dogs nuts!  
It is just about having the time to dedicate to yourself, to look at yourself and have that coach lead you to think about things, look at things, and give you alternative ways of looking at things because that gives the answers that you already have.  Sometimes it was revealing to me that I already knew the answers.
As for the TranceFormation Programme, it does what it does what says on the tin.  I am transformed. 
I know that life if a lot more exciting, I think there's something to learn every day, it is just absolutely fabulous, the links that are coming through, totally inspired.  It's just made me notice more and take on board the messages that you are sometimes receiving and probably before this I was just going through the motions and watching it and or listening to something, where now I hear and I see because things are a lot clearer.  It's like the scales have dropped off my eyes because I thought I was seeing but it's like getting a new pair of glasses and now life is like HD vision!"  SENIOR LOCAL AUTHORITY MANAGER  
DOWNLOAD THE AUDIO RECORDING & HEAR IT FOR YOURSELF!
I asked if they would like to say a few words about their experience of taking part, and 20 minutes later they still had plenty so say!  You can listen to a copy of the recording at: 
https://www.yousendit.com/download/ZUczS3dqMGM3N0M5TE1UQw
WHAT HAVE PEOPLE SAID ABOUT THIS GROUNDBREAKING SESSIONS, PROGRAMMES & TECHNIQUES? 
"The magic continues and is growing more and more every day.  [Since starting the Online Magic & Gratitude Programme]  We are only 2 weeks in and there are 4 more weeks plus a lifetime of facebook interaction to go!" 
From a client who did my Money Breakthrough Programme: "I've opened 2 new accounts, both are in credit, and when these new contracts come in I'll be rolling in it."  They have since gone on to get paid to travel the world as an expert speaker and workshop facilitator, sharing the stage with the likes of Richard Branson. 
Another said when I launched the Money Breakthrough Programme last year: "Marilyn, wow, is this a new programme? Money is flowing in my direction since your money programme (thank you!)" 
From a client who watched my Online PhotoReading DVD Class: "I had a wonderful time this weekend feeling like a fly on the wall at your Photoreading workshop, I cant believe all of that happened on one day, wow! I loved the page 23 moment and cried during your huna session, I need some of that pod poc stuff please!"
WHAT OTHERS WHO EMBARKED ON THE TRANCEFORMATION JOURNEY HAVE ALSO SAID:
"When people want a full life, a joyous life, if they want focus and direction, you're the person Marilyn to help with that.  It's only been a couple of months really but I'm so different now, I'm lighter, I'm more accepting.  Whereas before I'd be getting huffy and fighting things, my life now is so much easier.  I hope somebody is looking after you in the same way that you as you are taking care of us."
"The TranceFormation™ Programme has been a tonic for me.  Marilyn has picked me up, shaken me around and helped me to see a brighter future.  Marilyn's energy, knowledge and the ability to challenge me to move forward has been the basis of my life changes.  The mix of modalities has helped me to discover more about who I am, and how to be the best version of me both now and in the future.  I recommend Marilyn as a personal coach and mentor."
"Marilyn thank you for the gift of being on this Programme."
"Marilyn you are so good it's scary."
"I've poo poo'd a lot of this stuff.  I've done NLP so how come this stuff hasn't cleared before?  That's interesting.  I'm back to my authentic me!!"
"Marilyn I am so pleased I signed up with you, so pleased.  I can't even believe that I had doubts about it, I suppose it was just a money thing, but thank you.  Oh I love this!"
"This is so exciting, perfect, and at the perfect time for where we're at because we want to up level everything."
"I speak to you Marilyn and you're like the obia woman because everything you say comes true within a couple of days or a week!  I'm continually having to say: Are you kidding me?  You're not gonna believe this!  Trust me, over the past few weeks that we've been working together I'm like: Really????"
"I like that way that the TranceFormation Programme is not absolutely set in stone.  It feels like a journey that can be done gradually with no restrictions.  The Soul Plan was the blueprint to start.  The Archetypes was a fascinating insight into the world.  We've done Skype, we've done phone, and you've not said 'right, you've got an hour or an hour and a half.'  It's like a journey with magic steps along the way, and a magic wand with more and more clarity along the way.  That's what makes it so special.  It took guts to say I need help from someone that I totally trust and I feel you're authentic.  I like the fact that it just flows, it's not regimented, it's just lovely."
"(On Access Consciousness) Every single thing you said I was thinking how does she know that?  You're frightening me, lol!  Some of the things you said I was like: Ah, yes, I wouldn't have thought of that.  If you could see me I was like a nodding dog.  I'm gonna put myself in a lead balloon so that you can't read my thoughts!"
"(On Past Life Regression and Future Life Progress) Wow.  Thank you for that Marilyn.  That was extraordinary!"
"I finally got my website set up after 2 years of procrastination, it's great!  (Procrastination was one of the issues we were working on)."
"Every single session whatever we have talked about has been linked to something that happens afterwards, it's like creating roots.  I am opening up to so many more things than I would ever have done.  Everything I ask for, it's just there, thank you.  Oh wow, it's fantastic."
Below is a message and post-Progrogramme update that I received from one of the TranceFormation Programme Participants who took the longer 12 month journey where things have been unfolding since we first began.  To say what unfolded has been jaw dropping and mind blowing would be an understatement!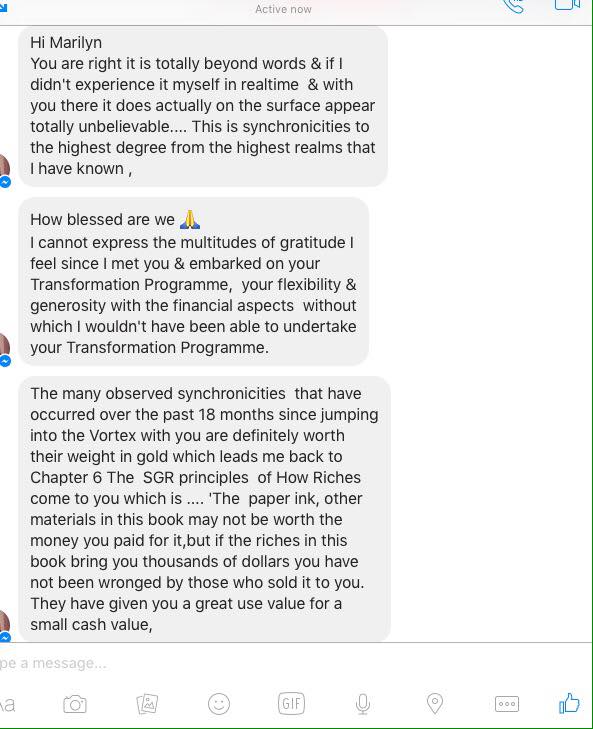 I WOULD LOVE TO HAVE SOME FEEDBACK ABOUT THE EBOOK
Do let me know how you get on with the eBook.  You can  e-mail your feedback to:  marilyn@tranceformationsTM.com  Do also let me know if there are particular topics you would like to see covered.
PRODUCT INFORMATION & PROGRAMMES
For an overview of Live Workshops, Online eCoaching Programmes, and Private Readings go to: http://tranceformationstm.com/shop/ 
When & Where

Online eBook
From the comfort of your own home

United Kingdom


Saturday, July 23, 2016 at 8:30 PM

-

Saturday, December 31, 2016 at 11:30 PM (CEST)
Add to my calendar
Organizer
Trance Formations TM
Trance FormationsTM offers Training, Coaching, NLP Facilitation, PhotoReading and Accelerated Learning & Development courses to corporations and individuals.
A pioneer in cutting edge change technologies, and with over 20 years industry experience, Trance Formations offers Coaching and Events that enable people to tap into their own innate potential.
Contact Information:
For details of PhotoReading one to one coaching sessions and corporate training courses, you can contact Marilyn Devonish on: 
Tel: +44 1923 337282
E-mail: Marilyn@tranceformationstm.com  Web: www.tranceformationstm.com