The TranceFormation Coaching & Accountability Programme

Tuesday, January 26, 2016 from 1:00 PM to 4:00 PM (GMT)
Event Details
THE TRANCEFORMATION™ COACHING & ACCOUNTABILITY PROGRAMME
How Are You Feeling About Making Your New Year Resolutions?
Are you secretly already growing a little tired and weary of yet another round of New Year Resolutions and promises to do certain things in the year ahead?  

Have you maybe had best laid plans and intentions in the past as one year draws to a close and another one opens, yet 12 months on you haven't accomplished a fraction of the things that you really wanted, intended, or set out to do?

Are you aware that you work better and more efficiently when you have an external push and some outside accountability to help keep you on track?
If so, the new 12-Month Coaching & Accountability Programme with Marilyn Devonish may be just what's needed as 2015 draws to a close and we race headlong into 2016.
Created as an online Teleseminar/Webcast Programme, it is designed to offer accountability, inspiration, coaching exercises, and targeted processes throughout the year.
WHAT IS THIS PROGRAMME DESIGNED TO ACHIEVE?
There will be a core Agenda each month, and the overall Programme itself is designed to provide:
Ongoing accountability 

Help to keep you on track and focused throughout the year

A dose in inspiration and energy

An increase and boost to your chances of making the most of the year ahead

Access to additional ideas and creativity

A much lower price point than private one-to-one Coaching Sessions
HOW WILL THE SESSIONS BE DELIVERED? 
The monthly live Coaching Sessions will be delivered via telephone or online via the Webcast.  There will also be an mp3 recording available should you not be able to make the live calls or prefer to work at your own pace at a time more convenient to you. 
WHAT AREAS WILL THE PROGRAMME FOCUS ON? 
There will be a set Agenda and format each month which includes:
The Accountability Update

Month Ahead Focus

Commitment Session

Action Steps

Bonus Coaching Processes
 Time and group requirements permitting, there will also be a number of themes throughout the year such as January Intention Setting, February OTH Opening the Heart work, March Quarter 1 Check In, April The Emotional Spring Clean, etc. 
WHAT CAN YOU EXPECT WITH AN ONLINE & TELESEMINAR PROGRAMME? 
Below is an e-mail that I recently received from someone who participated in a similar group Teleseminar call that I run: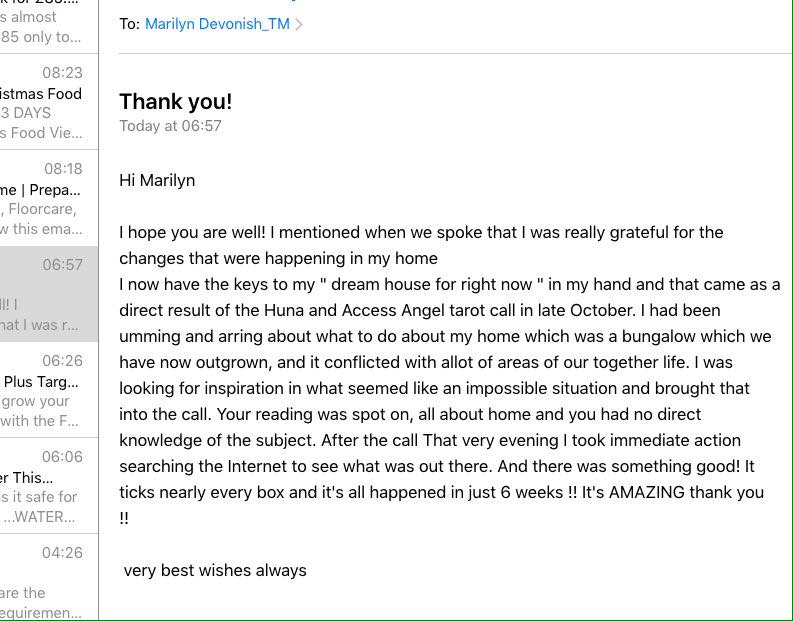 There are 2 options available for participating in this Coaching Programme:
You can pay an annual membership and then relax knowing that you are totally covered for the year.

You can join on a monthly basis and only commit to those times where things are off track and you need help and support.
Joining on an annual basis is the most cost effective version however I appreciate that some people will find it easier and more flexible to take part on a rolling basis.  The annual membership version also includes additional updates and bonuses throughout the year.   
WHEN DOES THE COACHING PROGRAMME START? 
The Coaching Programme will start in January 2016.  After the Christmas and New Year festivities have concuded, the most suitatable dates will be agreed with those who have signed up.  If you can't make the live calls you can still submit e-mail comments and questions, and will receive an mp3 recording of the Session for the months you have subscribed for.
WONDERING IF IT REALLY CAN BE THE EFFECTIVE REMOTELY IF YOU CAN'T MAKE ALL THE LIVE CALLS?
"Marilyn
 I have just listened to this as I was called out unexpectedly this morning.  AllI can say is Wow! as always you were spot on with my reading.  Thank you so much and for the huna etc.  Much appreciated, it was amazing."
As you will already know if you've listened to any of the Huna mp3 recordings, there are still massive energetic shifts when just listening to someone else and their issues, which is one of the things that I love about this type of work.  Also, as the quote above from someone who signed up but wasn't able to dial in live shows, it can still be 'spot on' and 'amazing' whether you are there in person or not.  
And, the energy also travels through the airwaves so you don't even have to join us live. 
Below is a summary from a participant who couldn't make one of my live Huna and Access Consciousness calls but listened to a recording instead:
Hey Marilyn
Just finished listening to your recording. (funnily I started listening to it about 2am, and finished around 3am).
Energetically, it was full on!
As soon as you had finished describing the explanation of the statement, and I gave my consent, I suddenly connected with this massive flow of energy (it may also have been because I then applied it directly to my health right after you had finished describing it).  But then as you finished describing Huna, and were about to start the 'actual' process, I figured I had better sit down, and really focus! (Was washing up dishes when I started listening!)
Anyways, as I connected, and you started the process there was so much inter-dimensional stuff I was connecting with, as well as all the other participants.  As outside of the dimension of time, I was connected to the same collective group energy and resonance, it was most surreal. At moments, I literally saw the edges of people's spaces.. or their energetic biosignatures, and holographic, multi-dimensional beingness, as the statements were unravelling, and things were shifting with each statement.
It literally felt as if you were addressing me directly, and that everything was personal, to me, and my issues, so definitely value in using and re-using the recording with others.
Happy to have a chat on the phone/skype if you'd like to discuss/connect with my experience of the recording in person.
Will keep you posted on anything related to the outcome/results, as I see them!
Thanks for sharing this.  Look forward to feeling the effects over time!!  I'm excited!!
Kind regards
Farhan
WHAT HAVE CLIENTS SAID ABOUT WORKING WITH MARILYN DEVONISH?
First off the Testimonials page on my website is waaaaaay out of date; just to put this into perspective it is one page however I've got a Microsoft Word Testimonial Document which at the time of creating this page stood at 642 pages + I have a few more things to add to to tonight that came in yesterday and today.  However to have a look at the rarely been updated page click here.  There are also a number of video testimonials from my various Coaching Sessions, Workshops, and Programmes, and these can be found on my YouTube channel, a link to which is also embedded in the Testimonials page. You can also read an account of some of my recent telephone and Skype Soul Transformation client sessions:  Click Here to read the Blog - Mind Blown in Under 59 Minutes. 
" . . . When we started (The Soul Transformation Process) I felt as though I was slouched down in the corner, and during that process I felt myself being lifted up.  I definitely feel that I've moved 4 or 5 levels up on the energy scale because I was down in the black today before this call.
I feel different in my body already and it feels like a weight has been lifted."
Within the first 5 minutes of the session my client said:
"I have to say with that first card and what you explained, it's really spot on and really fits with where I am in my life.  Also the polarity that you mentioned and the internal conflict, I am sabotaging myself so it really resonates. 
Another said: 
"It was very powerful so I'm really speechless and it feels like whatever you need just comes up in the (Soul Plan) cards.  The first card about Assimilation and Structure and harmony is really spot on for me, and the polarity of life and death is almost connected to the Archetypes (which later came up as the required Intervention work).
I have done similar processes with the Archetypes work so this is not new for me but this process today is really really powerful because it's shifted stuff I wasn't even aware of . . .  It's amazing.  Thank you so much Marilyn.  I would say it's been life changing, and I think I need the rest of the week to process this!!" 
ARE YOU INCLUDING ANY HUNA ENERGY SESSIONS ON THE CALLS? 
I will incorporate a Bonus Huna and Access Consciousness Session during the annual Programme.  If you've not experienced them below is a little insight into what to expect:
"I listened to the Huna clearing you sent yesterday not expecting anything.  I am very grateful to you as I have felt much more energised today and have been able to do a bit of clearing out - not a lot but it is a start.  There have been some very emotional endings recently so I now feel that with the clearing I am ready for new beginnings! Magic indeed!"
"Amazing results with my PTSD, just listening."
"Talk about Clearing statements and Huna breaths Marilyn, that was amazing!" 
"It was great to connect. I felt the energy and then it moving when Marilyn did her AC and Huna magic. Sparkling Love to all  you angels."
WHAT HAVE PREVIOUS ATTENDEES SAID ABOUT THIS COMBINATION OF THE HUNA & ACCESS PROCESSES?
"A massive thank you Marilyn - I'm very happy with that!
VERY COOL!!!
Loved it! Great way to have spent the latest one and a half hours of my life, can't think of anything else I could have done that would have been better!
Certainly spot on with the Tarot Card reading, I have spent a long time inwardly searching and now feel ready to walk the bridge with a certain confidence in my steps gained from listening to you this morning.…. as you finished the call the thought that came to mind was 'Get out of my own way!' - so that's telling me!
Thank you SO much, I always love to sit and bask in your energies and my heart is feeling full…..more than happy for you to share…. just found myself singing the nursery rhyme 'Hey diddle diddle…' and when I reached the line 'the little dog laughed to see such fun' it struck me as a sign! it is all going to be such fun over the bridge as I suspect it was referencing the dog in the 8 of Raphael……"
Another said:
"Perfect, perfect, perfect x  More than worth a tenner.  Couple of funnines for you.  The second card you said for me was totally about what my thoughts were . . . . ."
Within an hour of the live call I received this:
"Marilyn I really can't make this shit up!!!!   HOLY CRAP!!!!  That was fast!!!!"
WHAT IF I PREFER PRIVATE SESSIONS? 
You can also book Private one-to-one Coaching Sessions.  These are £150 per Session or £850 for a Breakthrough Coaching package.  Private Sessions can be done via telephone or Skype and are arranged by mutual appointment.  
HOW DO YOU JOIN THIS COACHING PROGRAMME? 
Once you have booked your ticket from the 2 options above you will receive and e-mail from Marilyn Devonish to arrange a time and date for the session.  Sessions must be booked and paid for in advance.  If you prefer to pay via bank transfer e-mail: marilyn@tranceformationsTM.com
Any launch/introductory prices shown are available until 31st December 2015 or until the allocated launch price spaces have been sold.  
FURTHER INFORMATION
Main Website: www.tranceformationsTM.com 
Blog: www.marilyndevonish.com 
E-mail: marilyn@tranceformationsTM.com
When & Where
From the comfort of your own home



Tuesday, January 26, 2016 from 1:00 PM to 4:00 PM (GMT)
Add to my calendar
Organizer
Trance Formations TM
Trance FormationsTM offers Training, Coaching, NLP Facilitation, PhotoReading and Accelerated Learning & Development courses to corporations and individuals.
A pioneer in cutting edge change technologies, and with over 20 years industry experience, Trance Formations offers Coaching and Events that enable people to tap into their own innate potential.
Contact Information:
For details of PhotoReading one to one coaching sessions and corporate training courses, you can contact Marilyn Devonish on: 
Tel: +44 1923 337282
E-mail: Marilyn@tranceformationstm.com  Web: www.tranceformationstm.com