The Trajectory of American Democracy: Noah Feldman, Harvard Law Prof.
Noah Feldman- Leading Scholar of Con Law & Democracy, Ponders the Trajectory of American Democracy w/ Political Sociologist Larry Diamond
About this event
Noah Feldman- A Leading Scholar of Constitutional Law and Democratic Institutions
Noah Feldman specializes in constitutional studies, with a particular emphasis on the relationship between law and religion, free speech, constitutional design, and the history of legal theory. Felix Frankfurter Professor of Law at Harvard Law School, he is also the Chairman of the Society of Fellows at Harvard.
In 2003 he served as senior constitutional advisor to the Coalition Provisional Authority in Iraq, and subsequently advised members of the Iraqi Governing Council on the drafting of the Transitional Administrative Law or interim constitution. He received his A.B. summa cum laude in Near Eastern Languages and Civilizations from Harvard University in 1992. Selected as a Rhodes Scholar, he earned a D.Phil. in Oriental Studies from Oxford University in 1994. From 1999 to 2002, he was a Junior Fellow of the Society of Fellows at Harvard. Before that he served as a law clerk to Justice David H. Souter of the U.S. Supreme Court (1998 to 1999) and to Chief Judge Harry T. Edwards of the U.S. Court of Appeals for the D.C. Circuit (1997 to 1998).
He received his J.D. from Yale Law School in 1997, serving as Book Reviews Editor of the Yale Law Journal.
He's the author of nine books: Arab Winter: A Tragedy (Princeton University Press, 2020), The Three Lives of James Madison: Genius, Partisan, President (Random House, 2017); Cool War: The Future of Global Competition (Random House, 2013); Scorpions: The Battles and Triumphs of FDR's Great Supreme Court Justices (Twelve Publishing, 2010); The Fall and Rise of the Islamic State (Princeton University Press, 2008); Divided By God: America's Church-State Problem and What We Should Do About It (Farrar, Straus & Giroux 2005); What We Owe Iraq: War and the Ethics of Nation building (Princeton University Press 2004); and After Jihad: America and the Struggle for Islamic Democracy (Farrar, Straus & Giroux 2003). He's also the author of two textbooks with Kathleen Sullivan: Constitutional Law, Twentieth Edition (Foundation Press, Fall 2019) and First Amendment, Seventh Edition (Foundation Press, 2019).
Areas of Interest; Comparative and Foreign Law: Islamic Legal Studies; Constitutional Law; Constitutional Law: Constitutional Design; Law and Religion; Legal Theory: History of Legal Thought
(Bio from Harvard Law faculty webpage)
Larry Diamond, Senior Fellow, Hoover Institution, Stanford University, and founding co-editor of the Journal of Democracy.
Larry Diamond is a senior fellow at the Hoover Institution and at the Freeman Spogli Institute for International Studies (FSI) and a Bass University Fellow in Undergraduate Education at Stanford University. His is also professor by courtesy of Political Science and Sociology at Stanford. He leads the Hoover Institution's programs on China's Global Sharp Power and on Taiwan in the Indo-Pacific Region. At FSI, he leads the Program on Arab Reform and Democracy, based at the Center on Democracy, Development and the Rule of Law, which he directed for more than six years. He also co-leads with (Eileen Donahoe) the Global Digital Policy Incubator, based at FSI's Cyber Policy Center. He is the founding coeditor of the Journal of Democracy and also serves as senior consultant at the International Forum for Democratic Studies of the National Endowment for Democracy. His research focuses on democratic trends and conditions around the world and on policies and reforms to defend and advance democracy. His latest edited book (with Orville Schell), China's Influence and American Interests (Hoover Press, 2019), urges a posture of constructive vigilance toward China's global projection of "sharp power," which it sees as a rising threat to democratic norms and institutions. He offers a massive open online course (MOOC) on Comparative Democratic Development through the edX platform and is now writing a textbook to accompany it.
Diamond's book, Ill Winds: Saving Democracy from Russian Rage, Chinese Ambition, and American Complacency, analyzes the challenges confronting liberal democracy in the United States and around the world at this potential "hinge in history," and offers an agenda for strengthening and defending democracy at home and abroad. A paperback edition with a new preface was released by Penguin in April 2020. His other books include: In Search of Democracy (2016), The Spirit of Democracy (2008), Developing Democracy: Toward Consolidation (1999), Promoting Democracy in the 1990s (1995), and Class, Ethnicity, and Democracy in Nigeria (1989). He has also edited or coedited more than forty books on democratic development around the world, most recently, Dynamics of Democracy in Taiwan: The Ma Ying-jeou Years.
During 2002–03, Diamond served as a consultant to the US Agency for International Development (USAID) and was a contributing author of its report, Foreign Aid in the National Interest. He has also advised and lectured to universities and think tanks around the world, and to the World Bank, the United Nations, the State Department, and other governmental and nongovernmental agencies dealing with governance and development. During the first three months of 2004, Diamond served as a senior adviser on governance to the Coalition Provisional Authority in Baghdad. His 2005 book, Squandered Victory: The American Occupation and the Bungled Effort to Bring Democracy to Iraq, was one of the first books to critically analyze America's postwar engagement in Iraq.
Among Diamond's other edited books are Democracy in Decline?; Democratization and Authoritarianism in the Arab World; Will China Democratize?; and Liberation Technology: Social Media and the Struggle for Democracy, all edited with Marc F. Plattner; and Politics and Culture in Contemporary Iran, with Abbas Milani. With Juan J. Linz and Seymour Martin Lipset, he edited the series, Democracy in Developing Countries, which helped to shape a new generation of comparative study of democratic development.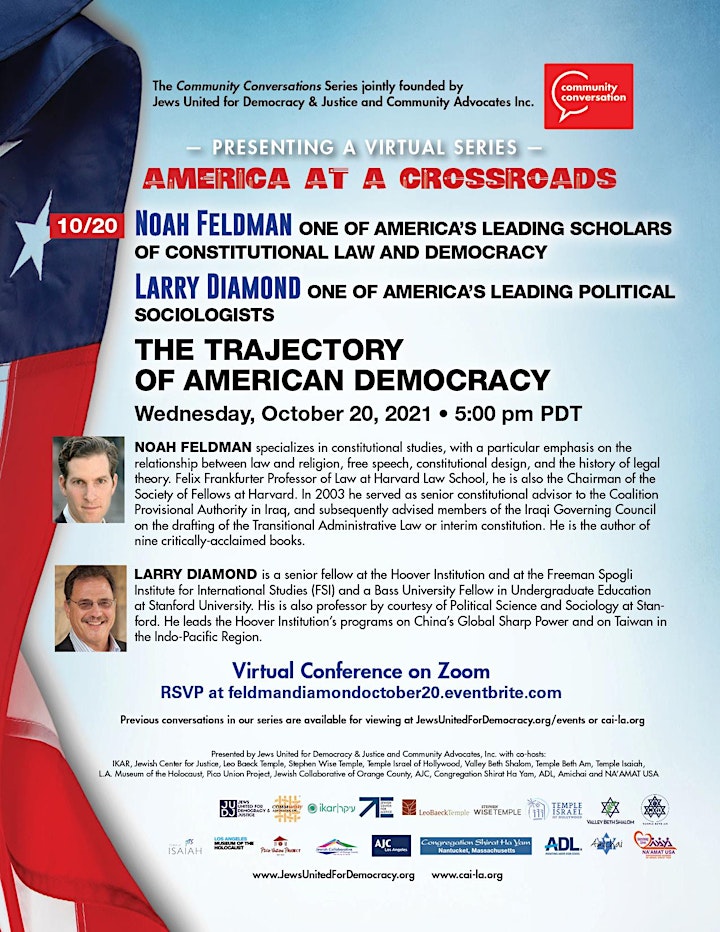 Organizer of The Trajectory of American Democracy: Noah Feldman, Harvard Law Prof.
Jews United for Democracy and Justice (JUDJ) is a broad cross-section of Los Angeles Jews who stand with our community and others to assert a Jewish voice to safeguard the principles and foundations of our constitutional democracy.
Founded in the wake of the executive orders on immigration and refugees, JUDJ is deeply concerned about rising threats to religious tolerance, equal rights, a free and fair press, human dignity, and long-held norms of decency and civil society. We will speak out and take action when our shared Jewish values require us to counter those threats.
Community Advocates, Inc. (CAI) is a nonprofit organization that advocates innovative approaches to human relations and race relations. It was founded on the idea that while we do not live in a perfect world, there has been steady and continuing progress in the arena of race and human relations. CAI is led by its Chairman Richard Riordan, former Mayor of Los Angeles and President David A. Lehrer, former Regional Director of the Anti-Defamation League. For many years its vice president was the late Joe R. Hicks, former Executive Director of the Los Angeles City Human Relations Commission. CAI spreads its vision through op-eds, speeches, panel presentations, journal articles and broadcast programming.