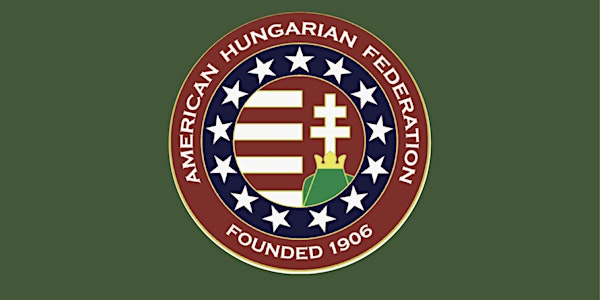 The Tragedy of the Treaty of Trianon
Our distinguished panelists will discuss how the 1920 Treaty of Trianon set into motion a realignment of Central Europe.
About this event
One hundred years ago, the Allies – the United States, Great Britain, France, and Italy – convened in Paris to attend the Peace Conference, which would formally end WWI and penalize the defeated. The Hungarian delegation to the Peace Conference was forced to sign a punishing diktat on June 4, 1920, the Treaty of Trianon, arguably the most severe of all the post-World War I settlements. The treaty divided up over 70 percent of the ancient Hungarian Kingdom's land; one-third of her indigenous ethnic-Hungarian population; and 90 percent of their natural resources, including all her seaports, among newly created successor states, which are today's Romania, Ukraine, Slovakia, Austria, Slovenia, Croatia, and Serbia.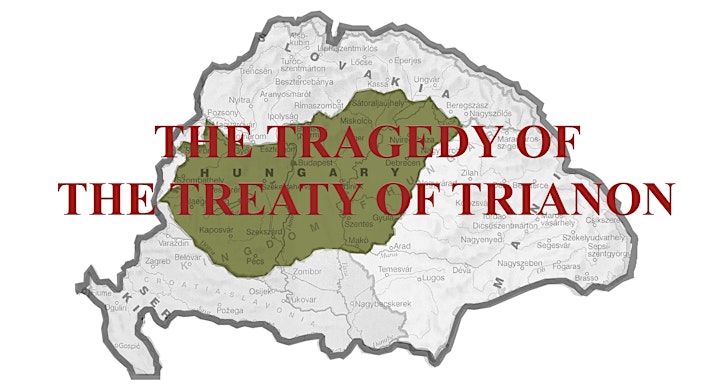 Our distinguished panelists will discuss how the Treaty of Trianon set into motion a realignment of Central Europe and the resultant cultural, political, and economic hardships of the 3.3 million Hungarians who became minorities in the newly created successor states. In none of the other treaties of the Peace Conference was the principle of self-determination so grossly violated as in the case of Hungary where nearly one-fourth of Hungarian nationals woke up one morning and found themselves involuntarily consigned to neighboring states, and who, to this day, are subject to discrimination.
PANELISTS
Mr. David A. Andelman: Journalist, CNN correspondent, author, A Shattered Peace: Versailles 1919 and the Price We Pay Today, a look at how some of the world's current geopolitical problems can be traced to the Treaty of Versailles that ended World War I.
H.E. Ambassador Géza Jeszenszky: Historian, author, and Hungarian politician; Associate Professor of Economics and Public Administration; Former Minister of Foreign Affairs and a former Ambassador to the United States and to Norway. Will discuss minority rights issues.
Prof. András Ludányi: Ohio Northern University, sociologist, historian, and scholar; active in Hungarian-American Communities. Will discuss the "Big Powers" and how the Treaty of Trianon was contrary to their interests.
Prof. Tamás Magyarics: American Studies Department at Eötvös Loránd University; Senior Research Fellow at the American Studies Research Center at the University of Public Service; historian and former Ambassador to Ireland. His publications include Great Britain's Foreign Policy in Central Europe since 1918.
Dr. Miklós Szánthó: Political analyst and lawyer; Director of the Center for Fundamental Rights, Hungary. Prerecorded video contribution.
Sir Bryan Cartledge: Diplomat and author, The Will to Survive: A History of Hungary; Private Secretary to former Prime Ministers James Callaghan and Margaret Thatcher; former Ambassador to Hungary. Written statement.
Moderator: Mr. Ari Fleischer, prominent American media consultant; former White House Press Secretary for President George W. Bush.
Special Opening Remarks by U.S. Congressman Andy Harris, Co-chair of the Congressional Hungarian-American Caucus (prerecorded) and by Mr. Ferenc Kalmár, Ministerial Commissioner for Hungary's Neighborhood Policy on behalf of the Ministry of Foreign Affairs and Trade.
Panelists will give their presentations via Zoom Webinar. The audience will be able to ask questions on chat during the webinar.
The Zoom link will be sent via email to those who register.
*****
OUR APPRECIATION TO:
THE CHARLES AND LISA SIMONYI FUND FOR ARTS AND SCIENCES
SUSAN HUTCHISON
THE HONORABLE MARY V. MOCHARY
THE HONORABLE ANIKO GAAL SCHOTT
*****
SPECIAL THANKS TO: PROF. TIBOR PURGER, RUTGERS UNIVERSITY
*****
THIS COMMEMORATIVE SYMPOSIUM IS HOSTED BY THE INTERNATIONAL RELATIONS COMMITTEE (IRC) OF THE AMERICAN HUNGARIAN FEDERATION
NATIONAL PRESIDENT AKOS L. NAGY
CO-PRESIDENT GYULA E. BALOGH
IRC MEMBERS:
ZOLTAN BAGDY, THEODORE BOONE, PETER de GAJARY, ANIKO GAAL SCHOTT, PAUL KAMENAR (Chair, AHF Executive Committee), ATILLA KOCSIS, BERT KOLUS, FRANK KOSZORUS, JR. (Chair, IRC), DR. IMRE NEMETH (Chair, AHF Board of Directors)
The American Hungarian Federation, founded in Cleveland, Ohio in 1906, is the oldest Hungarian-American organization in the United States. For the last 100 hundred years, AHF has been the leading advocate for remedying the detrimental effects that Trianon has had upon the minority Hungarian population.
Please visit our Trianon page on our website to find a wealth of information on Trianon. AHF's statement on the 100th anniversary, "The Treaty of Trianon: A Hungarian Tragedy," appeared in the Congressional Record on June 4, 2020, submitted by U.S. Representative Andy Harris, Co-chair of the Congressional Hungarian-American Caucus. It also appeared in the Washington Times as an op-ed.
Donations are welcome and may be made through the American Hungarian Federation's website or sent to our mailing address: 2001 Massachusetts Avenue NW, Washington DC 20036
Website: www.americanhungarianfederation.org
For any questions, please email us at: conference@americanhungarianfederation.org