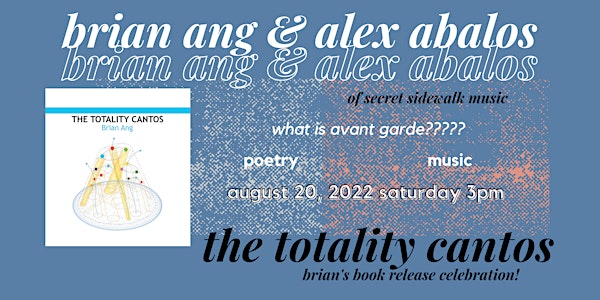 The Totality Cantos: Brian Ang and Alex Abalos on the Avant-Garde
Alex Abalos of Secret Sidewalk Music and Brian Ang of Eastwind Books join forces for an epic afternoon of avant-garde poetry and music!
When and where
Location
Eastwind Books of Berkeley 2066 University Ave Berkeley, CA 94704
Refund Policy
Contact the organizer to request a refund.
Eventbrite's fee is nonrefundable.
About this event
What is Avant-Garde art?
Saturday August 20, 2022 at 3pm at Eastwind Books of Berkeley
Join us for an incredible afternoon with two avant-garde artists: poet Brian Ang of Atelos and Eastwind Books, and musician Alex Abalos of Secret Sidewalk as they reflect on their defiance of accepted artistic criteria in efforts to find new paradigms of creation, and how they navigate art's capacity for societal, political, and cultural revolution. Performances to be followed by discussion with audience.
This event will be in person as well as livestreamed and recorded. It is taking place in celebration of Brian's book release and debut, The Totality Cantos, which can be purchased from Eastwind Books of Berkeley. There will be music, poetry, and radical discussion. Brian is bringing dim sum.
There is limited seating available due to COVID restrictions, so please RSVP to reserve your spot!
About The Totality Cantos
The 2008 economic crisis and global backdrop of struggles by 2011 renewed possibilities for thinking totality, materializing it for apprehension. Ang wrote The Totality Cantos out of a desire to be interested in everything, sampling from discourses of history, philosophy, religion, science, and the humanities, all offering knowledges of what constitute totality. This major work is constructed along the principles of assemblage poetics, and exemplifies constructive verse: writing adequate to apprehending totality.
About Brian Ang
The Totality Cantos is Brian Ang's first book. totalitycantos.net includes the complete text, links to buy copies, and a generator that randomizes assemblages of its one thousand sections.
Brian Ang interviewed by Cheryl Truong for Eastwind Books of Berkeley.
About Alex Abalos
Alex Abalos is an electrician, musician, sound artist, instrument fabricator and synthesizer nerd who enjoys piecing together unlikely partners, instruments, found sounds, and venues, creating unique and meaningful experiences that help neighborhoods think outside of their barriers and boundaries. Born and raised in the San Francisco Bay to a working class, immigrant family with a mentality of "working with what you got," Alex attributes his success to his DIY attitude. Realizing later in life that he could use it as a tool to connect with people, he brought his passion for music to alternative educational spaces where he can bridge the gap between the avant garde music that he loves and the street culture that he grew up in.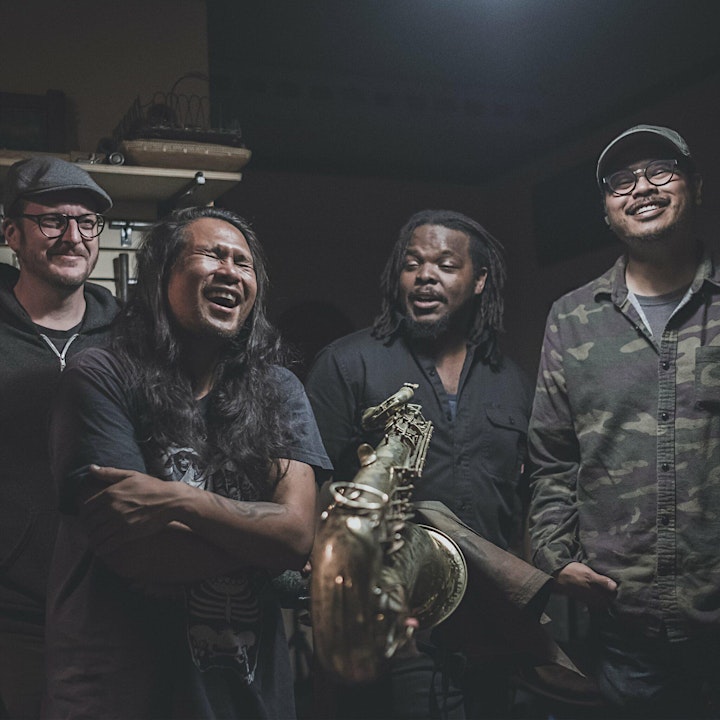 Founded in 2010, Secret Sidewalk is comprised of Bay Area natives from a variety of musical backgrounds, yielding a distinctive sound that echoes Bay Area hip-hop, jazz, and psychedelic undertones. The group features unorthodox instrumentation: saxophone, turntables, synthesizers, and drums, all modulated live with effects to create a sound that is both lush and gritty.
Secret Sidewalk has performed at the inaugural MUTEK Festival in San Francisco, Hiero Day (Oakland), Low End Theory (Los Angeles and San Francisco), South by Southwest, and regular appearances at "Smart Bomb," a groundbreaking monthly event in Oakland, founded by the band to showcase off-center beat music.
In 2019 the band released Primal Dap, their first full length album and the first release on the band's label Primal Dap Sound. The label will feature projects curated by the members of Secret Sidewalk, spanning their diverse interests (jazz, hip-hop, electronic, experimental).