The Top TEN "Mega-Marketing Mistakes" Entrepreneurs Make (And How To Avoid Them)

Thursday, April 23, 2015 from 3:00 PM to 6:30 PM (EDT)
Event Details
CAUTION
(You Are About To Enter A No B.S., No Fluff, Make-Money Zone)(Caution — You Are Entering A No B.S., No Fluff, Make-Money Zone)(Caution — You Are Entering A No B.S., No Fluff, Make-Money Zone)
This event is by "private invitation" only
Most Business Owners and Entrepreneurs struggle to make progress because they try to do everything on their own, lack motivation, cutting edge information and timely marketing strategies. You "fix that" by being a Renegade South Florida Entrepreneur / GKIC Miami Member and being involved in our local Chapter… …And your first event is FREE plus you will receive a few FREE gifts valued at almost $1,000 from the #1 Direct Response Marketing group in the US! Our closed door "members only" local Miami Chapter Events are jam packed full of powerful business-building and money-making information to help you take your business to new heights.
You MUST submit your First Name, Last Name, Primary Email address and Phone Number in the form below to register for the upcoming event, even if you are already a Member. Only those who are registered will be permitted into the event and seating is limited. Registration deadline is Monday February 23rd. (All fields with a * are required fields… And YES, you need to register even if you're already a chapter member. YES, we need to have a head count for name badges and hotel refreshments)
The monthly Miami Chapter Event features a unique blend of networking opportunities, proven direct response marketing techniques, wealth building strategies, personal development, as well as presentation of "how to" and "what works" success stories. These events give members an organized opportunity to form strategic alliances with other members and guests, to organize cooperative promotions, and exchange information.
Here's a sneak peak of what you can expect…
How To Double, Triple or Quadruple your advertising response!
Discover the secrets of creating a "competition-free zone" for yourself and your business.
How to successfully sell at prices higher than your competitors.
How to become "The Expert" and "Trusted Advisor" in ANY industry or field.
How to prosper even in a tough or uncertain economy (while others suffer).
How to NEVER do cold prospecting grunt work 'ever' again!
How to get customers beating down your door to do business with YOU.
How To increase your bottom line by 20% almost instantly!
If you've never attended a Renegade South Florida Entrepreneurs / GKIC Miami Chapter Event your missing out, BIG time… Your first meeting is FREE plus, you will receive a few FREE business-building gifts valued at almost $1,200 just for attending.
— This event is by "private invitation" only —
When & Where

Holiday Inn
2905 Sheridan Street
Hollywood, FL 33020


Thursday, April 23, 2015 from 3:00 PM to 6:30 PM (EDT)
Add to my calendar
Organizer
Rey Perez - Authority Branding Expert
My name is Rey Perez, I am the owner of AMP Productions, a Branding & Marketing company. Additionally my team and I Specialize in Coordinating Amazing Socially Infuzed Networking Events for smart, progressive South Florida Entrepreneurs & Business Owners who are in search of quality events with great networking opportunities to share information and make new contacts. I look forward to meeting you at one of our next events.
If you would like to get our upcoming event schedule or learn more please feel free to Call or Text me at 305-750-4033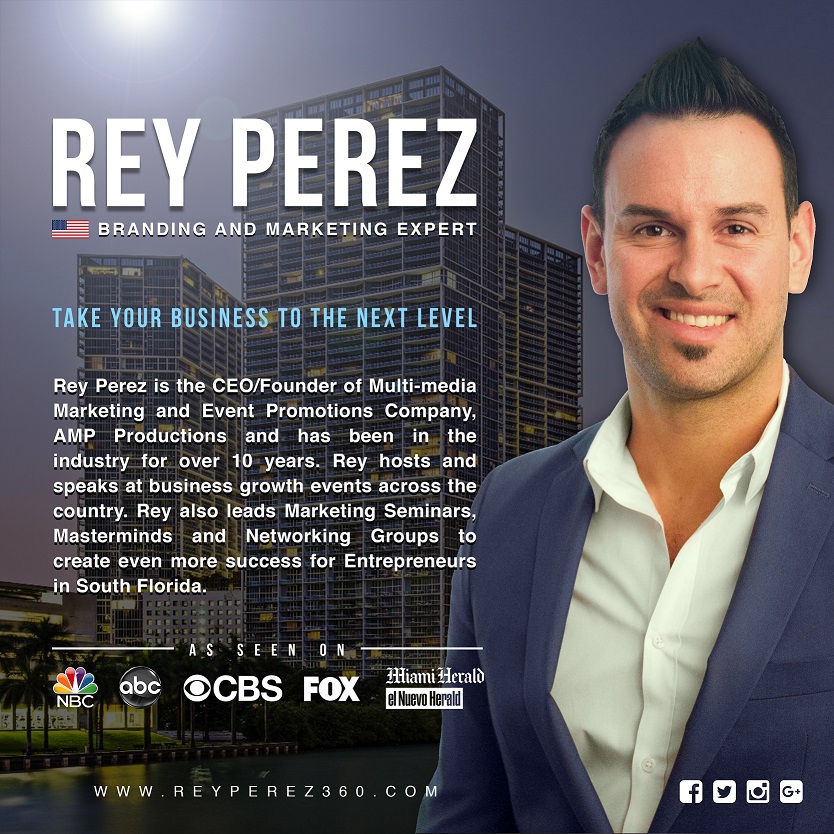 The Top TEN "Mega-Marketing Mistakes" Entrepreneurs Make (And How To Avoid Them)