Location
Joe Celestin Center
1525 Northwest 135th Street
Miami, FL 33167
2019 - Top 20 Under 40 Young Professional (YoPros) Awards Ceremony
About this event

The Haitian American Chamber of Commerce of Florida (HACCOF) is honored to celebrate this year's 4th Annual "Top 20 Under 40 Young Professionals". Twenty professionals will be honored for their commitment and contributions professionally, civically, personally and academically.
Come meet and celebrate this year's class of 2019; 20 young professionals identified by the chamber as individuals who are inspired to serve the community, have demonstrated effective leadership and have the dedication to do more for the Haitian community through South Florida and beyond.
YoPros are an expression of culture and pride throughout the Haitian community; whether it is through the art of Media, Medicine, Entrepreneurship, Research, Governmental Affairs and more.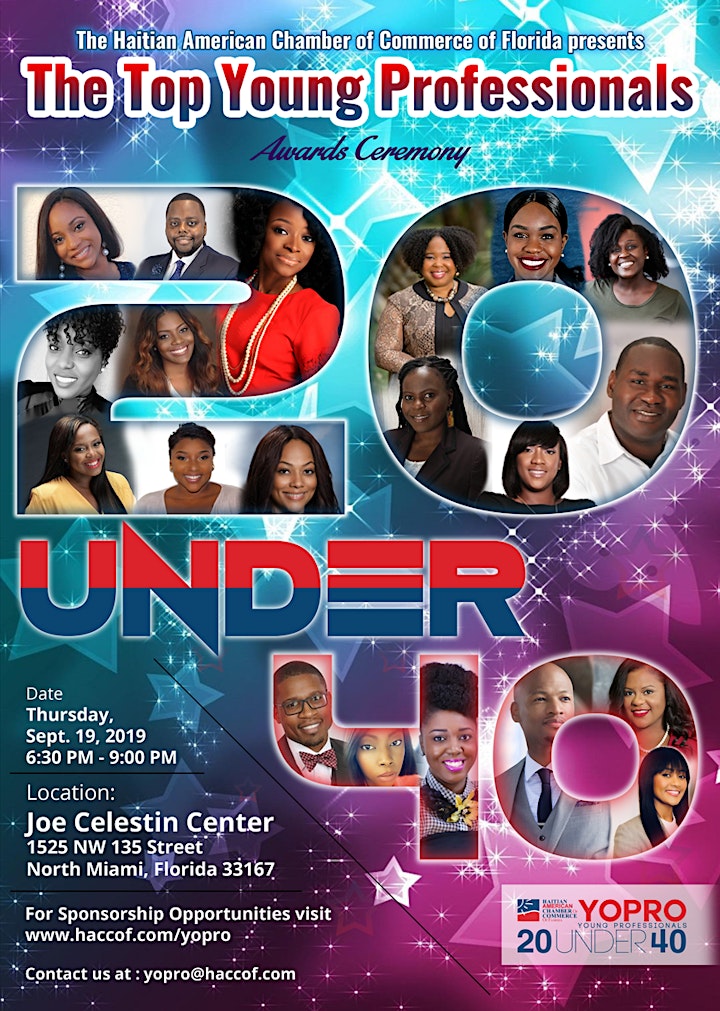 Grab your ticket and join us as we celebrate the best and the brightest young professionals in our community.
Formal attire is required.
RSVP by September 12, 2019. Tickets are limited! Reserve your seat TODAY!
* * * For sponsorship opportunities: http://www.haccof.com/yopro/
or email us at yopro@haccof.com * * *