Description
A quality training with personalized coaching for a lifetime of benefits, by one of Europe's highly experienced meditation teachers.
In this beautifully chaotic world, moments of inner peace are becoming a luxury. Stress is everywhere and anger, anxiety and negativity accumulate. How to enjoy our full potential? How to live a happy, successful life and achieve an ideal life/work balance?
From the moment you wake up in the morning until you fall asleep, your mind is always active. Sometimes you have so many thoughts that you feel like you're in a small boat on a stormy sea. That's why you feel unrest and tension throughout the day. It's hard to get together. Lack of sleep. Emotional fluctuations. You're not happy. And eventually, you need a break. If you have already tried "not to think of anything" or something similar with some types of meditation, then you know how difficult it is.
Transcendental Meditation, popularized by Maharishi Mahesh Yogi, is an evidence-based technique that will teach you how to pause the rush with zero effort. It is a simple, natural, effortless technique anyone can learn. Twenty minutes twice a day will put you in the eye of the hurricane, where inner peace and pure knowingness reside. With TM, within just a few minutes, you will calm your thoughts, clearing away everything that obscures the happiness deep inside. TM differs entirely from other meditations as it does not involve concentrating, trying to empty the mind or be in the present - it is completely natural.
Transcending is the most enjoyable and at the same time the most useful experience you can have in your life — it is the "secret weapon" of many high performance people today. When you learn to calm your thoughts in the right way, it transforms your life to such a better version of itself.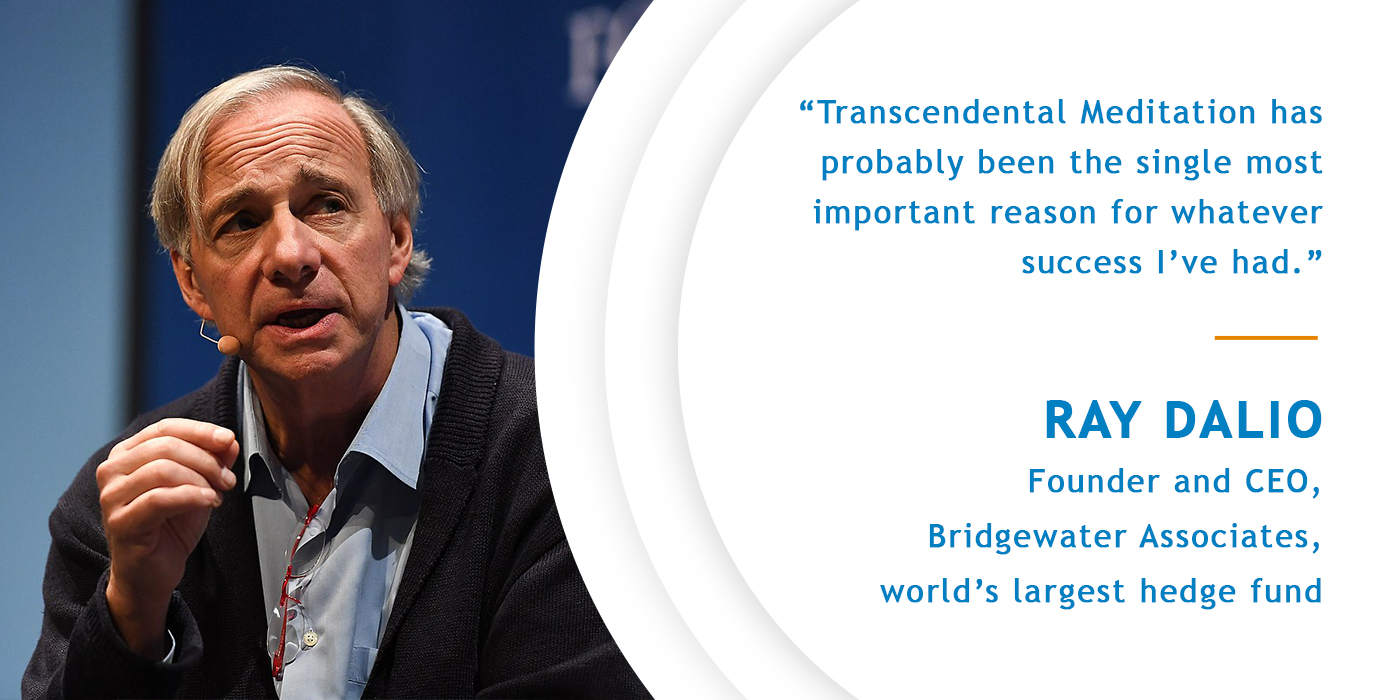 Some benefits of the TM technique:
- Enables mind and body to access a special quality of rest
- Increases your happiness hormone
- Eases anxiety and depression
- Effortlessly connects you with your deepest inner creativity
- Ensures a brighter, more positive state of mind
- Improves heart health and lowers high blood pressure naturally
This interactive and experience-based course is taught in Geneva-Carouge by Leonard Stein who is among the most experienced TM instructors in Europe. The next course starts January 25, 2019. Your TM course includes:
- Orientation and preparation to learn (90 minutes) - January 25 at 7 pm
1. Why anyone can practice TM
2. What benefits you can realistically expect
3. How TM differs from other meditations
4. What you will learn – how it works
- Learning the technique (4 x 90 minutes)
Complete knowledge and understanding of the technique to ensure you continue to enjoy maximum benefit. Four sessions over four consecutive days including personal instruction in private on the first day and small group sessions on days 2-4.
Schedule: personal instruction on Saturday, January 26 by appointment, small group sessions Sunday, January 27 at 11 am, Monday and Tuesday, January 28 and 29 at 7:30 pm.
- Ongoing coaching, deepening and follow up, included in your course fee. Once you've learned TM you'll have everything you need to meditate effectively; follow-up is important, however, to understand and deepen your experiences and to maintain correct, effortless practice for best results over time. Monthly meetings, group meditations, advanced talks and personalizes coaching will help you make maximum progress.
- A lifetime of benefits.
Course location
Espace MT/ David Lynch Foundation office, ave de la Praille 35, 1227 Carouge/ Geneva
Join the next TM course in Geneva - Carouge starting

January 25 at 7 pm

(preparation session), with your certified teacher Leonard Stein.

Reserve your place right now

and discover your full potential!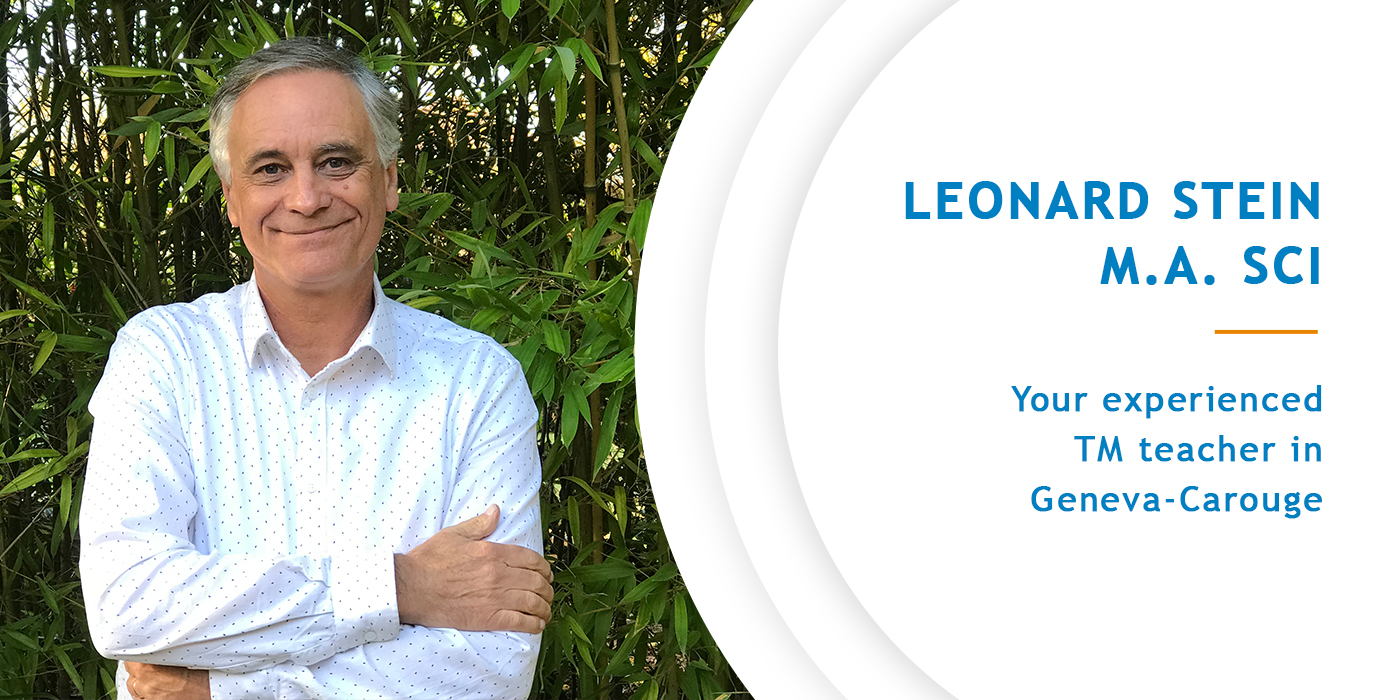 Leonard Stein, M.A. SCI, has been teaching TM since 1980 in Geneva and abroad, in English and in French. He warmly welcomes you at Espace MT in Geneva-Carouge, a friendly, modern facility in a quiet area of town. Leonard is the director of the representative office for Switzerland of the David Lynch Foundation which provides the benefits of TM to schools and underprivileged populations. He has also taught 25 years part-time at the International School of Geneva.
Registration and course payment
Please register and pay your course following the instructions below. The standard course fee including all coaching and follow-up is CHF 1800. Lower fees apply to students (CHF 800), families, or individuals with modest income so that everyone can learn TM. Payment in installments is available on request. Please contact Leonard for all details.
If you are unable to attend a course you have registered and paid for, you may transfer to another course date or be fully refunded with no questions asked if you inform us at least 24 hours early.
For more information about TM and the courses in Geneva – Carouge, please visit our site https://switzerland.tm.org/.
For any additional questions feel free to contact Leonard Stein, M.A. SCI at leonard.stein@tm.org or 022 890 10 08.
Join the almost 10 million people of all ages, cultures, and religions who experience the true bliss of Transcendental Meditation!