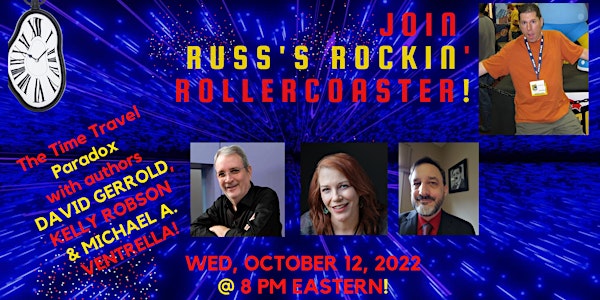 The Time Travel Paradox w DAVID GERROLD, MICHAEL A. VENTRELL, KELLY ROBSON
Author Russ Colchamiro hosts a panel discussion with David Gerrold, Kelly Robson, and Michael A Ventrella about time travel fiction
About this event
DAVID GERROLD has been writing professionally for half a century. He created the tribbles for "Star Trek" and the Sleestaks for "Land Of The Lost." His most famous novel is "The Man Who Folded Himself." His semi-autobiographical tale of his son's adoption, "The Martian Child" won both the Hugo and the Nebula awards, and was the basis for the 2007 movie starring John Cusack and Amanda Peet. He is the 2022 winner of the Heinlein award for outstanding published works in science fiction and technical writings that inspire the human exploration of space.
KELLY ROBSON is a Canadian short fiction writer. Her novelette "A Human Stain" won the 2018 Nebula Award, and her short fiction won the 2022, 2019, and 2016 Aurora Awards. She has also been a finalist for the Hugo, Nebula, World Fantasy, Theodore Sturgeon, Locus, Astounding, Aurora, and Sunburst Awards. Kelly consults as a creative futurist for national and international organizations. Kelly lives in downtown Toronto with and her wife, writer A.M. Dellamonica.
MICHAEL A VENTRELLA writes humorous adventure novels, including Bloodsuckers: A Vampire Runs for President, Big Stick, and Terin Ostler and the War of the Words. He also edits anthologies, including the Baker Street Irregulars series (with Jonathan Maberry), Across the Universe (with Randee Dawn), Release the Virgins and the upcoming Three Time Travelers Walk Into... His short stories have appeared in various anthologies, including the Heroes in Hell series and the Ministry of Peculiar Occurrences Archives series. Authors, editors, and agents are interviewed on the blog at his web page (www.michaelaventrella.com). In his spare time, he is a lawyer.
RUSS COLCHAMIRO is author of the Sci-Fi mysteries Crackle and Fire, Fractured Lives, and Hot Ash, the ongoing series featuring intergalactic private eye Angela Hardwicke. Russ is also the author of the rollicking time travel/space adventure, Crossline, the SF/F backpacking comedy series Finders Keepers: The Definitive Edition, Genius de Milo, and Astropalooza, is the editor of the Sci-Fi mystery anthology Love, Murder & Mayhem, and co-author and -editor of the noir anthology Murder in Montague Falls.
Russ has also contributed to several other anthologies including PRISM, Tales of the Crimson Keep, Pangaea, Altered States of the Union, Camelot 13, TV Gods 2, They Keep Killing Glenn, Thrilling Adventure Yarns, The Phenomenons, Footprints in the Stars, Devilish and Divine, Badass Moms, and Brave New Girls.
Russ is a member of The Mystery Writers Association, The Private Eye Writers of America, and the author collective Crazy 8 Press. He also hosts and produces his Russ's Rockin' Rollercoaster podcast, where he interviews best-selling and up-and-coming Sci-Fi, fantasy, crime, mystery, and horror authors.
For more on and Russ's books and his podcast, visit russcolchamiro.com, and follow him on Facebook, as well as Twitter and Instagram @AuthorDudeRuss.
He lives in New Jersey with his wife, two ninjas, and black lab, Jinx.