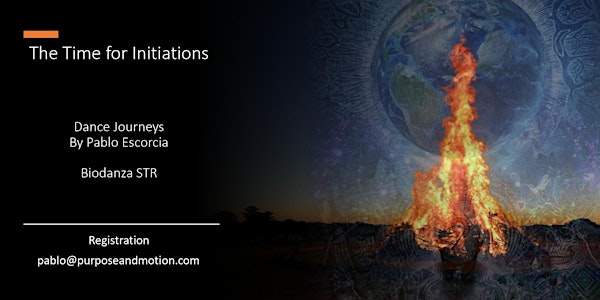 The time for Initiations/ Dance Journeys
Dance journeys to reconnect to what is important
When and where
Location
Life Artists Creators Hub Milastraße 4 10437 Berlin Germany
Refund Policy
Contact the organizer to request a refund.
About this event
The Time for Initiations
Dance Journeys
We are at a moment of human evolution when we are required to step up and meet the challenge of assuming our role as protectors of life.
Besides learning new ways to work (produce and consume), we are called to find new ways to relate to ourselves to others and connect to what is sacred within and around us. These dance journeys are meant to be spaces for us to explore and reconnect to what is sacred, and remember the capacity we have to create and pray together.
5 dance rituals/initiations, each of them a stand-alone ritual to open new doors and new possibilities.
Earth Ritual. (01.24.23) Grounding, stability, and concretion
Water Ritual. (07.02.23) Nourishment, depth, and flow
Fire Ritual. (21.02.23) Aliveness, strength, passionate
Wind Ritual. (07.03.23) Expansion, easiness, freedom
Integration Ritual. (21.07.23) Purpose, togetherness, envisioning
Each dance Journey will last 2,5h and will be based on the Biodanza system.
Prices
Stand-alone ritual €20
Series of 5 rituals €80
Registration.
pablo@purposeandmotion.com
What is Biodanza?
The Journeys will be based on the Biodanza system. For me, Biodanza is poetry in motion, as it invites us to discover the light inside our hearts and share it with the world. Biodanza is a ceremony of transformation, in which we let old patterns fall off and open space for the new to come in. In Biodanza we learn how to dance our life, how to create, love, and transcend, into the person we dream of. In Biodanzayou are welcomed as you are.
Dreamed and Guided by:
Pablo Escorcia is a Berlin-based entrepreneur, Biodanza teacher, Yogi, coach, and consultant. His life has been a journey of searching for his own path by integrating the practical world of business and the integral world of yoga and dance. His goal in life is to lead processes of enhancing human consciousness with gratitude and love to help create a better world.
Since 2005 he is a certified Biodanza Didacta teacher by the International Biocentric Foundation. As a teacher, he has taught Biodanza students and teachers to deepen their practice and enhance their comprehension of the system. Applying Biodanza, he has designed and delivered several organizational programs with both private and public organizations. He delivers on a regular basis, extensions such as Biodanza and shamanism and Biodanza in organizations, as well as workshops and weekly sessions in Berlin. Pablo has been invited to participate as a teacher, dancer, and speaker at several international conferences of Biodanza in more than 10 countries on four continents.
His main focus in Berlin is to expand and share with the world his visions and thrive by helping to create a world in which consciousness and mindfulness are key to evolving as species.