Description
The Lowdown on The Tick Trailblaze 5K/10K (and Kid's Dash)!

WHEN: Saturday, July.14, 2018 FROM 9:30AM-11:30AM
WHERE: Miwok Meadows (at China Camp State Park), Santa Venetia, CA. 94901
START TIMES: 9:00AM-Kid's Dash (3/4 of a mile, ages 5-10), 9:30AM-10K, 9:45AM-5K.

COST: 5K-$30-$45, 10K-$45-$60, Kid's Dash-$15
Tick Trailblaze 10K Course Map
Kid's Dash (.75 mile) Course Map (ages 5-10)
Medals, Woodallions, and Shirts!
All 5K/10K runners get an awesome multi-functional medal. All kid's dash runners get an awesome race woodallion that doubles as a coaster!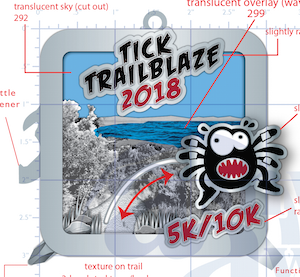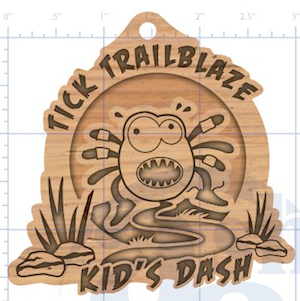 All 5K/10K runners get a functional/fashionable tech tee!
ADDITIONAL SASQUATCH RELATED PERKS/AMENITIES!

Following the race all 5K/10K runners get TWO BEERS from Standard Deviant Brewing Company, Hint Water, Bare Snacks, RX Bars, and much more!

Tick Trailblaze Treasure Hunt!
All runners have a shot at scoring a TON of awesome prizes via our trail treasure hunt! Find a special woodallion (or two) along the course and bring it back to the finish line to claim your prize(s)!
Why is a Tick the event mascot?
We're very fortunate to have The Bay Area Lyme Foundation as our race series sponsor. The Bay Area Lyme Foundation is committed to making Lyme disease easy to diagnose and simple to cure.
Lyme disease is the fastest growing vector-borne illness in the US. It is an infectious disease caused by the bacteria Borrelia burgdorferi transmitted to humans by the bite of an infected backlegged tick. Most infections are caused by the nymphal form of the tick. These immature ticks are the size of a small poppy seed, allowing them to easily escape discovery.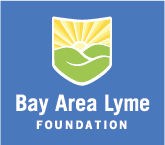 Never done one of our races before?
Our races are fun, lighthearted, and well marked. Whether you're new to trail running or a seasoned veteran of the trail, we'll show you a great time! But, don't take our word for it. Take a look at the following video from one of our races!
QUESTIONS/CONCERNS: INFO@SASQUATCHRACING.COM