Description

The Thriving Filmmaker Webinar is a 90-minute hands-on webinar designed to help you freelance for freedom (not for free) and foster transparent, welcoming discussions about career sustainability. By the end of this workshop you will have (1) identified your top three career goals, (2) identified three ways to generate income that align with those goals, and (3) created a "freedom rubric" to help you identify which freelance gigs to take that help you thrive rather than just survive. Presented by Impact Producer Ani Mercedes of Looky Looky Pictures, this webinar will help you develop vital skills for your independent documentary film career. This is interactive, so come ready to answer personal reflection questions and take notes!
**A copy of this webinar will be available to all registrants for three months after the recording is posted.
Please note: If you have any difficulties registering online, please contact us at 212-925-0606, ext.3100.
Presenter Bio:
Ani Mercedes is the Founder and Impact Producer at Looky Looky Pictures and a Personal Finance Educator. She started and runs Thriving Filmmaker, an online resource that helps filmmakers create sustainable careers through online workshops and a video podcast interviews with filmmakers, distributors, and funders. She's taught personal finance workshops for five years and has been featured in personal finance press including Learnvest, Bankrate, and The Money Nerds podcast. She's also a former elementary school teacher (via Teach for America) and loves teaching, particularly breaking down intimidating concepts into small, manageable, bit-sized lessons that incorporate hands-on activities. She is a Firelight Media Impact Producer Fellow, Sundance Institute Short Film Intensive Miami Fellow, attended the University of Chicago (B.A.) and Syracuse University (M.P.A.), was a White House intern (President Obama Administration), and is based in her hometown of Miami, Florida.
Women Make Movies gratefully acknowledges the support of our funders: The National Endowment for the Arts, the New York State Council on the Arts with the support Governor Andrew Cuomo and the New York State Legislature and the New York City Department of Cultural Affairs in partnership with the City Council. The Nathan Cummings Foundation, with the support and encouragement of Rebecca Gregg, the Academy of Motion Picture Arts & Sciences, and the Hollywood Foreign Press Association.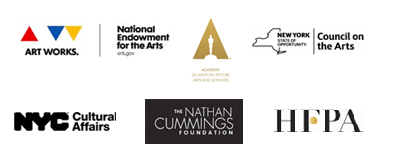 Date and Time
Refund Policy