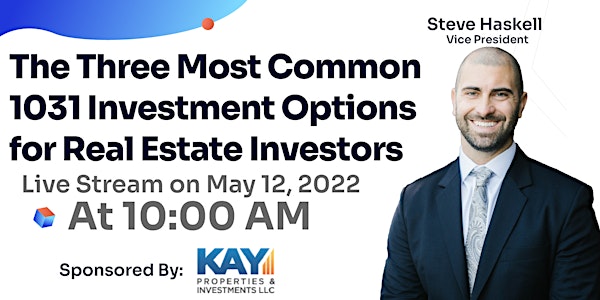 The Three Most Common 1031 Investment Options for Real Estate Investors
Steve Haskell | Vice President at Kay Properties and Investments
About this event
The Three Most Common 1031 Investment Options for Real Estate Investors
In this AOA Live Stream, you will discover:
How tenants in common cash out.
What is direct purchase of triple-net (NNN) properties?
What is a Delaware Statutory Trust?
Steve Haskell serves as Vice President at Kay Properties and Investments, working with 1031 exchange and direct investment clients throughout the country. Steve is based out of Kay Properties San Diego office. Steve comes to Kay Properties and Investments after serving for seven years as an officer in the United States Air Force in the special operations community where he led small teams as well as a large staff of hundreds of military and civilian personnel. Steve has served in numerous locations around the world, including multiple deployments to Afghanistan and locations throughout Africa. Though Steve has retired from active duty, he still serves in the Air Force Reserves. Prior to his military service, Steve worked in sales and marketing for multiple businesses, which included providing energy management solutions to institutional multifamily apartment owners. Steve holds a Master's degree from the American Military University and a Bachelor's Degree in Accounting from Point Loma Nazarene University. He graduated as International Development Student of The Year for his work providing business education to entrepreneurs in impoverished areas in Mexico, Nicaragua, and San Diego.
About Kay Properties and www.kpi1031.com
Kay Properties is a national Delaware Statutory Trust (DST) investment firm. The www.kpi1031.com platform provides access to the marketplace of DSTs from over 25 different sponsor companies, custom DSTs only available to Kay clients, independent advice on DST sponsor companies, full due diligence, and vetting on each DST (typically 20-40 DSTs) and a DST secondary market. Kay Properties team members collectively have over 115 years of real estate experience, are licensed in all 50 states, and have participated in over 15 Billion of DST 1031 investments. This material does not constitute an offer to sell nor a solicitation of an offer to buy any security. Such offers can be made only by the confidential Private Placement Memorandum (the "Memorandum"). Please read the entire Memorandum paying special attention to the risk section prior investing. IRC Section 1031, IRC Section 1033, and IRC Section 721 are complex tax codes; therefore, you should consult your tax or legal professional for details regarding your situation. There are material risks associated with investing in real estate securities including illiquidity, vacancies, general market conditions, and competition, lack of operating history, interest rate risks, general risks of owning/operating commercial and multifamily properties, financing risks, potentially adverse tax consequences, general economic risks, development risks and long hold periods. There is a risk of loss of the entire investment principal. Past performance is not a guarantee of future results. Potential cash flow, potential returns, and potential appreciation are not guaranteed. This email message is intended only for the recipient to whom it is addressed and may contain information that is privileged and confidential. Nothing contained in this email constitutes tax, legal, insurance or investment advice, nor does it constitute a solicitation or an offer to buy or sell any security or other financial instrument. If you are not the intended recipient of this message, any use, dissemination, distribution, or copying of this communication is strictly prohibited. If you have received this communication in error, please immediately notify the sender and permanently delete all copies that you may have. Securities are offered through Growth Capital Services, member FINRA, SIPC, Office of Supervisory Jurisdiction located at 582 Market Street, Suite 300, San Francisco, CA 94104.
Kay Properties & Investments
855-466- 5927
steve@kpi1031
www.kpi1031.com