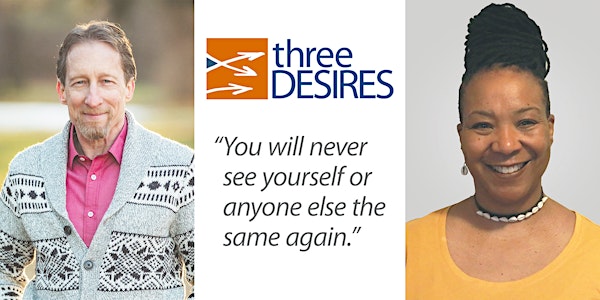 The THREE DESIRES Marriage, Parenting, & Relationships Seminar (WEBINAR)
Refund policy
Contact the organizer to request a refund.
Eventbrite's fee is nonrefundable.
An EYE-OPENING experience with Dave & Adrianne (Dr. Adrianne Fletcher will be unable to attend this April 2022 event.)
About this event
This is the biggest thing you will EVER learn about yourself or others.
Join Dave Bender and Dr. Adrianne Fletcher (unable to attend April 2022 event), as they unlock the real reasons for your marriage, parenting, and relationship struggles.
Click here to register for the IN-PERSON event. This webinar is a broadcast of the live event.
Are you having any relationships difficulties?
Have you ever had marriage, parenting, or relationships counseling that didn't work?
Here's why: The counseling or therapy didn't get to the deepest root of the problem--human desires.
The next time you're trapped in raw conflict, what would you pay to fix it?
One hour of counseling in Green Bay is $80-$250. This seminar delivers FIVE hours of "aha-moment," life-changing material for $49.
NOTE: The only reason we charge anything at all is to try to cover advertising and other costs.
Reviews
"This has been so beneficial and insightful! I thoroughly enjoyed how this seminar was taught...with wisdom, humor and real-life examples of vulnerability. Great resource and I have been a counselor for many years! I highly suggest investing in yourself with this training." JoAnne N. (MSW, LCSW, BCPCC)
"One of the most informative, interactive thought process sessions I've attended in years. The 'Impression Management' teaching was worth the cost of the day alone." Andy C.
"The chart used divided the desires into relevant terms for modern life…. Very helpful course to show why we do what we do and how we can fix it…!" Jacob T.
"Love the format. Love the info. Love the message. Made me think much deeper into my understandings of Desire and how it affects me, my marriage, my family, my life. I will be using these tools to keep me together and stop the crumbling in my life." Rob R.
"This seminar opened my eyes to see the desires of my heart, and what I need to do with them so that I'll have less conflict in my marriage." Name Withheld
Can you answer these questions?
What's the deepest cause of marriage problems?
Why does your spouse act like that?!
Why do your children do what they do?
Why do you do what you do? (Can you answer this question?)
What causes all conflict and fighting?
What fact does Cognitive Behavioral Therapy miss?
What causes narcissism?
Why can children be so mean?
Why do people clam up or blow up?
Why are some people so easily offended.
Why do children fight?
Why do children resist their parents?
Can your counselor or therapist answer those questions beyond nature/nurture theory?
YOU will be able to answer those questions and more after the seminar. If you don't agree, we'll give you a complete refund with no questions asked.
This seminar will provide immediate, positive impact if you choose to apply what you learn.
Your biggest problem is not your circumstances. Your biggest problem is not the people around you. Your biggest problem is within you.
You will never see yourself or anyone else the same again.
****************************************************************************
NOTE: This seminar is entirely not-for-profit. Any proceeds are used to cover advertising and other miscellaneous expenses, but in fact...we've lost money every time. And that's OK with us because we're glad to help people.
PERONSAL MESSAGE FROM DAVE: As I began to understand and apply this remarkable information back in the early 1990s, it immediately began to transform my understanding of myself AND my behaviors. It's hard for me to put into words how helpful this has been for me. We look forward to sharing it with you.