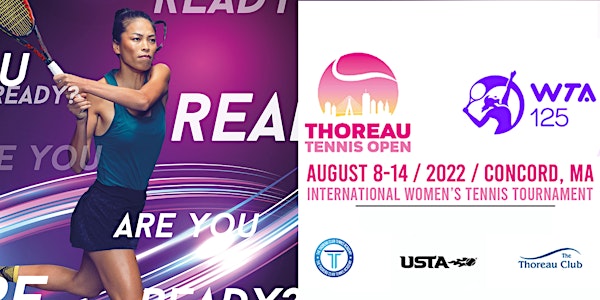 The Thoreau Tennis Open
International Women's Tennis Tournament Sponsored by the WTA
When and where
Location
The Thoreau Club 275 Forest Ridge Rd Concord, MA 01742
About this event
Part of our mission at The Thoreau Club and The Thoreau Club Tennis Academy is to bring world-class tennis talent to our courts in order to inspire, excite, and lift the motivation of our wonderful kids, parents and players of all ages. With this mission in mind, I am proud to announce that we will be hosting the Club's third professional women's tennis tournament. The Thoreau Tennis Open WTA125, will host up to 100 of the world's top female tennis players! Our professional tournament will be a major stop for WTA players on their way to the US Open. Last year's successful tournament brought the WTA to offer us an opportunity to continue the event. We are very excited to announce this year's dates August 8-14th.
Tickets Available
Admission is free for those matches played between Sunday and Thursday (August 7th – 11th). Please feel free to join us for some truly great professional tennis.
General Admission
Friday, August 12th - Quarterfinals - $40 Adults, $20 Kids

Saturday, August 13th - Semifinals - $60 Adults, $20 Kids

Sunday, August 14th – Finals - $75 for Adults, $25 Kids
VIP Seating
Includes premier assigned seating with access to the exclusive "Hospitality Area" - Saturday & Sunday Only.
Serving a thoughtfully put-together culinary feast for your enjoyment!
A variety of creative hors-d'oeuvres, the best of New England seafood creations, seasonally inspired small plates, vegetarian options, exquisitely paired with a hand-picked selection of Italian wines, spirits, and cocktails.
Friday, August 12th - Quarterfinals - $75 Adults, $50 Kids (No Hospitality Area on Friday)

Saturday, August 13th - Semifinals - $200 Adults, $100 Kids

Sunday, August 14th - Finals - $200 Adults, $100 Kids
3-Day Bundle
General Admission - $150 – Adults, $50 - Kids

VIP - $450 (Adults Only) - (Player's Party, Semi-finals & finals)