The Thing
When and where
Location
Locke Ober 3 Winter Pl Boston, MA 02108
Description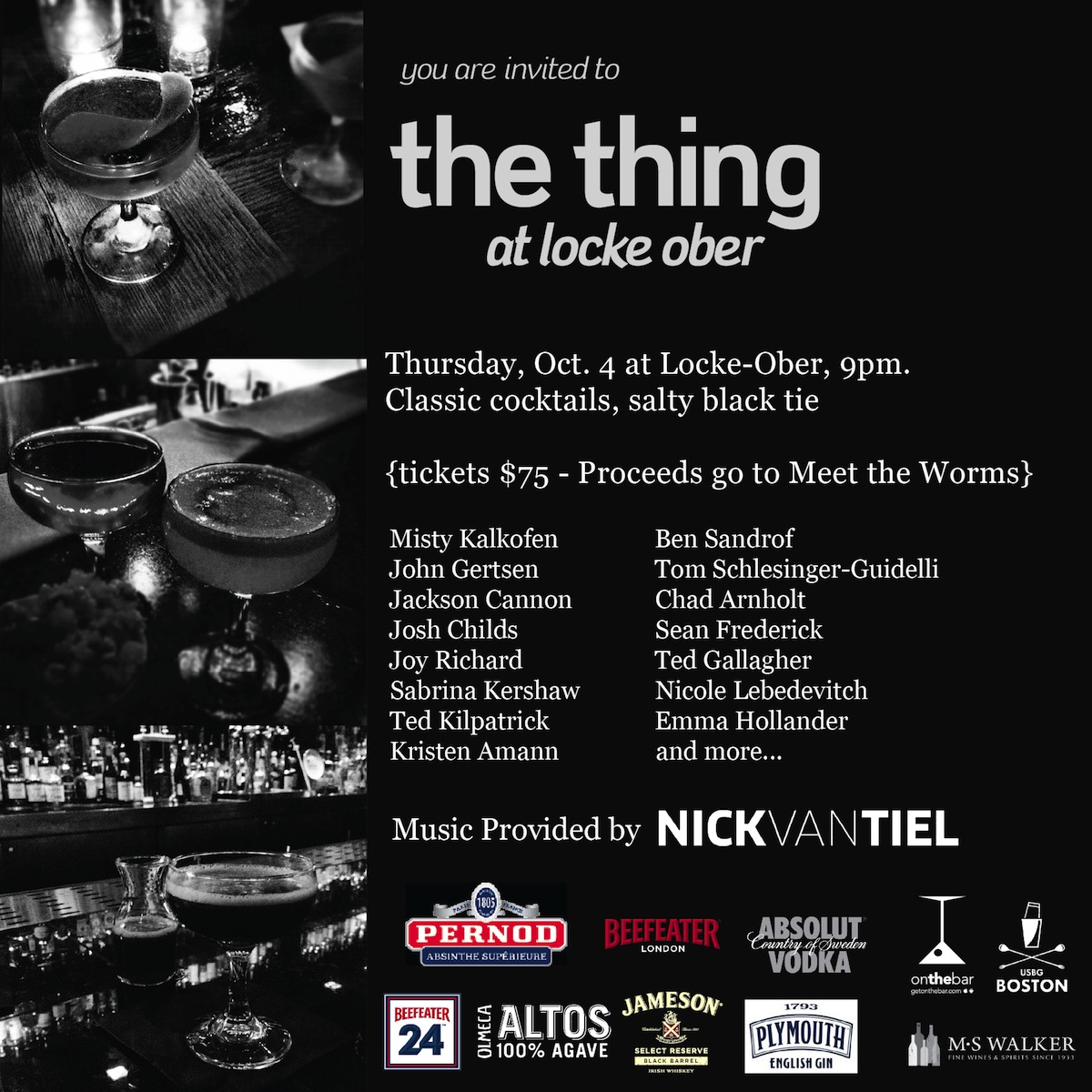 With so many of nightlife's finest professionals visting the city for the Boston Cocktail Summit, a small group of us got together and decided the best way to welcome guests to our city was to create an event showcasing the talented bartenders who make our evenings so amazing.
From ABV, USBG Boston, onthebar, MS Walker, and Pernod-Ricard, The Thing is Thursday October 4th at Locke-Ober, one of the oldest restaurants in the city of Boston.
Originally constructed in 1832, the restaurant has hosted countless dignitaries including regular diner President John F. Kennedy and is well known in beverage circles as the origin of the Ward 8 cocktail.
This Thursday night at 9pm, Locke-Ober will host an incredible roster of bartenders from some of Boston's finest establishments including Brick & Mortar, Drink, The Hawthorne, Trina's Starlite Lounge, Citizen Public House, No. 9 Park, Eastern Standard, and Deep Ellum among others:
Misty Kalkofen
John Gertsen
Jackson Cannon
Josh Childs
Joy Richard
Sabrina Kershaw
Ted Kilpatrick
Kevin Martin
Kirsten Amann
Ben Sandrof
Tom Schlesinger-Guidelli
Chad Arnholt
Sean Frederick
Ted Gallagher
Nicole Lebedevitch
Emma Hollander
and more…
The party will begin in the lounge bar and fill all three floors of Yvonne's, the storied private club at Locke-Ober. Yvonne's will host music and dancing with DJ Nick van Tiel.
Guests are asked to dress in "salty" black tie, which is to say formal attire, with creativity encouraged. Classic cocktails are complimentary with admission.
All proceeds go to benefit Meet The Worms, an excellent initiative from the Barbara Lynch Foundation dedicated to educate children about nutrition and the importance of real food.
Our friends at Uber have arranged a discount for the evening for those traveling to and from Locke-Ober. Enter promotional code "TheThing"; new riders receive $20 off, existing users will have 20% deducted from their total.
Honestly, it's going to be a pretty incredible party. #thething