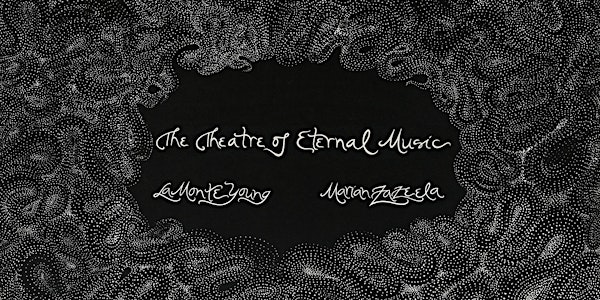 The Theatre of Eternal Music
A performance of La Monte Young's historic Young's Blues by The Theatre of Eternal Music in honor of the legendary musician's 86th birthday.
When and where
Location
Dream House 275 Church Street 3rd Floor New York, NY 10013
Refund Policy
Contact the organizer to request a refund.
Eventbrite's fee is nonrefundable.
About this event
LA MONTE YOUNG
Birthday Blues
Young's Dorian Blues (c. 1960-61-present)
THE THEATRE OF ETERNAL MUSIC
La Monte Young, voice
Marian Zazeela, light design
Jung Hee Choi, voice and light design
Ben Neill, just intonation trumpet
Jon Catler, electric just intonation guitar
Hansford Rowe, electric just intonation bass
Naren Budhkar, tabla
in a setting of
Abstract #1 from Quadrilateral Phase Angle Traversals, Marian Zazeela
Environmental Composition 2017 #1, Jung Hee Choi
Thursday, October 14 and Friday, October 15, 2021 • 7:00 pm
MELA Foundation Dream House
Information and reservations: mail@melafoundation.org
Seating will be on carpeted floor and cushions only.
Given the latest conditions, only those fully vaccinated against COVID-19 will be permitted to attend. Digital and print versions including photocopies are acceptable forms of proof. All guests must remain masked. We greatly appreciate your cooperation.
MELA is pleased to present a live concert performance of La Monte Young's Birthday Blues in celebration of Young's 86th birthday and the 180-degree half cycle of Marian's 81st birthday. The Theatre of Eternal Music Ensemble will perform this historic and extraordinary piece, which is one of Young's earliest works in a new configuration.
The two legendary vocalists—La Monte Young and Jung Hee Choi—and three virtuoso just intonation performers – Jon Catler, fretless guitar; Hansford Rowe, fretless bass and Ben Neill, trumpet - will improvise harmonically related frequency ratios over Young's Birthday Blues accompanied by highly acclaimed tabla master, Naren Budhkar.
La Monte has written about his blues: "Young's Blues is one of the ancestral lineages of my music and, as such, I hope it can be an introduction to lead even broader audiences to the complete spectrum of my more complex works. … It may come as a surprise to some to find that I consider much of my music either to be blues-based, or to have a strong relationship to blues. Even such complex works as Map of 49's Dream The Two Systems of Eleven Sets of Galactic Intervals Ornamental Lightyears Tracery, The Well-Tuned Piano, and some of sound environments have this characteristic, and it speaks for the enormous vitality and power of the blues and its contribution to music.
——————————————————————————————————
La Monte Young pioneered the concept of extended time durations in 1957 and for over 60 years contributed extensively to the development of just intonation and rational number-based tuning systems in his performance works and the periodic composite sound waveform environments of the Dream House collaborations formulated in 1962 with Marian Zazeela. Presentations of his work in the U.S. and Europe, as well as his theoretical writings gradually had a wide-ranging influence on contemporary music, art and philosophy, including Minimalism, concept art, Fluxus, performance art and conceptual art. In L.A. in the '50s, Young played jazz saxophone, leading a group with Billy Higgins, Dennis Budimir and Don Cherry. He also played with Eric Dolphy, Ornette Coleman, Terry Jennings, Don Friedman, and Tiger Echols. At Yoko Ono's studio in 1960 he was director of the first New York loft concert series. He was the editor of An Anthology, which with his Compositions 1960 became a primary influence on concept art and the Fluxus movement. In 1962 Young founded his group The Theatre of Eternal Music and embarked on The Tortoise, His Dreams and Journeys, a large work involving improvisation within strict predetermined guidelines. Young and Zazeela helped bring renowned master vocalist Pandit Pran Nath to the U.S. in 1970 and became his first Western disciples. Described by Mark Swed in his October 2009 Los Angeles Times blog as "pure vibratory magic," Young's Just Alap Raga Ensemble, founded in 2002 with Zazeela and their disciple Jung Hee Choi, has become his primary performance vehicle. "For the past quarter of a century he has been the most influential composer in America. Maybe in the world." (Los Angeles Herald Examiner, 1985). "As the acknowledged father of minimalism and guru emeritus to the British art-rock school, his influence is pervasive" (Musician magazine, 1986). "Young is now widely recognized as the originator of the most influential classical music style of the final third of the twentieth century." (Strickland, Minimalism:Origins, 1993). "La Monte Young: Le Son du Siècle." (L'Express L'An 2000 Supplement, 1999).
Marian Zazeela is one of the first contemporary artists to use light as a medium of expression and perhaps the first to compose recurring motivic and thematic statements and permutations with light over time as in music. Over more than five decades Zazeela has exhibited a unique iconographic vision in media encompassing painting, calligraphic drawing, graphics, film, light performance, sculpture and environment. Expanding the traditional concepts of painting and sculpture while incorporating elements of both disciplines, she created an original visual language in the medium of light by combining colored light mixtures with sculptural forms to generate seemingly three-dimensional colored shadows in radiant vibrational fields. Light and scale are manipulated in such a way that the colored shadows, in their apparent corporeality, become indistinguishable from the sculptural forms, enveloping the viewer in the continual interplay of reality and illusion. Zazeela's work has been significantly influential. Her abstract calligraphy was the primary influence on the calligraphy of the great poet and founding drummer of The Theatre of Eternal Music and the Velvet Underground, Angus MacLise. The visionary tradition of her curvilinear graphite on black and dot-style calligraphic drawings has also been carried on and taken to a highly imaginative level in the pencil and pinhole drawings of her disciple, Jung Hee Choi. Zazeela's Ornamental Lightyears Tracery has been credited by Glenn Branca in Forced Exposure #16, 1990, and by David Sprague in Your Flesh # 28, 1993, to have been the direct influence on Warhol's Exploding Plastic Inevitable.
Jung Hee Choi is an artist/musician and has presented Ahata Anahata, Manifest Unmanifest (2007– ), a series of environmental compositions with light, evolving light-point patterns, drawing, incense, performance, and sound. Her work has been presented in the United States, Europe, and Asia including FRAC Franche-Comté, France; Berliner Festspiele, Germany; Dia Art Foundation, Guggenheim Museum and MELA Foundation Dream Houses, NYC; FRESH Festival, Bangkok; Korea Experimental Arts Festival. Commissioned by MELA Foundation, her video sound performance and installation, RICE, was chosen as one of The 10 Best of 2003 in the December Artforum. Choi is the senior disciple of La Monte Young and Marian Zazeela, and in 2002 she co-founded, with Young and Zazeela, The Just Alap Raga Ensemble. Choi's electroacoustic and modal improvisation ensemble, The Sundara All Star Band, premiered in 2015. The members include Young, Zazeela, Choi, Jon Catler, Hansford Rowe and Naren Budhkar. The New York Times listed Choi's Tonecycle for Blues performed by her Sundara All Star Band as one of The Best Classical Music Performances of 2017. On August 28, 2015, The New York Times wrote about Choi's multimedia installation Ahata Anahata, Manifest Unmanifest IX at Dia 15 VI 13 545 West 22 Street Dream House, NYC, "With extended listening, what at first seemed mechanically repetitious turns out to be a complex interweaving of different, slowly oscillating pitches. If you give in to it while watching Ms. Choi's hallucinatory screen, you may find yourself in an altered state of consciousness, on the verge of some ineffable, transcendental revelation." Choi graduated BA summa cum laude, and received her MA in art and sound from NYU. Her work is in the collection of Frac Franche-Comté, France and Dia Art Foundation. Since 2009 Choi's long-term multimedia installations have been presented both solo and simultaneously with Young and Zazeela's sound and light in the MELA Dream House creating a continuous collaborative environment.
Ben Neill is a composer, performer, producer, and inventor of the Mutantrumpet, a hybrid electro-acoustic instrument developed with Robert Moog and the STEIM studios in Amsterdam. He is widely recognized as a musical innovator through his recordings, performances and installations. Neill's long association with La Monte Young and Marian Zazeela began as a student in the early 1980's. He worked closely with Young on the development of the Melodic Version of The Second Dream of the High Tension Stepdown Line Transformer, and has led many international performances of the piece in addition to the CD recording. Recordings of Neill's music have been released on labels including Universal/Verve, Astralwerks, Thirsty Ear, and Six Degrees, in addition to his own Blue Math imprint currently distributed by AWAL/Sony. Performances include BAM Next Wave Festival, Big Ears Festival, Lincoln Center, Cite de la Musique, Bing Concert Hall at Stanford University, Moogfest, Spoleto Festival, Umbria Jazz, Bang On A Can Festival, ICA London, Istanbul Jazz Festival, Getty Museum, Whitney Museum, and the Edinburgh Festival. Neill has worked closely with many musical innovators and artists including David Wojnarowicz, John Cage, John Cale, Pauline Oliveros, Rhys Chatham, DJ Spooky, David Berhman, Mimi Goese, and Nicolas Collins. From 1992-98 Neill was the Music Curator of The Kitchen in New York City. From 2019-21 he was an Artist in Residence at the Nokia Bell Labs Experiments in Art and Technology Program, and is currently a Professor of Music at Ramapo College.
Jon Catler graduated summa cum laude from Berklee College of Music where he performed the school's first microtonal senior recital in 1979, featuring his compositions for solo and group in 31-tone and 19-tone equal temperaments. Since his initiation into the world of microtonal music performance, Catler has played with many music luminaries, most notably legendary Just Intonation composer La Monte Young with whom he has worked for over 30 years, touring and recording as a member of the Forever Bad Blues Band (Gramavision CD), The Theater of Eternal Music Big Band, and the Just Alap Raga Ensemble. Catler has also recorded and toured extensively with his own music, and has appeared as composer and performer on the Futurismo/Futurismi Festival, Manca Festival, Montreal Jazz Festival, Quebec Festival d'Ete, the Angelica Festival, the World Out Of Tune (W.O.O.T.) Festival, and the American Festival of Microtonal Music of which he is co-founder. Catler performed in the world premiere version of Ives' Universe Symphony at Lincoln Center, a climax of AFMM's 30-year history. Catler also performed on the original Harry Partch guitars in a performance of Partch's Oedipus at The Metropolitan Museum of Art in NYC. Other notable performances include a residency at The Guggenheim with La Monte Young, shows at The Kitchen (NYC), the Knitting Factory, Avery Fischer Hall and Alice Tully Hall, and a live recording of Catler's groundbreaking orchestral work Evolution for Electric Guitar and Orchestra at New York Society for Ethical Culture. As a recording artist and published author, Catler has released over a dozen critically acclaimed CDs of original music, all in Harmonic Series Tunings. In 2002, Catler's first book The Nature of Music was released, explaining his Harmonic discoveries and presenting a tuning system that sets the precedent of evolving our conception of consonance to the 13th Harmonic and beyond. Catler has been the recipient of numerous grants, including a grant for the MicroTime Tour, which featured an interstate touring ensemble that debuted the concept of Just Intonation Rhythm. Catler was also awarded a composer residency grant from Harvestworks in NYC. Catler's music has been featured on radio shows worldwide, including numerous live interviews on WNYC's New Sounds with John Schaefer, and on KPFK with John Schneider in Los Angeles. Catler has been teaching private students at his studio since 1982 and is sought out for his expertise in this field. In 2015 he gave a Harmonic Series seminar at Berklee College of Music, and released the second CD with his Harmonic Series jazz group Fretless Brothers.
Hansford Rowe, American bassist, began his career in the clubs of New York City. With French drummer Pierre Moerlen he formed the jazz-rock group Gong. PM's Gong is considered one of the great fusion bands of the late 70's recording and touring with guests like Mick Taylor, Steve Winwood and Didier Lockwood. International touring soon secured Hansford a place among the world's leading bass players and work with Mike Oldfield, Allan Holdsworth, John Martyn, Biréli Lagrène, La Monte Young, David "Fuze" Fiuczynski, Gary Husband, Jon Catler and many more. Hansford plays Warwick bass guitars and amplifiers and with them developed the first dedicated Just Intonation bass made by a major manufacturer. He also endorses DR Strings, Lehle pedals, Applied Acoustic Systems, Dangerous Music, Peterson tuners, Basswitch, Sommer cables and Source Audio pedals. He is a founding member of the band Gongzilla. Hansford is a funkulty member at the Bootsy Collins Funk University.
Naren Budhkar was born into a musical family in Pune, the cultural capital of Western India; he later migrated to America. As a tabla player, he represents a link in the global cultural bridge. Naren studied with Ustad Shabbir Nisar, the tabla wizard from Hyderabad and the son of legendary Ustad Shaikh Dawood. From Ustad Nisar, Naren inherited a wealth of the rich centuries-old tradition of Indian percussion. He has used this tradition to contribute to many world music forms creating a dialogue between music and people the world over. As a classical tabla player Naren has performed with artists from all three categories of Indian music: vocalists, instrumentalists and dancers. Notable among these artists are Pandit Jasraj, Ustad Mashkoor Ali Khan, Dr.Alka Deo Marulkar, vocal; Ustad Aashish Khan, sarod; Pandit Ulhas Bapat, santoor; Pandit Barun Kumar Pal, hansveena; Pandit Krishna Bhatt, sitar; Pandit Ramesh Mishra, sarangi; Padmashree Kumudini Lakhia, Kathak. Naren has contributed to many different genres of world music including rock, as a member of the acclaimed group 'Alms for Shanti' with whom he was featured on CNN; Irish-Celtic music with the world-famous 'De Dannen' band from Ireland; jazz, with the group 'Jazzhole;' folk through participation in the folk festivals of Canada from Toronto to Vancouver; and opera in a work composed by Doug Cuomo, the music director of Sex and the City. Naren has been interviewed by B.B.C. Asia, featured on the NYU and Princeton radio stations and has been cited by the New York Times, El Diario, Vocero, and New York Newsday. He has performed in Canada, the US, India, and the beautiful island of Puerto Rico with the dance ensemble fusion group 'Encuentro,' led by Paulette Beauchamp and Carlos Bedoya. He has performed in the NY Consulate of India, M.I.T., Columbia, Haverford and Kenyon; F.I.T., Aaron Davis Hall, Asia Society, Bharatiya Vidya Bhavan. He appears on many recordings including Circle of the Sun (Jazz), Indofunk (jazz trumpet), Summer of thousand years (Kurt Reil), Seeds of bliss (Corina Bartra), Enchanted Evening (Deepak Kumar), Kashmkash (Alms for Shanti), Sarva Bhuteshu (Manorama), Sukha Shanti (Anandashram) (www.naren.org). Naren lives in New York City and is an active performer and teacher. Naren became a member of The Just Alap Raga Ensemble in June 2004.
Given the latest conditions, only those fully vaccinated against COVID-19 will be permitted to attend. Digital and print versions including photocopies are acceptable forms of proof. All guests must remain masked. We greatly appreciate your cooperation.
Concert admission is $63 / $56 MELA members; seniors; students with ID. Limited seating. Advance reservations recommended.
Info: mail@melafoundation.org or visit www.melafoundation.org
MELA's programs are made possible with public funds from the New York State Council on the Arts, a State Agency, and generous contributions from individuals and MELA Members.