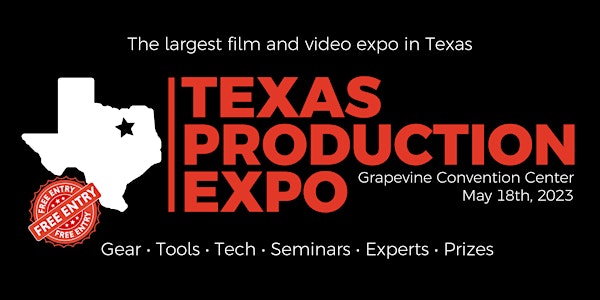 The Texas Production Expo 2023
The largest cinema production expo in Texas is BACK for 2023. Get your hands on the latest gear from the biggest film and video vendors.
By Dallas Producers Association
Date and time
Thursday, May 18 · 9am - 5pm CDT
Location
Grapevine Convention Center 1209 South Main Street Grapevine, TX 76051
About this event
Over 1,200 production professionals, creatives, artists, gear heads, tech enthusiasts, and film afficiondas decend upon the Grapevine Convention center to get their hands on the latest and greatest film, cinema, and post production tech, gear, and software.
No matter if you are a working professional, hobbyist, or student this show has something for everyone. There is something for everyone, includes a full day of seminars with both technical and practical knowledge, on-site catering, and the chance to win some amazing raffle prizes.
Best of all. It's completely, 100% free for attendees.
2 seminar rooms run all day with seminars, panels, and speakers from our vendors and local experts discussing everything from the latest innovations in tech to best practices in production. Seminars are free to all attendees.
Every year we have a slew of amazing swag, prizes, and gear up for grabs. By pre-registering and getting a ticket ahead of time you are automatically entered into the raffle to win!
The Texas Production Expo is brought to you by the Dallas Producers Association
Headlining sponsor is Videotex Systems - https://www.videotexsystems.com/
Supporting Sponsors:
TM Television -https://tmtel.com/
Texas Film Gear - https://texasfilmgear.com/
Dallas Film and Creative Industries - https://dallascreates.org/
Agenda
Seminar Room A
Seminar Room B
9:00 AM - 10:00 AM
Seminar Slot 1 (TBD)
10:00 AM - 11:00 AM
Seminar Slot 2 (TBD)
11:00 AM - 12:00 PM
Seminar Slot 3 (TBD)
12:00 PM - 1:00 PM
Seminar Slot 4 (TBD)
1:00 PM - 2:00 PM
Seminar Slot 5 (TBD)
2:00 PM - 3:00 PM
Seminar Slot 6 (TBD)
3:00 PM - 4:00 PM
Seminar Slot 7 (TBD)
4:00 PM - 5:00 PM
Seminar Slot 8 (TBD)
Frequently asked questions
When is the Texas Production Expo?
Where will the Texas Production Expo be Held?
What vendors or companies will be at TPE 2023?
How do I get a booth at TPE?
About the organizer
The Dallas Producers Association is a professional trade organization providing promotion, advocacy, education and networking for our membership. Membership is open to any company or individual of high standing, working in North Texas, that has managerial, budget or creative control for the production of moving visual media.