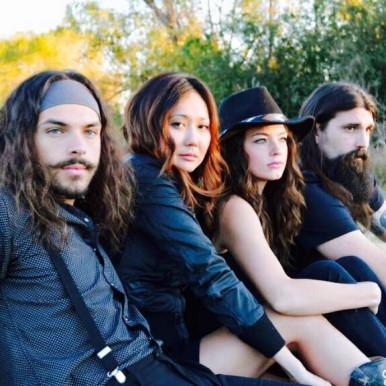 About this Event
From the North Georgia mountains to finding a home for their sound in the Live Music Capital of the World, The Texas K.G.B. (Kelly Green Band) explores a diverse spectrum of passionate original music and an absolutely electrifying performance, drawing inspiration from genres such as Americana, classic rock, country, blues, and even a touch of funk. The band's unique sound is captivating, but their live show is unforgettable.
"When I step on stage I enter my own personal church," said Kelly. "I feel enlightened. Every ounce of energy in the World is soaked up into my body and in that moment I am connected to the Universe."
The band is a quartet made up of Kelly Green on the lead and slide guitar and vocals, Jace Cadle, on the rhythm guitar and lead vocals, Kody Lee on the drums, saxophone and vocals and Violet Lea on the bass and vocals. Brother and sister, Kelly and Kody, began playing instruments in interest of their father, B.B. Lee when they were just six years old. B.B. is an amazing musician who is currently playing guitar and touring with Outlaw Country Legend David Allan Coe. A mentor to his children, he helped them develop their skills and encouraged them to pursue music professionally.
"Kelly and I have a deep mental connection," said Kody. "We joke about being twins that were born two years apart. Sometimes we have the same thoughts or we say the same joke at the same time. I think that translates into our music. We each can feel what the other is about to do and it makes us that much tighter as a unit."
Throughout their adolescence, Kelly and Kody played in various bands and nourished their musical connection. It wasn't until their father hosted an open mic night when he had a month off tour that they met Jace. He was one of the first people to sign up for the open mic and his talent and sound was undeniable. Jace started playing music when he was twenty-one after finding an abandoned guitar in Saddam's Palace while serving in Iraq. When he came back to the United States, he started playing music full time.
"Music saved my life, I had found a way to interact with people and communicate my story through songs," said Jace.
Jace and B.B. ended up starting a band that Kelly would join shortly after her twenty first birthday. They toured non-stop for a year before arriving in Austin in 2012 during SXSW where they experienced the energy that vibrates throughout the local music scene. The band dismembered and Jace and Kelly decided to stay in Austin where they could continue to develop their large sound; a Texas-sized sound.
"We loved Georgia, but the response we got from our first few shows in Austin was undeniable," said Kelly. "We knew we could really grow our brand here. That's why we landed on the name, The Texas K.G.B."
Shortly after landing in Austin, Jace and Kelly were joined by Kody, who had just got his bachelors in music performance with a minor in education and moved to Texas to join the band. Over the next few years, they played as a trio with fill in bass players until they began their search for an official bassist and fourth band member. They ended up finding Violet Lea through Craigslist when they jokingly posted an ad for a bass player. Jace joked that they were "being Catfished" because there was no way there was someone as beautiful and talented as Violet would answer an ad on Craigslist. Just like music runs through the veins of the other band members, Violet started music very young as well. When she was around four years old she picked up a Yamaha keytar on which she learned the solo for WHAAM's Last Christmas backwards and forwards. After a few rehearsals, it became apparent that Violet was the missing link to their quartet. She joined the band and they hit the road, touring the country and establishing themselves as The Texas K.G.B.
Over the course of their career, The Texas K.G.B. has recorded and released two albums, "Captain Americana" in 2014 and "Songs In the Key of Pain: Part 1" in 2016, which landed them a nomination for IMEA's Americana Band of the Year and Americana Group of the year. They have played in a variety of notable venues including 512 Studios Live, Texas Music Café, Songwriters Across Texas, Balcony TV, Atlanta Jazz & Blues, and many others. They have shared the stage with top notch musicians such as Kevin Fowler, Billy Joe Shaver, Vallejo, Joe Robinson, Chris Duarte, Paula Nelson, Walt Wilkins, Carolyn Wonderland and Jackie Venson to name a few. This year, the band was invited to play the first song at the infamous Willie Nelson's 4th of July Picnic in Austin.
Their next project and the second installment of "Songs In the Key Of Pain," "Welcome Home," is set to be released in November 18 of this year. The album was recorded at 512 Studios in April 2017 in Austin with the help of producer Omar Vallejo.
"This is our second time working with Omar and he is an incredible producer and his studio feels like a second home," says Kelly. "It's super important to feel comfortable when recording and to be able to trust the person you're working with. Omar isn't afraid to be honest with us, but he's also a musician so he knows how emotional the recording process can be. He's able to get the best out of us and not hurt your feelings. This album feels super organic. None of the songs were forced."
"Welcome Home" was mixed and mastered by Omar Vallejo and engineered by Kevin Abbenante. Album artwork is by Sydney Dettmar. It is an album that speaks to the journey of life, the good and bad times, the ups and downs of the human experience. Every member of the band contributed to the song writing on the album, which serves as a testament to the very personal nature of their music. The title track is based on a true story about the place where Kelly and Kody grew up in the North Georgia mountains in their family hand-built house. 
"The house was in the middle of the woods where there were no roads, running water, or electricity," says Kelly. The song pays homage to a simpler time in their lives while still looking towards the future and the unknown. The track, "The Way", is a song about finding yourself and the journey it takes to get there. "Deeper" was written during a divorce that Violet went through. It's a song about love and loss and feeling like a spectacle to friends and family. As a whole, the album tells a story as it progresses through the track list while the catchy melody pulls listeners in and implores them to play the record from start to finish. "Welcome Home" is a piece of work that will surely captivate listeners and catapult The Texas K.G.B. to become Austin's favorite "Original Americana" band.