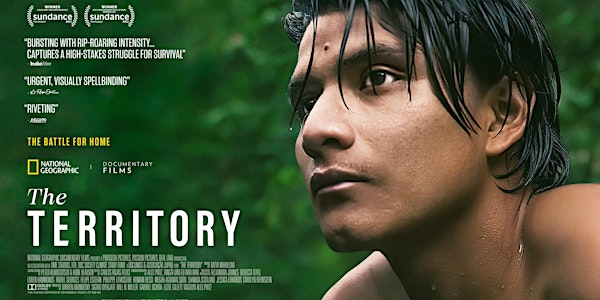 The Territory Live Online Film Screening and Q&A
Presented by Upstander Project
About this event
Upstander Project is pleased to invite you to this special live online screening of The Territory with a live Q & A with the filmmaking team.
The Territory provides an immersive look at the tireless fight of the Indigenous Uru-eu-wau-wau people against the encroaching deforestation brought by farmers and illegal settlers in the Brazilian Amazon. With awe-inspiring cinematography showcasing the titular landscape and richly textured sound design, the film takes audiences deep into the Uru-eu-wau-wau community and provides unprecedented access to the farmers and settlers illegally burning and clearing the protected Indigenous land. Partially shot by the Uru-eu-wau-wau people, the film relies on vérité footage captured over three years as the community risks their lives to set up their own news media team in the hopes of exposing the truth.
Join Upstander Project creative director Adam Mazo and The Territory producers Will N. Miller and Gabriel Uchida for a post screening conversation and live Q&A.
Proceeds will be donated to the Uru-eu-wau-wau association, which go directly to support the community as they continue to defend the Amazon.
Schedule for this event:
7:00pm ET - Screening room opens and film begins
8:23pm ET - Film screening ends, audience members invited to click the link to join the post-screening
8:23pm to 9:00pm ET - Live panel Q&A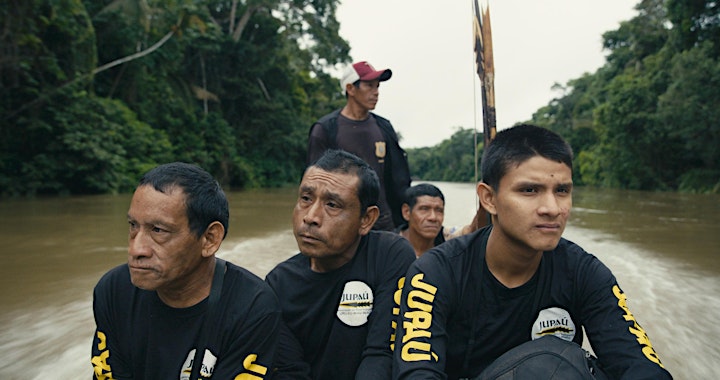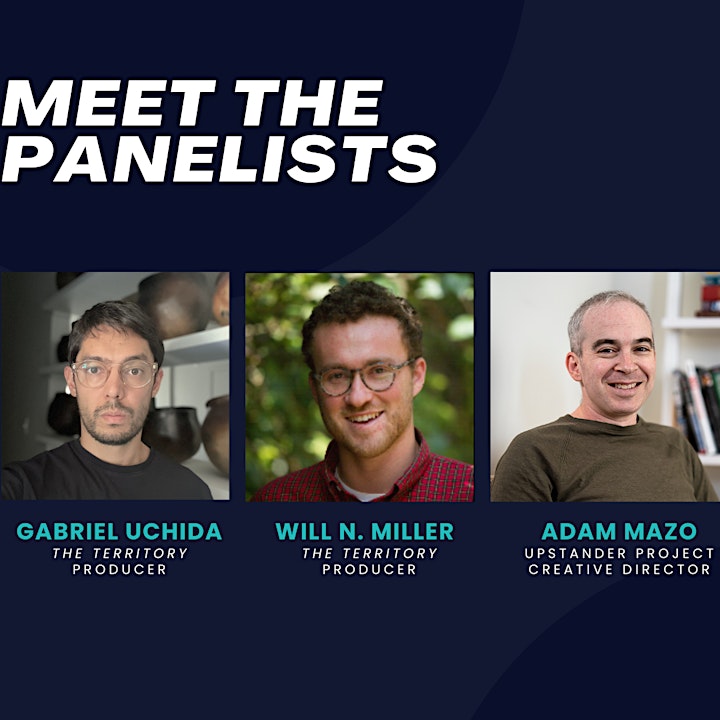 Panelist Bios:
Gabriel Uchida
The Territory Producer
Gabriel Uchida is a Brazilian journalist and visual artist with over a decade of experience working on global stories. His work has been published in over 30 countries, and Uchida has had solo exhibitions of his photography in Sao Paulo, Addis Ababa and Berlin. In 2016, he decided to move to the Amazon and focus his work on environmental and Indigenous issues.
Will N. Miller
The Territory Producer
Will Miller is a documentary filmmaker and co-founder of Documist, a production company based in New York City and Toronto. His work focuses on environmental conflict, migration and human rights. He has worked in over 30 countries and speaks English and Spanish fluently, as well as Portuguese and French conversationally. THE TERRITORY is the first feature film Miller has produced. Before that, he worked primarily on short films and digital features, garnering several awards as well as Emmy® and Canadian Screen Awards nominations. His work has been published by The New York Times, The Guardian, The Economist, CNN, NBC and BBC. From 2017 through 2019, he worked at Human Rights Watch, where he produced over 100 videos reaching millions of viewers online and broadcast by dozens of news outlets around the world. Miller is dedicated to teaching and sharing the craft of documentary. He has worked on a range of participatory multimedia projects in the U.S., Canada, Kenya, Haiti, the Philippines and Brazil, from photography projects with kids to evidentiary video techniques for human rights defenders to masterclasses for aspiring cinematographers. He taught part-time at the East African Film Academy as well as the Aga Khan Graduate School of Media and Communications and has given dozens of workshops around the world. Miller studied environmental sciences at McGill University. His research focused on historical settlement patterns in the Napo River Valley in the Peruvian Amazon as well as land loss and displacement of the Emberá Indigenous community by the Alto Bayano hydroelectric dam in Panama.
Adam Mazo
Upstander Project Creative Director
Adam Mazo (he/his) is the creative director for Upstander Project and an Emmy® Award-winning social issue documentarian. Adam has (co)directed and/or produced all of Upstander Project's films, including Dawnland, which won an Emmy® Award in 2018. His films have been broadcast on domestic and international television (Independent Lens), programmed at film festivals (Sundance, Hot Docs, Camden) and international conferences, and screened at universities and K-12 schools, where they are also often used in curricula. He is Ashkenazi Jewish and lives with his family in the territory of the People of the Blue Hills — the Massachusett Tribe.
FAQs
How will I access the screening?
The screening will occur on the Picture Motion platform. Once you register we will automatically send you a link and password to access the streaming. This link and password will be sent a couple of days prior the event.
If you have not received your link and password the day before the event, please check your spam folder for the email containing the link.
What device can I use to watch the live stream?
A computer or large screen device that you use to watch movies is ideal. As long as your device is able to stream video from the internet you are all set.
How do I know if I am in the right place for the screening?
Using the link we will provide to you via email prior to the event you will land in a virtual screening room. After the film plays, you will see a button that will take you to the zoom where the Live Q&A will be held.
What's the refund policy?
As this event is accepting donations only we do not typically offer refunds. If you are unable to access the screening and would like a refund please email us.
By registering for this event, you agree to Upstander Project receiving your contact information and sending you updates on resources, events and other opportunities.