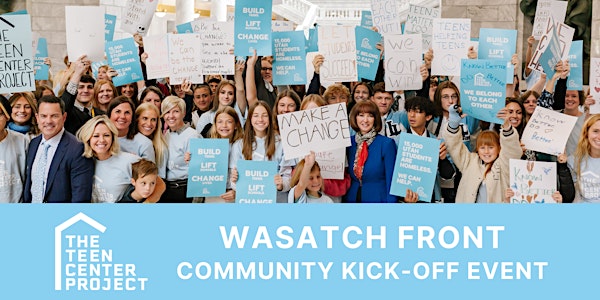 The Teen Center Project — Wasatch Front Kick-Off Event
Learn about teens experiencing need in Utah and how you can help!
When and where
Location
Neighborhood House 1050 West 500 South Salt Lake City, UT 84104 United States
About this event
We want to hear from students, parents, and community members from every school district in Utah—so we are hosting an event in Salt Lake to learn from you! Join us to learn more about The Teen Center Project and use your voice to make a difference for Utah students in need!
Thursday, February 2 at 7:00 PM
The Neighborhood House, 1050 W 500 S, Salt Lake City, UT 84104
Light refreshments served
About The Teen Center Project
At the heart of every community is a school. Our Utah communities have always prioritized the well-being of our youth. That said, an increasing number of Utah K-12 students are struggling to meet their basic needs due to circumstances beyond their control: a significant drop in affordable housing, rapid inflation, wage stagnation, as well as job insecurity and mental health challenges experienced by the adults caring for them.
A student who is hungry, who doesn't have access to clean clothes, or is without a place to shower is not equipped to succeed in the classroom and is less likely to graduate from high school than their peers.
Schools have long been on the frontlines of ensuring the basic needs of every student are met. We must ensure schools are equipped to meet the growing number of students in need without adding to the workloads of individual teachers. By supporting and amplifying school efforts to meet basic needs, via "Teen Centers," we can help our most vulnerable students graduate and prepare them to succeed as adults.
Our proposal is that Utah high schools receive funds to build or improve services such as food pantries, laundry facilities, and showers to meet the basic needs of our students through a public-private partnership between the Utah Legislature and private donors. These "Teen Centers" can be created by repurposing existing, underutilized space within high schools and by dedicating space for these services within newly built high schools.