The Tech ERG Summit is the go-to conference for ERG and DEI professionals of all levels who care about impact and inclusion.
About this Event
Who Should Attend
Tech company ERG leaders and members
Tech company DEI professionals
The summit will focus on ERGs in the tech industry, but all are welcome to participate.
Why You Should Attend
Reimagine the Future: Explore perspectives and practices with ERG experts in tech.
Maximize Impact: Learn tools and strategies to measure what matters.
Grow Your Network: Become a member of the fastest-growing ERG community for tech professionals.
Agenda Overview
Day 1, Wednesday, January 27, 2021: Summit Workshops (Paid)
Learn the nuts and bolts of building ERGs, from building a DEI council to starting your very first ERGs. Workshops are hands-on, interactive, and require small group participation. Sessions are 2.5 hours each between 9:00am-4:00pm PST. Description of workshops on ticket type.
***Opening Icebreaker***
Summit Kickoff Social Hour. Wednesday, January 27, 2021 from 4:00 - 5:00 pm PST
Get a head start on getting to know other conference participants and learn what we have in store for Thursday and Friday. We'll have comedy, networking, a raffle, and more!
The General Summit ticket for sessions on Thursday, January 28 and Friday, January 29 includes access to this.
*****
Day 2, Thursday, January 28, 2021: Summit Sessions (Free)
Learn tips and tools on how to run an effective and impactful ERG at your tech company, from engaging your executive sponsors to building a global ERG strategy. Sessions are between 9:00am-4:00pm PST.
Day 3, Friday, January 29, 2021 Summit Sessions (Free)
Learn how to assess results, maximize impact and reward great work, all in the name of happy workplaces where everyone truly belongs. Sessions are between 9:00am-4:00pm PST.
Our Growing List of Speakers:
Bie Aweh, Senior People Growth Manager, Women and Underrepresented Talent Development, Doordash
Earl Bender, Electrical Control Engineer, Carrier
Marque Blackman, Senior. Program Manager, DE&I, Cloudera
Albrey Brown, Diversity, Equity, and Inclusion, Airtable
Dr. Danette Buie, Senior Program Manager, Global Talent Acquisition Operations, Programs and Diversity, Coursera
Sheri Byrne-Haber, Accessibility Architect, VMWare
Lamont Carolina, Senior Manager, People Experience, Oscar
Sean Cervera, Head of DEI & Belonging, Curology
Anthony Clay, CEO and Co-founder, Indi
Natasha Cougoule, Global ERG Program Specialist, Salesforce
Christopher Craft, Sr. Solution Engineer, DocuSign
Ben Delk, Inclusion & Diversity Global Programs, Expedia Group
Marquise Francis, Senior National Reporter & Producer, Yahoo News
Carla Harris, Vice Chairman and Managing Director, Morgan Stanley
Trinidad Hermida, Head of Diversity and Inclusion, Niantic
Dr. Freada Kapor Klein, Founding Partner, Kapor Capital
Leah Katsekas McTiernan Wise, DocuSign
Amanda Lannert, CEO, Jellyvision
Dani Maczynski, Program Manager, Dataminr
Shawnda Madison, Head of Diversity Equity and Inclusion, Invitae
Natalie Mazzie, Sales Enablement Specialist, F5
Raina Moskowitz, Chief Operations, Strategy and People, Etsy
Shareka Nelson, Head of D&I, Coursera
Dr. Cynthia Overton, Director of Tech Workplace Initiatives, Kapor Center
B. Pagels-Minor, Senior Data Product Manager
Lisa Paredes, Co-Founder, Global Community Lead, The Culture Collective
Rachel Entire Parrot, Diversity and Inclusion Strategist
James Perkins, Selma, Alabama Mayor
Carlos Quezada, Hewlett Packard Enterprise, Latinx ERG
Amelia Ransom, Senior Director of Engagement and Diversity, Avalara
Sen. Malika Sanders-Fortier, Alabama State Senate
Natalie Simmons, Global Manager, Diversity, Equity & Inclusion, Zendesk
Melissa Thomas-Hunt, Global Head of Diversity and Belonging, Airbnb
Cornell Verdeja-Woodson, Director of Diversity, Equity, and Inclusion, Headspace, Inc.
Kim Vu, Global Head of DEI, Remitly
Dr. Avis Williams, Superintendent Selma City Schools
Shantelle Williams-Valadie, Associate Director, Coursera
Accessibility Needs:
The Tech ERG Summit will be held via Zoom, and will include Automatic Live Captions for Zoom in the main stage. Please email us at events@fivetonine.co by January 14 if you need an additional accommodation to participate in this event (either on the main stage or in a breakout room).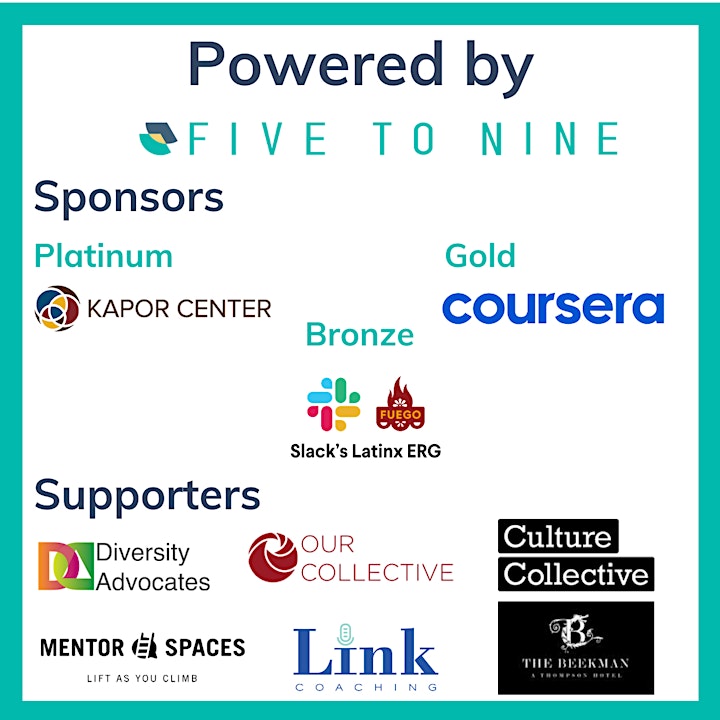 Date and Time
Location
Refund Policy