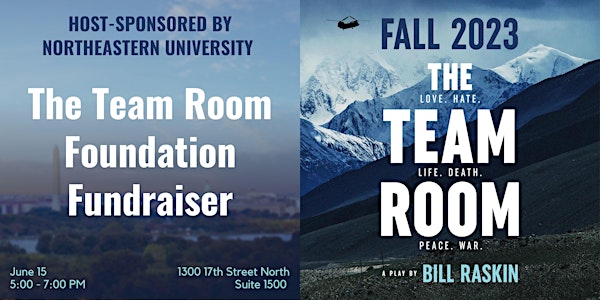 The Team Room Fundraiser at Northeastern's New Campus in Arlington VA
Please join Northeastern University on 6/15 for the Team Room Foundation Fundraiser and a sneak peek of the play.
By The Team Room Foundation
Date and time
Thursday, June 15 · 5 - 7pm EDT
Location
Northeastern University Arlington 1300 17th Street North Suite 1500 Arlington, VA 22209
About this event
Please join us at Northeastern University's Arlington campus for a behind-the-scenes look at the development and pre-production of "The Team Room" - a new play that will debut in Washington, DC in October 2023.
We'll have about 30 minutes of mingling, a discussion and videos, and then more mingling after. Along with the playwright, there will be other special operations veterans attending.
The production is a 501(c)3 to raise awareness for veterans service. Following closing night, all net proceeds will contribute toward the Special Operations Warrior Foundation.
The event is free-of-charge with no minimum contribution required. Our team is excited to share the story of our mission and we are grateful for any who may wish to contribute or sponsor.
About "The Team Room":
Special Forces A-Team 824 serves at Camp Diamond, West Virginia. On the morning of September 10th, 2001, they report for a routine week of duty and training exercises.
The audience steps into the world of Army Special Forces operators, during their last day of peace and a sudden transition to war.
Reviews:
"An entertaining, insightful glimpse into the team room, and into the minds, of a Special Forces detachment at the outset of war. The "Green Berets," as they are known, are a collection of young warriors whose skills and human emotions are laid bare by the realities of combat. Bill Raskin has been there, and now invites you into the world he inhabited." - Stanley McChrystal, General, U.S. Army (Retired).
I've spent over 30 years in Army Special Forces in multiple operational assignments both in garrison and combat. Limited to a setting covering three days, Lieutenant Colonel (Bill) Raskin did an outstanding job capturing the humor and drama of a Special Forces ODA in peacetime and war. Very well done and thoroughly enjoyable. De Oppresso Liber." - James P. Lenske, Command Sergeant Major (Retired), US Army Special Forces.