Description
The 10th Annual TBOX Mardi Gras Pub Crawl, BEADQUEST 2018, is Saturday, February 17, 2018, starting at Noon in Wrigleyville, Chicago. At BeadQuest2018, we will make 10 stops where you'll collect from tens of thousands of beads, including the 10 Special Numbered Beads, and if you get them all, you'll qualify for prizes and go Wire to Wire! BeadQuest is Chicago's Best, Original, and Only Mardi Gras Bar Crawl, started in 2009 by the folks who bring you TBOX! USE PROMO CODE "BeadMe" Right Now to Save on Single Tickets!!

*** PICK UP YOUR WRISTBAND, TSHIRT, BADGE, SCHEDULE, LANYARD AT RIZZO'S BAR, 3658 N CLARK, FRIDAY 3-8PM OR SATURDAY STARTING 11AM! *** You can also buy more tickets on the spot if you need ***

Check Out the BeadQuest 2018 T-Shirt Here!
Ticket Sales will be STRICTLY LIMITED to 2,000 Participants!!! Buy yours now and don't get shut out! Includes a super-cool TBOX Mardi Gras Fashion T-Shirt, Tens of Thousands of Collectible and Throw Beads, Cajun Food Specials, Prizes for People who get all ten beads, and Great Specials on HURRICANE DRINKS featuring Southern Comfort & Mixed Drinks w/ SoCo Black, as well as Bud Light & Goose Island Specials at all bars - Scroll down for more info & photos!!!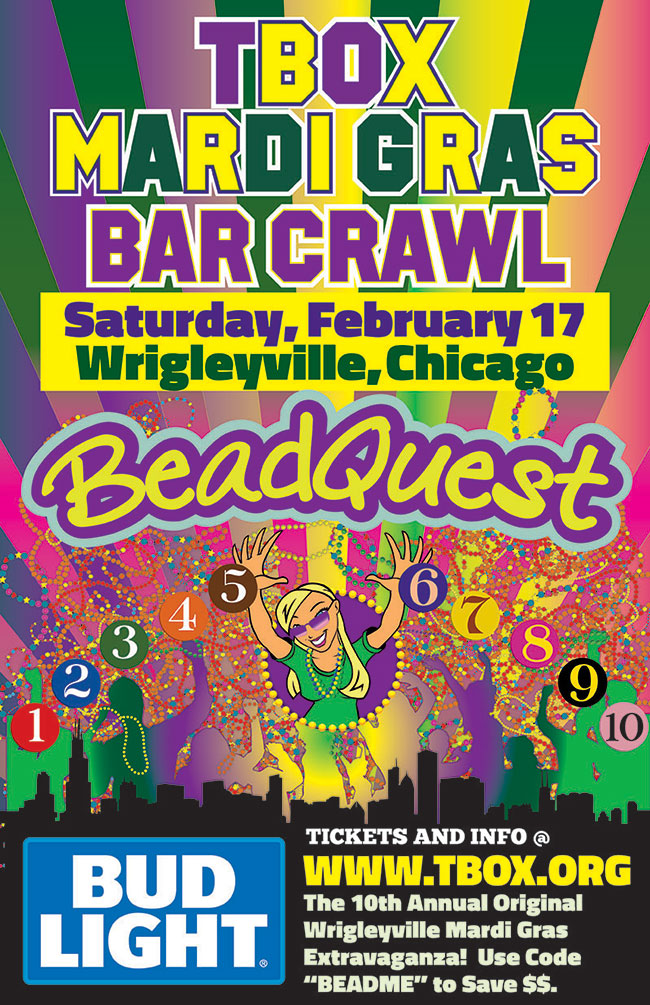 Bars Participating Include: Sandlot, Sluggers, Deuce's & Diamond, Old Crow, John Barleycorn, Rizzo's, Irish Oak, Stretch, Cubby Bear, Underground Lounge, Graystone, Roadhouse 66, Beer, Country Club, and Nola Pub. This is a smaller event than TBOX, and will be a fun, intimate gathering where everyone hangs together and gets TONS of BEADS!!! Dress in Festive Purple, Gold, & Green! Starts & Ends at Rizzo's Bar & Inn 3658 N Clark - Packet Pickup Friday the Day Before, 3pm-8pm, and Saturday starting 11AM.