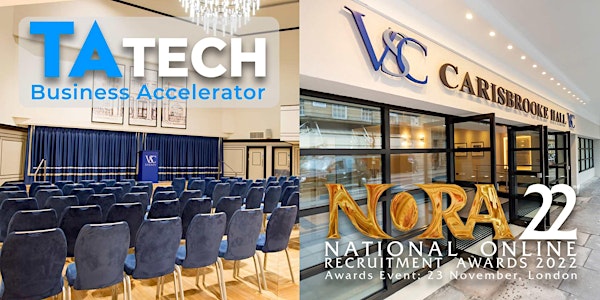 The TAtech Business Accelerator at The NORAs
Mini B2B conference (half-day) held in conjunction with the National Online Recruitment Awards (NORAs) in London on November 23, 2022.
When and where
Location
Carisbrooke Hall 63 Seymour Street London W2 2ER United Kingdom
About this event
TAtech – in partnership with The NORAs
For current and prospective TAtech Members - Talent Tech Vendors, Job Boards & Agencies
November 23, 2022 ● Carisbrooke Hall ● Marble Arch, London
The TAtech Business Accelerator, is a mini B2B conference, which will be held in conjunction with the National Online Recruitment Awards (NORAs) in London on November 23, 2022.
What's the TAtech Business Accelerator? It's a half-day conference designed to serve as a NODE for talent technology company executives and senior professionals. It will promote B2B:
Networking,Opportunity spotting,Deal making, andEnterprise building.
As with all TAtech events, the Business Accelerator is an inclusive event designed for the movers and shakers in ALL segments of the talent technology industry. That includes job boards, classified advertising sites, talent marketplaces, aggregators, agencies, ATS companies, programmatic ad buying platforms, conversational AI and chatbot providers, CRM platforms, assessment and interviewing solutions, recruitment marketing providers and talent technology consultancies.
The TAtech Business Accelerator is the place to make contacts, explore potential partnerships and alliances, meet with new solution providers and keep an eye on the competition. And because it's collocated with the NORAs, you have not one but two ticket options:
Attend both the Business Accelerator and the NORAs for one discounted price
or
Attend only the Business Accelerator for one low ticket price.
Sponsorships are also available. If you're interested, contact Stephen O'Donnell via Stephen@TAtech.org.
So, what sets the TAtech Business Accelerator apart?
It facilitates strategic conversations among companies in ALL segments of the talent technology market,
It takes you away from the office (or home) for less than a day, and
It enables you to attend two important industry events with a single discounted ticket.
Agenda:
1:30 PM Business Accelerator Opens
Keynote
2:00 PM B2B Introductions, Networking & Partnering Discussions
5:00 PM Business Accelerator Concludes
7:00 PM The 22nd annual National Online Recruitment Awards
About TAtech
TAtech: The Association for Talent Acquisition Solutions is the trade organization for the global talent technology industry. Its Members provide technology-based products for developing relationships with, sourcing, evaluating, managing and hiring candidates in every profession, craft and trade. In addition, the Association promotes the effective acquisition and use of those products through a Learning and Certification Program for HR/TA professionals, a Talent Technology Buyer's Guide, a slate of annual Industry Congresses and topic-specific Leadership Summits and its industry-wide standards setting committees.
About The NORAs
Founded in 2000 by Stephen O'Donnell, the National Online Recruitment Awards has become a fixture in the history of hiring technologies and candidate experience. Nominated by over 20,000 jobseekers each year, over 600 contenders are assessed stricyly from a candidate's perspectve. The purpose of the NORAs is that by thowing a spotlight on the best best examples of onlne recruitment, this will inspire others to continually improve.