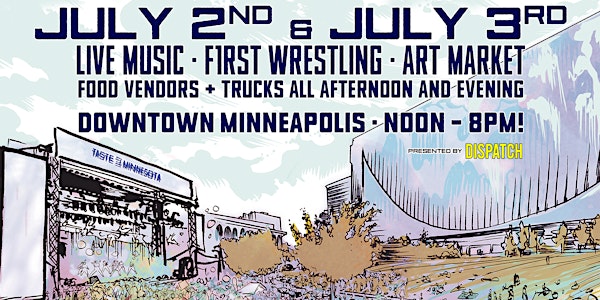 The Taste of Minnesota
Come taste what's up July 2nd & 3rd from noon - 8pm. Savor the beats of Third Eye Blind & Big Boi while discovering your next favorite dish.
Date and time
Sunday, July 2 · 12 - 8pm CDT
Location
Nicollet Mall Nicollet Mall Minneapolis, MN
About this event
Taste of Minnesota is back!!! The Twin Cities' signature Fourth of July event for over 20 years will return, right in the heart of Minneapolis. This highly-anticipated festival is a true celebration of Minnesota culture and cuisine, from the classic dishes that have become our signature to the bold and innovative flavors that are putting MN on the map as a legit foodie destination.
From July 2nd to July 3rd, we invite you to celebrate our nations holiday on Nicollet Mall from 12 to 8 PM both days. It's completely free for all to attend. That's right, Free Fun for Everyone!
But that's not all! Taste of Minnesota is also your gateway to experiencing the best in music, arts, and entertainment with live performances from music acts like Big Boi (from Outkast), Third Eye Blind, and Uncle Kracker, to local legends like The Steeles all on the Main Stage (3rd and Marquette). Plus we have F1rst Wrestling performing with a wrestling ring right in the street! The Taste of Minnesota is also a celebration of our vibrant arts scene so we have you covered with an Arts Market that will feature local artists, makers, and a bizarre of performers like balloon twisters, stilt-walkers, magicians, the Baron of Bubbles aka Sir Sydney Soapington and much more!
Consider your cravings satisfied as our food ambassador and co-host is the one, and only Andrew Zimmern along with Minneapolis Icon Fancy Ray McCloney and Naima from Cities 97.1
From Washington Avenue to 5th Street, visitors can enjoy diverse and delicious Twin Cities-based cuisine from a variety of food trucks and for those seeking a more formal dining experience, local chefs will be showcasing their special Taste of MN dishes in tents set up for the occasion. Attendees can quench their thirst at various beverage stations, offering both alcoholic and non-alcoholic drinks.
Getting to Taste of Minnesota couldn't be easier, with free rides available from Metro Transit. So mark your calendars, grab your tickets, and get ready to taste, groove, and explore your way through the heart of Minnesota. Get more information at https://tasteofmn.com
The entrances will be located on Washington and Nicollet and another one 5th and Nicollet.
If you're a fan of jazz music, you won't want to miss the Jazz88 Stage (5th and Nicollet) at the Taste of Minnesota! For two days, some of the most talented jazz musicians will be performing live, and it's going to be an amazing experience.
Singers Songwriters Stage: Featuring over 16 local bands and performers: TBA
Main Stage line-up:
July 2nd—> The Steeles, The Fabulous Armadillos, Molly Maher and her Disbelievers, Third Eye Blind
July 3rd—> PAPA Shalita and Friends, White Iron Band, Uncle Kracker, Big Boi (from Outkast)
Thank you to our sponsors: DISPATCH MSP, Xcel Energy, Minneapolis Foundation, Metro Transit, Surly Brewing, Great Clips, Jazz88 FM, Four Seasons, iHeart Radio, Minneapolis Downtown Council, and the City of Minneapolis.
The Taste of Minnesota is a family friendly event open to the public.
********** Entry Policies **********
No outside food or beverages may be brought into Taste of MN.
Anyone under the age of 18 must be accompanied by a parent or legal guardian to enter the festival. Proof of age is required.
All persons and bags are subject to search upon entry.
Strollers, wheelchairs and personal umbrellas are welcome inside Taste of MN.
No weapons of any type are allowed in Taste of MN
Taste of "MN Bans Guns in these premises" including gun permit holders pursuant to MN State Statute 624.714 subd. 17 (4).
********** Code of Conduct **********
Unlawful Conduct: It is unlawful for any person to willfully harass, disrupt, interfere or obstruct any function within Taste of MN pursuant to MN Statute 609.72, Disorderly Conduct.
Obscene or Disruptive Conduct: Taste of MN is a family friendly event, and any individuals engaged in obscene or disruptive conduct will be asked to leave the event.
Political/Religious Activity: No one may post, distribute political or religious materials nor may they campaign or arrange for interviews during Taste of MN.
Violations of policies and code of conduct are grounds for denial of entry and/or removal from Taste of MN.
********** Can I bring my dog? **********
That may not be the best idea. Crowds and noise can be really stressful for pups. Some people are not comfortable with animals in their spaces. So, unless your dog is a service animal, consider leaving your pets at home.