Description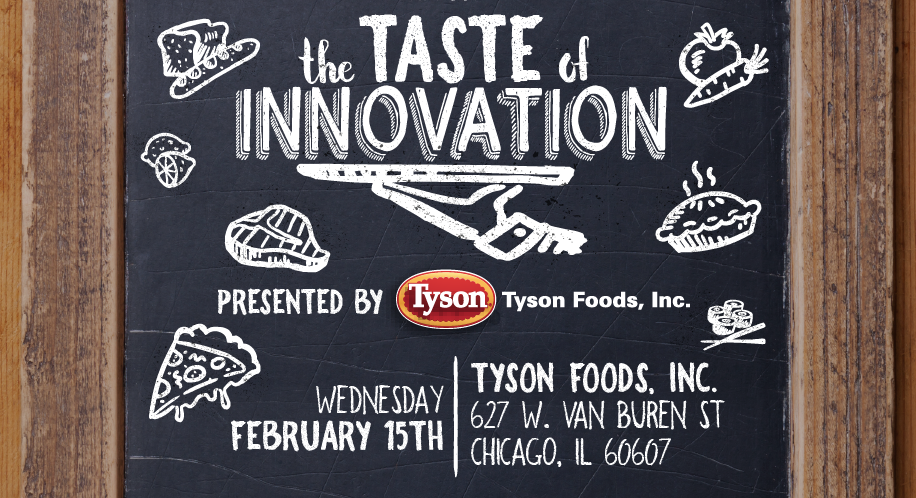 Looking for an after party??
As an attendee of "The Taste of Innovation" we're offering a special deal through our official After Party partner, BarPass -- a happy hour club that throws weekly social events for young professionals at the trendiest bars and restaurants. Immediately following the event, you receive 1 free cocktail + exclusive specials if you RSVP to the after party through BarPass. The after party is taking place at Honey's, a swanky new hot spot in walking distance from Tyson.
Use the code CIA through the app links below to sign up:
For iPhones :
For androids:
Speakers
Matt Matros
Matt Matros, founder of Protein Bar, created the go-to destination for individuals seeking quick and delicious menu options they need to live a healthy, active lifestyle. Most recently, Matt has founded LIMITLESS™ Coffee & Tea, a vertically-integrated coffee & tea company that is relentlessly pursuing the cleanest coffee & tea in the world. Matt was named to Crain's Chicago Business "40 Under 40" class of 2012. Protein Bar was also a recipient of the 2013 Chicago Innovation Award. In March 2014, Matt was named one of Chicago Magazine's "Top 100 Most Powerful Chicagoans".
Linda Mallers
Linda Mallers is the Founder of FarmLogix, a winner of the 2013 Chicago Innovation Awards. FarmLogix is an enterprise-level solution that connects farmers with the institutional kitchen of foodservice corporations, school districts, hotels, hospitals and restaurants. In Chicago, FarmLogix is the Farm-To-School solution for Chicago Public Schools and provides Farm-To-Fork solutions for O'Hare International Airport, The Field Museum, Loyola University and Marriott Hotels.
Noelle O'Mara
Noelle joined Tyson Foods in April 2016 as Vice President, New Business Models. Prior to her current position, Noelle was Senior Marketing Director for Kraft Foods Group (now Kraft Heinz Company). She has led some of America's most iconic brands and has demonstrated the ability to create both turnaround and accelerated growth strategies leading to top line growth and bottom line results. Noelle has been the recipient of two Cannes Lions and an Effie award through her work on the Kraft Macaroni and Cheese "You Know You Love It" campaign. Recently, Noelle was recognized as the next generation of marketing and media executives who are defining how brands use technology to engage their consumers.
Paul Larson
For Chef Paul Larson's passion for food started long before the kitchen – for him it all started on his family's garden at the young age of ten. A graduate of the Culinary Institute of America, Paul has over 25 years of experience in the hospitality industry and has worked at several prestigious establishments. Landing at Blue Plate Catering in Chicago in 2008 as Executive Chef, Paul leads 45 cooks, 9 sous chefs, and 65 field chefs every day while managing all daily kitchen operations. He is also in charge of executing new menu development and keeping Blue Plate abreast of culinary trends to ensure their place among the top food solutions companies in Chicago.
Keith Anderson
Keith leads the continuous innovation and development of Profitero's online insights solution for retailers and brands, helping global companies gain a deeper understanding of their online presence to optimize both online and in-store sales. For more than 10 years, Keith has been a trusted advisor to global retailers and CPG companies including Walmart, Target, Best Buy, P&G, Unilever and Coca Cola.Prior to his role at Profitero, Keith was Vice President of the Advisory practice at RetailNet Group. Keith's insights have been featured in the Financial Times and Forbes Magazine among other publications, and he is a frequent speaker at retail, technology, and media conferences.
Orlando Saez
Orlando is the Founder/CEO of Aker a precision crop monitoring technology and service company based in Winnebago, Minnesota. Orlando has led several early stage companies with a combined exit valuation of $50M including Boingo Wireless, the largest WiFi hotspot in the world. He held several software engineering and product management roles at Motorola and AT&T Bell Laboratories. Orlando is the president of Saez Brunner Capital Group (SBC) a strategic infrastructure investment company. He was the CEO of CityScan and prior was the Director of the Office of Entrepreneurship, Innovation and Technology for the State of Illinois where he led a $20M early stage venture fund.