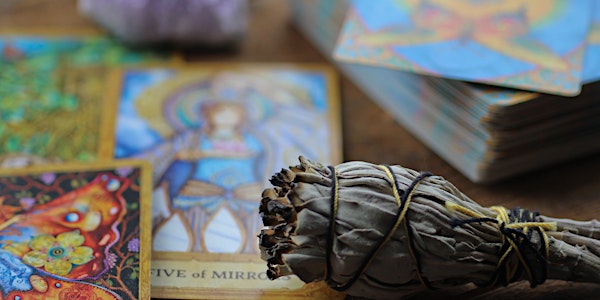 The Tarot in Action: Archetypes, Synchronicity and Spontaneity
Professional online raining with CE credits, 9 a.m. to noon July 10, 2020
Refund Policy
Contact the organizer to request a refund.
Eventbrite's fee is nonrefundable.
About this event
The Tarot deck has fascinated people for hundreds of years and continues to attract people of all ages, including adolescents and young adults, people who define themselves as non-traditional thinkers, and people interested in a wider exploration of spirituality.
Here, we bypass the idea of fortune telling and instead employ the images of the cards to facilitate exploration of self and personal development through a variety of means, including guided imagery, psychodramatic techniques of role play, therapeutic sculpturing and guided dialog.
We also will explore Carl Jung's perspective of synchronicity to emphasize the building of spontaneity and creativity.
In this workshop, instructed by Karen Carnabucci, LCSW, TEP, you will learn:
How Tarot can serve as an adjunct to psychotherapy.
How Tarot images correspond to Jungian archetypes.
The basic elements of the Tarot and their meanings.
How to use the Tarot in psychotherapy and coaching, even if you are not a "Tarot person."
Using psychodramatic techniques of doubling, role reversal and mirroring to explore Tarot images.
The differences between Tarot and oracle cards.
Using Tarot and oracle cards in groups and 1-1 settings.
Please bring your own Tarot deck if you have one.
This is an online program. Due to the Coronavirus pandemic, we are meeting online via Zoom. You will be sent a link (via email) to access the Zoom meeting before the event.
Please download Zoom at www.zoom.us prior to the meeting. You may download to your smart phone, tablet, laptop or desktop computer.
Tuition
Tuition is $45, if reserved by July 4, 2020, $55 after, and will include three CE credits for social workers, marriage and family therapists, professional counselors and addiction counselors, plus psychodrama credits.
As always, there will be options to address personal growth work in a supportive setting and bring case studies forward for feedback and action supervision.
Who will benefit
This training is designed for mental health professionals and other professional helpers, including social workers, marriage and family therapists, licensed counselors, addictions counselors, physicians, nurses, creative arts therapists, massage therapists and bodyworkers, alternative health practitioners, life and wellness coaches, educators, clergy, clinical supervisors, administrators, youth leaders, group leaders, graduate students and others interested in experiential psychotherapy and experiential learning.
How to register
Register online with your credit card on Eventbrite.
CE and psychodrama credits
Karen Carnabucci, LCSW, TEP, and Companions In Healing are approved by the Pennsylvania State Board of Social Workers, Marriage and Family Therapists and Professional Counselors to offer continuing education for social workers, marriage and family therapists and professional counselors according to Pennsylvania Board Approval #SWPR-004002.
The Pennsylvania State Board of Psychology has approved continuing education programs with License #PSY000216.
Training hours are approved for Act 48 credits for educators, school counselors and administrators.
These training hours also may be counted towards certification with the American Board of Examiners In Psychodrama, Sociometry and Group Psychotherapy.
Training hours may be counted towards certification approved by the International Society of Experiential Professionals.
You also may be able to submit this certificate for credits in another helping discipline or in another state. Please contact your respective state board for information.
What to bring
A Tarot card deck if you have one.
Your notebook and pen, if you wish to take notes.
Your curiosity and questions.