To be a good Tarot reader, you need a trusty deck that really speaks to you. With so many choices, how do you find your very own BFF deck?
About this event
On Saturday, November 13, you're in for a fun-filled afternoon of exploration and discovery! This workshop is all about our beloved decks – how to choose them, care for them, and make friends with them. Most of all, we'll discover how each has its own unique "voice" that can broaden our understanding and enrich our readings.
This class is especially helpful if you haven't quite found your BFF deck. (It is also great if you have, but I can't promise you a lifetime of Tarot deck monogamy afterwards!)
We'll be exploring things like - how does the Waite-Smith "Queen of Pentacles" differ from the Osho Zen Tarot's "Flowering," or the Motherpeace "Priestess of Discs?" Why does it matter? How many different names can you think of for the 13th Triumph card? And how might all this affect a reading?
Bring your favorite decks if you have 'em, and I'll share a few of mine, as we explore the selection, care, and feeding of your decks, plus the "Comparative Tarot" method (first introduced by Tarot expert Valerie Sim) as a way to deepen your practice.
Join us for an instructive, relaxed time as we play with and share our love of our decks together!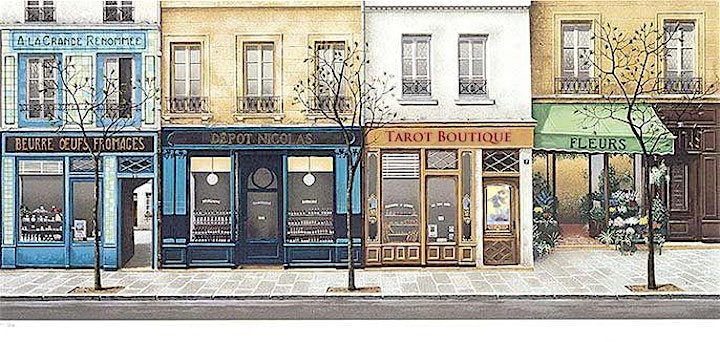 About the Tarot Boutique:
• Have you been working with the Tarot or other wisdom tools for a while, and now you long to move beyond the introductory level?
• Have you found that there are Tarot topics that intrigue, excite, and sometimes confuse you?
• Do you wish you could have a more personalized, dynamic experience, exploring more advanced ways that Tarot and other practices can work for you?
Come to the Tarot Boutique!
bou·tique (bo͞oˈtēk), noun.
1. A small store selling fashionable clothes or accessories.
2. A business that serves a sophisticated or specialized clientele.
3. Unique, exclusive workshops for the discerning Tarot connoisseur.
That's you!
These are intimate, tailor-made workshops for people who want MORE in-depth exploration into magical subjects, especially the Tarot.
I offer these classes in choice, specialty morsels that stand alone, or that can combine to offer you new sparkle and depth in your practice.
Prerequisites:
This is not an brand-new introduction to Tarot, but it is newbie-friendly. That means if you are just now cracking open your first-ever pack of cards, this is not really for you. But if you are at least pretty familiar with what the Tarot is (and is not), and the basic structure of a Tarot deck (Majors, Minors, etc.) you are most welcome!
A good rule of thumb would be that you can create a 3-card reading for yourself and interpret it with some confidence (it's okay if you have to double-check with a book).
You will need at least one deck of your own, and a notebook for taking notes. Since this will include lots of interaction and conversation about topics that might be personal, no recording, please.
Last but not least, it would help for you to be fairly comfortable with using Zoom (you'll need a computer or other device and will need to be able to participate in Chat, etc.).
So sorry I can't provide refreshments like I have at past Boutiques held at my home, but there will be some break times, to keep the vibe relaxed and enjoyable.
Organizer of The Tarot Boutique Returns: Bring Out Your Decks!
Beth has read the Tarot since 1972 and has worked as a full-time reader and teacher of the Tarot for decades. She has taught many hundreds of students, some of whom have gone on to become professional readers themselves.
She is a member of American Tarot Association, Tarosophy Association, and Tarot Association of the British Isles; is founder of one of the world's oldest, largest, most active Tarot Meetups; writes an award winning Tarot newsletter; has been featured in dozens of magazine columns and articles; and is a former officer on the Cherry Hill Seminary board of directors.
Now retired from her reading practice, she is focused on writing and teaching.