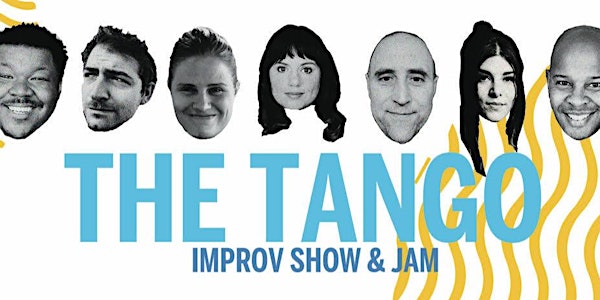 The Tango Jam
The Tango is an improv team and jam!
Date and time
Thursday, July 13 · 7 - 8pm PDT
Location
The Pack Theater - Broadwater Black Box 6322 Santa Monica Boulevard Los Angeles, CA 90038
Refund Policy
Contact the organizer to request a refund.
Eventbrite's fee is nonrefundable.
About this event
THE TANGO is Suzy Mae, Ted Harris, Jeremy Woodland, Brick Jackson, Nicky Urban, and Tezz Yancey. The Tango's all about 2-person scenes: in our jam, and our 2-person-focused form, the Echo.
Come Tango with us at Pack Theater, every second Thursday at 7pm. All skill levels welcome to our two-person-at-a-time jam. Bring a friend, or be paired with a stranger or a Tango player as you explore the characters and develop the relationship of an improvised two-person scene.
TEAM BIOS
💃Suzy Mae is an LA-based comedian, artist, and professional advertising strategist. Suzy is passionate about collaborative art, the power of tarot, and black cats.
💃Jeremy Woodland is a Valley Boy doing improv.
💃Ted Harris has been improvising for ten years, and has worked in improvised lighting design for just as long. He's very approachable, and wants to say hi! Please do!
💃Brick is an Actor/Writer/Comedian from the gritty streets of North Carolina. He's known around LA as "not Craig Robinson." You may have seen him in his memorable roles on film and television, playing riveting characters such as barkeep, Uber driver, customer #2, and gate guard. His main goal is to make you laugh, followed by his lifelong dream: to piss off Donald Faison. He is a Libra.
💃Nicky Urban is an actor/writer/improviser/comedian/host/producer/podcaster/dog mom/artist/mental health advocate/Florida Woman. She's performed and/or written on thousands of live comedy shows, plus America's Got Talent, Tosh.O, AOK, Funny or Die, and FemmebotPhD.com. Nicky was named one of WhoHaha's "LGBTQ Creators We Love," has ADHD, and loves potatoes. You should definitely listen to her podcast, Comedy Girl Crush.
💃Jess Hagge is an improviser from Iowa. She performed and taught improv in Kansas City, Missouri before moving to Los Angeles. She performs with The Tango as well as with German Supermarket and Sweeties and Cuties. She spends most of her time watching reality tv with her two cats, Marley Rivers and Milton Alley.
💃Tezz Yancey (TezzWorld, The Second City/UCB/IO/Comedy Central, Showtime, Disney, NBC, Vet-TV, Black improv Alliance, Pack theater, PIT, Brooklyn comedy collective, westside comedy theater) is a professional Los Angeles based Improviser, Actor, Vocalist, Dancer, Musician, Writer, Arranger, Producer and Director with over 20 years of performing, teaching & coaching experience. He made his Broadway debut at age 14, headlined his own shows in Las Vegas, produced multiple film score recordings and is a working Film and television actor in Hollywood. He trained at the Boston conservatory and Berklee in musical theater and music production.
About the organizer
The Pack Theater is Hollywood's home for live comedy. We also offer classes for sketch, pilot-writing, improv, stand-up, character, and more!