Description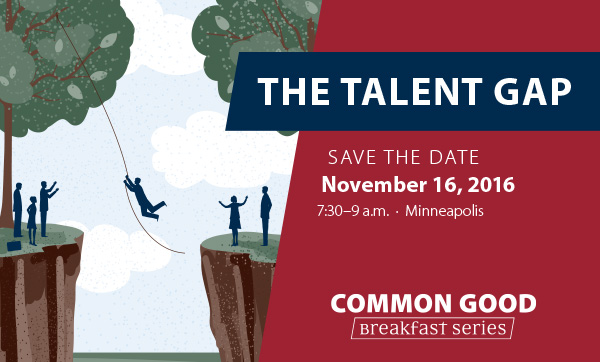 America is facing a very real and very challenging talent gap in today's workforce. Although hiring and retaining talent has always been a challenge for many businesses and organizations, today the problem is much bigger. Much of the incoming workforce lacks the skills and knowledge needed for today's jobs, and this event will explore why.
PANELISTS
Whitney Giga, Talent Management Consultant, Medtronic
Tim O'Neill, Regional Analyst, Twin Cities, Department of Employment and Economic Development (DEED)
Please note that previous event materials listed Steve Hine as the speaker from DEED. He is no longer available to participate in this event; however, we are happy to announce that Tim O'Neill will be joining our panel.
Dr. Richard Wagner, President, Dunwoody College of Technology
NONPROFIT RECIPIENT
The Common Good Breakfast Series contributes event proceeds to the nonprofit organization featured at each session. This event's recipient is HIRED.
SPONSORS
First National Bank of Northfield