How are successful companies built? What are the characteristics of successful entrepreneurs? What was different in their endeavor?
About this event
These questions motivated us to invite successful Iranian-American entrepreneurs, who have all built category-defining tech companies, to share their stories from when they were a student until today. We will learn about their journey towards success and discuss how their experiences shaped their entrepreneurial path.
We are incredibly proud to have "Narges Baniasadi" as our final speaker:
Dr. Narges Baniasadi has led multiple initiatives and businesses in the intersection of Technology and Life Sciences for more than a decade. She founded Bina, a pioneering Bioinformatics company, out of a decade of research at Stanford and UC Berkeley. Bina developed high performance computing platforms and AI solutions for cancer research and genomics analysis. Later, upon acquisition of Bina by Roche, she led the clinical software development and AI research as VP of Informatics at Roche Sequencing. Currently, she is working with multiple Universities and entrepreneurial platforms across the globe to support mission-driven businesses. Narges is currently the Founder and Executive Director of Emergence program and serves as an Adjunct Faculty at Stanford University.
Narges graduated from the University of Tehran with a Bachelor's degree in Computer Engineering and continued her studies at Stanford where she received her Masters and PhD degree in Electrical Engineering.
Zoom Webinar information will be sent via email before the event.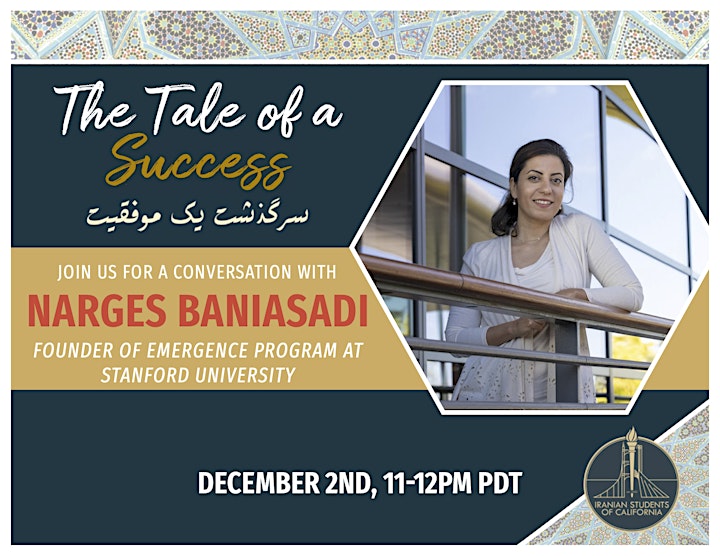 Organizer of The Tale of a Success with Narges Baniasadi
The ISC is an independent, non-partisan, religiously unaffiliated, voluntary, collaborative coalition among Iranian Student Organizations from 10 universities across California (and growing), who have come together in an attempt to bring together students of Iranian heritage across the state through community-building, advocacy, and mentorship. We also wish to create a deeper integration of Iranian students with the Iranian community in the U.S. We strive to be a thriving student-led organization, focused on the betterment of academic, professional, and cultural experiences of Iranian students in California.