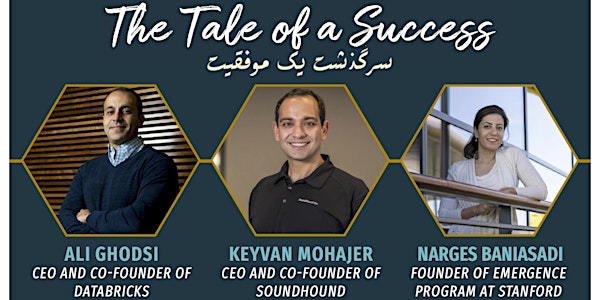 The Tale of a Success with Ali Ghodsi
How are successful companies built? What are the characteristics of successful entrepreneurs? What was different in their endeavor?
About this event
These questions motivated us to invite successful Iranian-American entrepreneurs, who have all built category-defining tech companies, to share their stories from when they were a student until today. We will learn about their journey towards success and discuss how their experiences shaped their entrepreneurial path.
This inaugural episode of The Tale of a Success series is brought to you in collaboration with ISAA at Berkeley, as part of the "A Little More Series", and we are incredibly proud to have "Ali Ghodsi" as our first speaker:
Ali Ghodsi is the CEO and co-founder of Databricks, responsible for the growth and international expansion of the company. He previously served as the VP of Engineering and Product Management before taking the role of CEO in January 2016. In addition to his work at Databricks, Ali serves as an adjunct professor at UC Berkeley and is on the board at UC Berkeley's RiseLab. Ali was one of the original creators of open source project, Apache Spark, and the ideas from his academic research in resource management and scheduling and data caching have been applied to Apache Mesos and Apache Hadoop. Ali received his MBA from Mid-Sweden University in 2003 and PhD from KTH/Royal Institute of Technology in Sweden in 2006 in the area of Distributed Computing.
Zoom Webinar information will be sent via email before the event.
PS: You can also use the following links to RSVP for Keyvan Mohajer and Narges Baniasadi's seminars:
https://www.eventbrite.com/e/the-tale-of-a-success-with-keyvan-mohajer-tickets-173071951867
https://www.eventbrite.com/e/the-tale-of-a-success-with-narges-baniasadi-tickets-173073135407