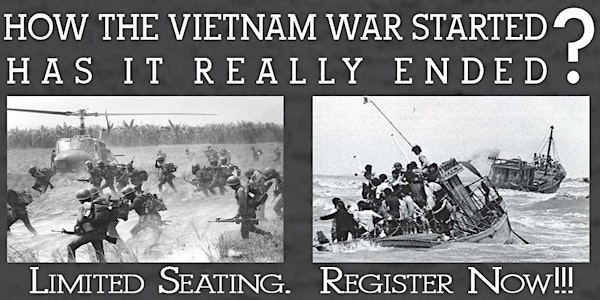 The Symposium of Vietnam: The Struggle for Freedom and Democracy
When and where
Location
Tarrant County College - South Campus 5301 Campus Drive Fort Worth, TX 76119
Description
Stories about the Vietnam War have been told time and time again, mostly from the American and the North Vietnamese Communist viewpoints. Rarely is the Vietnam War shared from the perspectives of the South Vietnamese refugees, many of whom now live among us as hardworking and patriotic Americans. Forty two long years have gone by since the Fall of Saigon. It is time to learn about the War from the perspective of those who suffered the most.

In partnership with Tarrant County College South Campus, "Vietnam: The Struggle for Freedom and Democracy" presents a compelling program consisting of panel discussions, key note address, break out sessions and ample of time for interactive Q&A. Subject matter experts like Dr. Geoffrey Shaw, the author of "The Lost Mandate of Heaven" will reveal shocking facts about the War based on his research.
"Vietnam: The Struggle for Freedom and Democracy" is the first Symposium of its kind in DFW; done in English from the perspective of the South Vietnamese refugees for the younger Vietnamese Americans and the American public.
A certificate of completion will be issued from Tarrant County College for 5 hours of professional development.
Please visit www.vnwar.org for more details about the Symposium.