The Surprising Power of Liberating Structures

Wednesday, January 29, 2014 at 8:30 AM

-

Thursday, January 30, 2014 at 5:00 PM (PST)
Event Details
NOTE: 
Day #1 (Preparing to be surprised) is on January 29th from 10am - 5pm
Day #2 (Kicking it up a notch) is on January 30th from 8:30am - 5pm
Scholarships available on an as-needed-basis. Contact Keith for details (keith@liberatingstructures.com).
The purpose of this twofold workshop is to offer LS users the chance to kick their practice up a notch; and, to inspire the people just getting started with opportunities to accelerate their efforts.
Day 1 and 2 will offer a hands-on repertoire for experimenting in a wide range of applications: small group interactions to system-wide initiatives: meetings, projects, problem solving, change initiatives, product launches, strategy development, and more.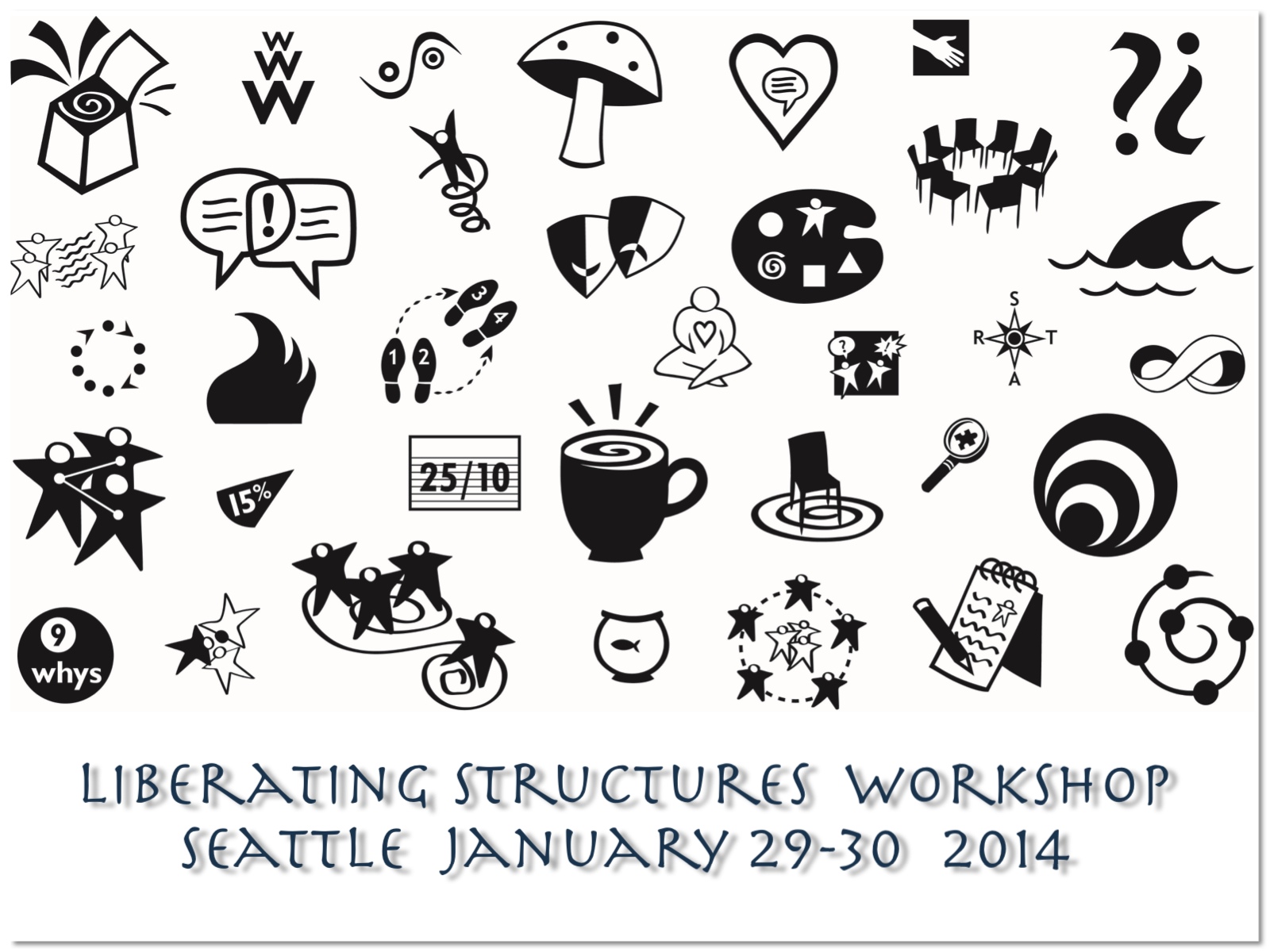 DAY 1: Preparing To Be Surprised :: January 29th 10am – 5pm
In this roll-up-your-sleeves immersion workshop, participants will learn and immediately use 10-12 Liberating Structures. A practical understanding of LS methods and effective strings can be developed in the moment, often as the action unfolds. By the conclusion of this session, participants will have gained enough experience to start using LS in everyday operational settings with little risk.
Are you curious about how LS is generating better-than-expected results in big projects, strategy+design efforts and transforming movements? Examples of LS enabled innovations from across business, NGOs, healthcare, government, philanthropy, and schools will be shared. Leaders from up-and-down the hierarchy and changemakers of all stripes will be present.
Groups working on a shared challenge often make significant progress during these workshops. Bring along your colleagues or clients to learn together, deepen relational coordination, and make plans to launch new activities.
DAY 2: Kicking It Up A Notch :: January 30th 8:30am – 5:00pm
Do you want to shoot-for-the-moon with your feet on the ground? The simple rules that power LS provide a solid foundation to explore ever more subtle variations, bold designs, and audacious goals. We will feature people leaping beyond great meetings, high engagement projects, and inclusive strategy-making toward enduring results and positive cultural shifts. Over the last year, many users have ventured into new territory and they have fabulous stories to tell.
This full day workshop brings LS users from many types of organizations and far flung locations together in order to:
Give and receive LS-enhanced help with challeng

es

Share multiple examples of exciting LS strings and design storyboards 

Witness how LS are being applied with virtual teams using web conferencing (WebEx and AdobeConnect)

Play, practice and pounce on new Liberating Structures being invented by users

Cultivate simple conditions that help spread and scale LS—up levels and out across settings; and,

Gain insights from the just published book:

The Surprising Power of Liberating Structures

.
Learn more about Liberating Structures at www.liberatingstructures.com
Workshop Designers: Keith McCandless, Liz Rykert, Fisher Qua, Nancy White, Julie O'Leary, Kevin Buck, Molly Angel, Jeremy Lightsmith, Shawn Henning, Neil McCarthy, and Tim Jaasko-Fisher.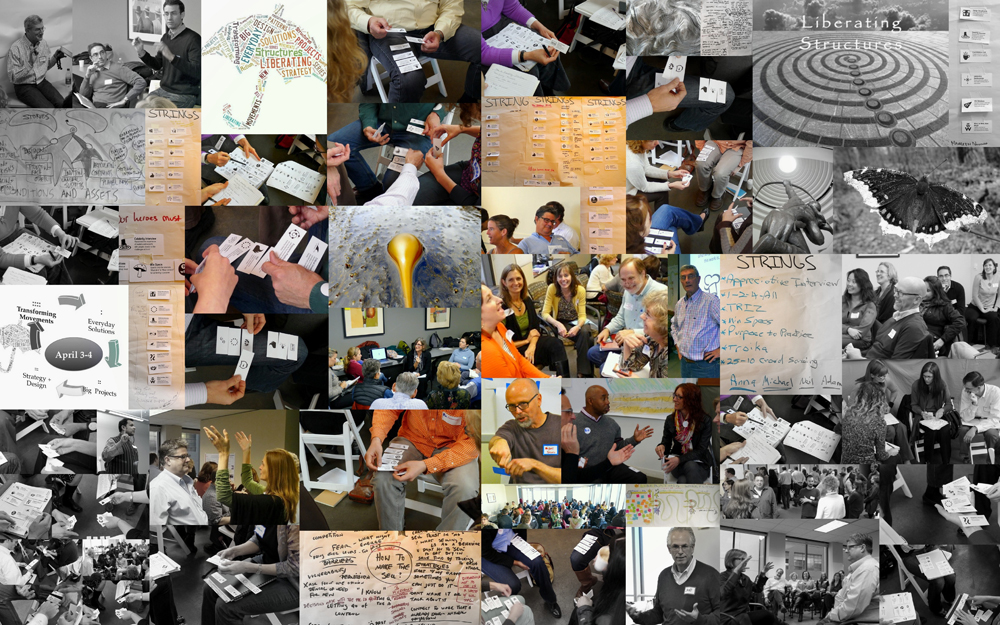 When & Where

Kakao
415 Westlake Ave
Seattle, WA 98104


Wednesday, January 29, 2014 at 8:30 AM

-

Thursday, January 30, 2014 at 5:00 PM (PST)
Add to my calendar
Organizer
Keith McCandless + Fisher Qua
Keith McCandless:
Co-founder of the Social Invention Group; Co-developer of Liberating Structures, Co-author "The Surprising Power of Liberating Structures – Simple Rules to Unleash a Culture of Innovation" (2014). Former Plexus Institute board member and scientific advisor.
I help people in organizations innovate and manage complexity by working with groups to unleash creativity, discover opportunities, and build on momentum. I am a founding partner of the Social Invention Group since 2000, and my eclectic skills are grounded in organization development, complexity science, business strategy, and graphic facilitation—all with an improvisational twist.
Born in Cincinnati Ohio, I hold Masters in Management of Human Services from Brandeis University in Boston and a BA from Evergreen State College in Olympia, Washington. Keith lives in Seattle with his wife, Anne, and Deacon, a whippet with talent to amuse.
Fisher Qua:
Practitioner, Back Loop Consulting
Eclectic background in history, modern dance, athletics, community farming, and 

nonprofit/higher education administration and 

management

Previously led innovation initiatives at the 

Washington Health Foundation

Currently works with organization's of all stripes 

from community-based neighborhood initiatives to 

technology startups to the State of WA and other 

large scale enterprises

BA from Bates College in Lewiston, Maine, (almost) 

an MA in Higher Education Administration from the 

University of Michigan and an M.Ed. in Intercollegiate 

Athletic Leadership from the University of 

Washington
The Surprising Power of Liberating Structures