Description
The Sure Heart's Release
"All experience is preceded by mind, led by mind, made by mind."
Saturday and Sunday, March. 2 & 3, 10:00 am - 5:00 pm, with lunch break
In this retreat, we reflect on this verse from one of the most liberating texts of the Buddha's words, the Dhammapada. The awakening of the Buddha is an invitation to embody wisdom and freedom in our own lives. Practicing together, we will draw upon three traditions -- the heart of Zen, the spirit of Tibetan Buddhism and the essence of Theravada -- to illuminate this invitation.
Led by:
Trudy Goodman, Founding Teacher, InsightLA
Anam Thubten, founder and spiritual advisor of Dharmata Foundation
Norman Zoketsu Fischer, founder and spiritual director of the Everyday Zen Foundation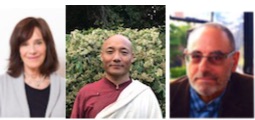 Cost:
Suggested Minimum Retreat Fee: $50; credit card only
Dana (donations) for the teachers may be offered at the retreat
No one turned away for lack of funds
PLEASE NOTE: You must fill in an amount when you register. Do not leave it blank.
Important Details:

Pre-registration online is required;
Please register only if you can attend both days; this is a two-day retreat.
Space is limited; please register in advance to insure admission
Registration closes March 1, 2019
Cancellation Fee: Full refunds will be offered up to 2 weeks prior to the event, (Feb. 16.) After that, refunds willbe considered on a case-by-case basis.
Volunteers: Your volunteer service is greatly appreciated. Please use this link to sign up for a volunteer slot of your choice (the sheet requires either a computer or Google Sheets app on a mobile device, in order to fill in your name.)
Questions:
Registration: David: daveychristie@gmail.com
Volunteering: Susan: susan.dharmata@gmail.com
General: Kimberly: Kimberly.dharmata@gmail.com