Description
The Superpower Summit
is the newest, premium full-day retreat experience from sparkspace where you will discover your "Ordinary Superpowers" and learn how to activate, enhance, and multiply your powers to achieve your greatest results yet!


What are "Ordinary Superpowers"?

Ordinary Superpowers are the unique set of abilities, talents, and skills that:
Come naturally to you.
You're better at than most.
Help people (including you).
You love using.
They're called "Ordinary Superpowers" because they very likely seem simply ordinary to you, but they can – and will – help you achieve truly extraordinary results in your life.
What kind of results? Your specific results depend on what you truly want. One thing many people do have in common, however, is that we often find fulfillment in the feeling that we are living up to our true potential and positively contributing to our world.
The Superpower Summit is designed to help you maximize your impact throughout your life by identifying, understanding, and using your Ordinary Superpowers to their fullest.
Is This Retreat Right For You?
The Superpower Summit is for business professionals who:
Are always

busy

, yet never feel like they are

advancing

or

fulfilled

.

Want to feel

passionate

and

excited about work

again.

Desire to bring

their strongest, most authentic self

to life.

Are ready to

maximize their impact

in their workplace, home, and community.
While we know this event has wide appeal, most of the participants will be experienced professionals with at least several years of work experience, including senior associates, mid- to upper-level managers, directors, and VPs.
---
"Who doesn't want to be a superhero? This event opened my eyes to the importance of recognizing what makes each of us special and making sure we nurture that so we can become the best we possibly can be."
— Allen Lloyd, Ohio Society of CPAs
---
In This Retreat You'll Learn How To:
Discover your personal set of Ordinary Superpowers – the unique combination of abilities, talents, and skills that will result in your greatest level of contribution.
Activate your Ordinary Superpowers superpowers by identifying where you're already using them and where you can proactively apply them in the future for even more impact.
Enhance your Ordinary Superpowers in order to maximize the power you already have.
Multiply your superpowers to create five, ten or even one hundred times the results you're currently capable of.
All Participants Will Receive:
A one-of-a-kind, full-day, immersive experience at sparkspace.
Clarity of your Ordinary Superpowers.
A solid plan to enhance and multiply your impact.
An immediate increase in focus and energy.
Increased ability to think and act on a much bigger scale.
Powerful new connections and friendships.
Several tools that you can use and reference over and over.
A copy of Mark's soon-to-be-released book on Ordinary Superpowers.
Lifetime membership to The Rockstar Academy and access to all of its' world-class content ($99 value)
A premium journal to use in the workshop and beyond.
Healthy, energizing breakfast, lunch, and snacks.
Parking
---
"The Superpowers event helped me to realize we all possess something special. Working with others helped me identify things about myself that I didn't even realize were superpowers. We all have something unique to contribute."
— Amber Tran, OhioHealth
---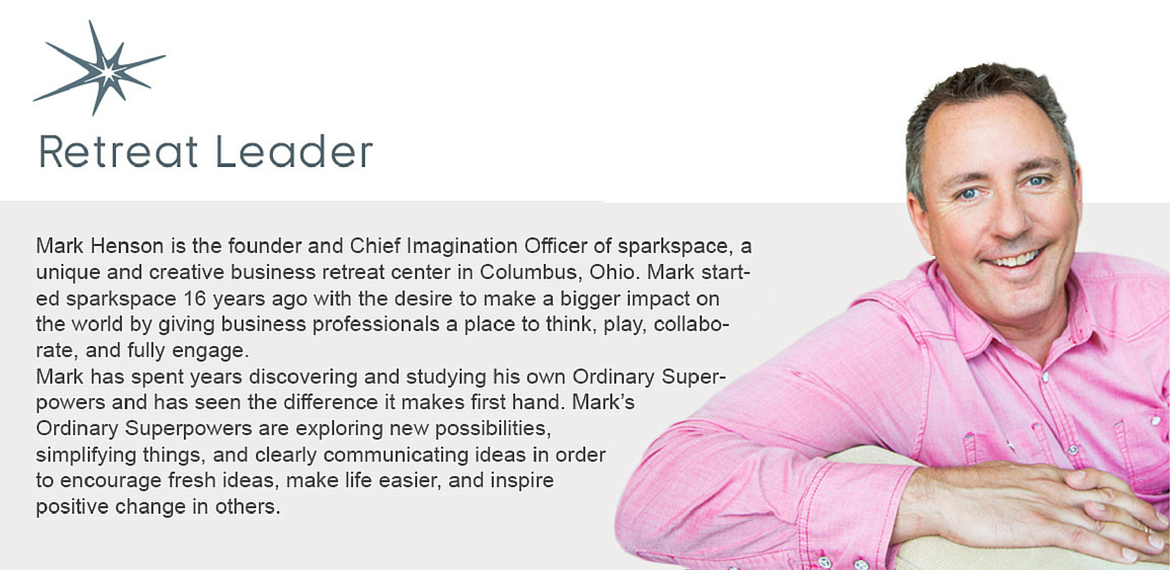 ---
"The Superpowers event reminded me that insights and "aha's" are the currency of any personal development work we pursue. My "aha" was a reminder that language sets an intention, not hope, and words provide action, not apathy"
-Connie T. Chwan, Pure Direction, LLC
---
"Mark is an enthusiastic and engaging presenter who guides you down the path to realize the magnitude of your personal powers. It is so refreshing to focus on our powers vs. trying to fix everything that is not a power. I also had a chance to network with other professionals who I would not have met otherwise. Great event! I highly recommend it."
—Cynthia Stayrook, Author, Speaker, Coach
---

Actual comments from anonymous feedback forms that we pass out at the end of each session:
"I loved how inspiring it was. I also loved the element of personal interaction."
"I feel like I have the ability to truly make a difference with a skill I never would have considered to be a real superpower."
"It's challenging -- but a GOOD challenging."
"My expectations were surpassed by far."
"Just what I needed to make small changes that will lead to big rewards."
"Good way to think & something I will use going forward..."
"Great framework for discussion and personal reflection."
"Energetic, fun, makes you think in depth about who you are and what you are good at doing."
FAQs
Who attends The Superpower Summit?
We get a range of business professionals from many different industries. The one thing they have in common is that they really desire to contribute more and get more fulfillment from work (and life). They often know they have a lot to offer, but feel a little stuck at the moment. Typical age range is 30-50, fairly evenly split between men & women.
How long is the event?
The event starts at 8am and typically ends by 3pm. You are welcome to stay at sparkspace until the end of the day. Many of our participants will hang out in our space to decompress, do some further exploration, check their email, or even get to know other participants better before they leave.
Is there any "pre-work" before the event?
No. We've made The Superpower Summit a self-contained event.
Is there any follow-up after the event?
Every attendee will receive two items to help them in their ongoing development. One is a copy of Mark's soon-to-be-released book on Ordinary Superpowers. The other is membership in The Rockstar Academy, an online membership website with hours of webinars, podcasts, and helpful tools.
Who is the facilitator?
Mark Henson facilitates this retreat. Mark is a very experienced retreat leader and the founder of sparkspace. He has done extensive work in this area and is currently writing a book on the material. You can find out more about Mark on his personal website.
What is included in the registration fee?
This is an all-inclusive event. You will receive high-quality materials, plus healthy breakfast, lunch, and snacks throughout the day, parking, a copy of Mark's soon-to-be-released book, and membership in The Rockstar Academy.
What kind of food do you provide?
We partner with amazing caterers to provide healthy, high-energy meals and snacks at our retreats. We also provide locally roasted coffee, high-quality tea, and a variety of other refreshments at all times.
Where can I contact the organizer with any questions?
Email is best: mark@sparkspace.com. You can also call our office: 614-224-7727
Is my registration/ticket refundable?
Workshop registration works like a concert ticket. It is non-refundable, but you can definitely give or sell your ticket to someone else if you can't make the event.
Where is the event?
This Superpower Summit will be at sparkspace, 300 Marconi Blvd, 2nd Floor, Columbus, OH, 43215. We recommend using the directions on our website rather than Google Maps or Mapquest. Our directions will make sure you not only find our building, but also get you to the correct parking lot.
Are there hotels nearby?
Yes! We are very near the Columbus Convention Center, so there are several hotels within very short walking distance (we can see them from our windows). Here is a link to the hotels
Transportation from the airport is available via taxi for approx $25 or a brand new airport shuttle bus from COTA for only $2.75. Some Uber drivers may also have an airport pickup permit.
Do you ever conduct "private" Superpower Summits for teams or companies?
Yes! Contact mark@sparkspace.com for more info.