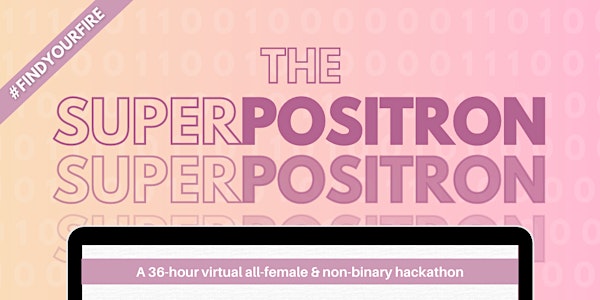 The SuperPOSITRON: Superposition Toronto's All-Female/Non-Binary Hackathon
Toronto's first all-women and non-binary hackathon open to students of all ages. All experience levels welcome!
About this event
The SuperPOSITRON is an all-female & non-binary virtual hackathon hosted by Superposition Toronto, Toronto's largest student-led women in STEM organization. We aim to bring women into STEM by allowing them to learn by doing, in a welcoming, supportive environment where they can explore and build their confidence.
Join us at The SuperPOSITRON August 13 to 15 for a weekend of learning, building, and networking. There will be plenty of technical and career-building workshops, networking opportunities, and the chance to win some amazing prizes. We are international and virtual, so you can join in from anywhere in the world!
No coding experience is required. We will hold introductory workshops during "Liftoff", the week leading up to the hackathon to help develop your coding skills and give you all the tools you need to build a project of your own.
-------------------------------------------------------------------------------
ELIGIBILITY
We welcome students of all ages who identify as female or non-binary to compete in our hackathon! However, people of all gender identities are encouraged to support our attendees by mentoring, judging, leading a workshop, or serving as an intern.
-------------------------------------------------------------------------------
WHAT IS SUPERPOSITION TORONTO:
Superposition Toronto is a youth-led organization with the mission of bridging the gender gap in STEM by creating educational opportunities and supportive communities. Our approach is to actively bring girls into STEM by hosting panel discussions, hackathons, and workshops on a variety of different topics (i.e. AI, ML, blockchain, UX design, competitive programming) and in doing so, create a safe space where everyone feels that they truly belong. Since being founded in July 2020, we've reached 10,000+ individuals in 6 provinces, 27 countries, and all inhabited continents through our content, social media, workshops, and other initiatives.
Email ch.toronto@superposition.tech with any questions and follow us @superpositiontoronto on Instagram for our latest updates.
-------------------------------------------------------------------------------
Stay Connected: