The Superlative Light ATX Launch Party

Saturday, November 15, 2014 from 7:00 PM to 10:00 PM (CST)
Event Details
ART.SCIENCE.GALLERY.  PRESENTS
THE OFFICIAL ATX BOOK LAUNCH PARTY FOR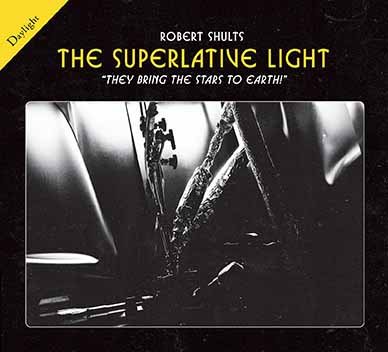 THE SUPERLATIVE LIGHT
PHOTOGRAPHS BY ROBERT SHULTS

WITH AN ORIGINAL STORY BY SCIENCE FICTION AUTHOR RUDY RUCKER
AND AN ESSAY BY DR. TODD DITMIRE,
DIRECTOR OF THE TEXAS CENTER FOR HIGH ENERGY DENSITY SCIENCE
Austin based photographer Robert Shults grew up with a passion for sci-fi movies and outer space exploration, and was drawn to physics as photographers and physicists share in common the same basic tools -- light, space and optics. In 2009, Shults was introduced to the Texas Petawatt Laser facility, an unparalleled research laboratory in Austin, Texas that at the time produced the most powerful laser pulse in the world. When he witnessed the laser in action he knew it had to be the subject of his next photography project. 

The Superlative Light (Daylight Books) presents a layman photographer's awestruck tour of this hallowed facility located in the bowels of the University of Texas at Austin where an elite group of scientists conduct experiments that are impossible to imagine -- daily releases of a force that constitutes the brightest light known to exist in the entire universe. The Petawatt laser can produce, for a fraction of a second, more power than the entire U.S. electrical grid.

Art.Science.Gallery., a crowd-funded art gallery and science communication space based in Austin, is pleased to host the official launch party for The Superlative Light, which will be attended by Robert Shults and scientists from the Texas Petwatt Laser who will sign copies of the book that will be on sale at the venue. 

RSVP at SuperlativeLightATX.eventbrite.com and be automatically entered to win a signed copy of The Superlative Light!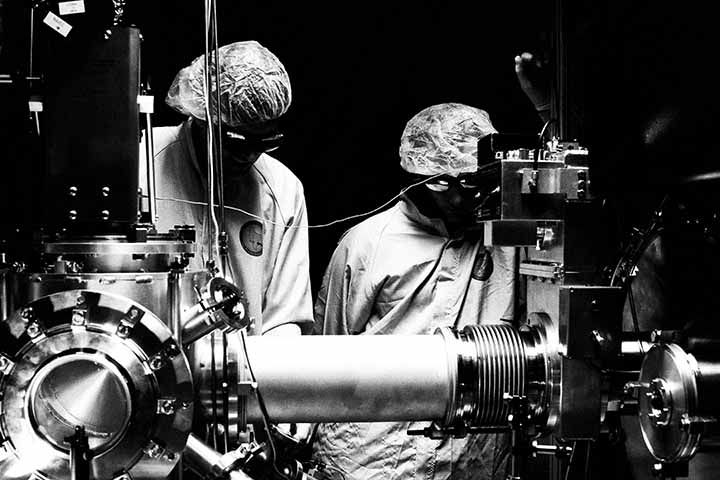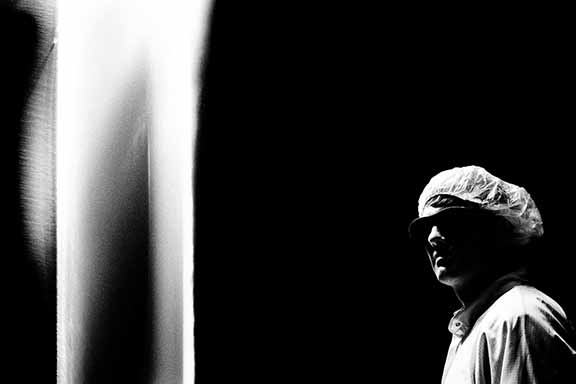 This special book launch event takes place during Art.Science.Gallery.'s X Marks The Spot exhibition of contemporary artworks exploring scientific variables and will be held on the first evening of EAST Austin Studio Tour, a self-guided tour of East Austin's studios, galleries and creative spaces. (In 2015, an exhibition of original photography from The Superlative Light will be on view at Art.Science.Gallery. from March 7 - April 11, 2015, with an opening reception on March 7 from 7-10pm.)

About the Book

With his range-finder camera and 1600 ASA film, Shults captures the scientific and fantastical aspects of a laboratory which is home to an intensely focused beam that creates the sort of matter found at the center of stars or areas in close proximity to black holes. These scientists observe the blast waves of exploding stars, and chart how such forces form new galaxies in their wake. They extract electrons from their atoms, generating the very same fusion reactions that power our sun. These events occur in a flash of brilliance briefer than any other in human history.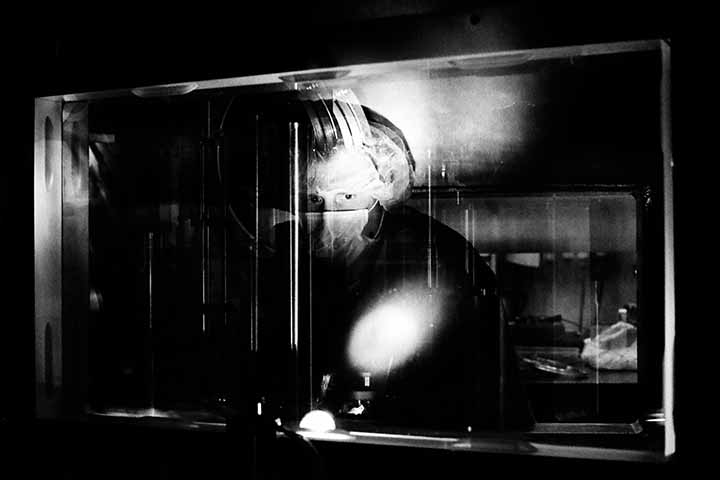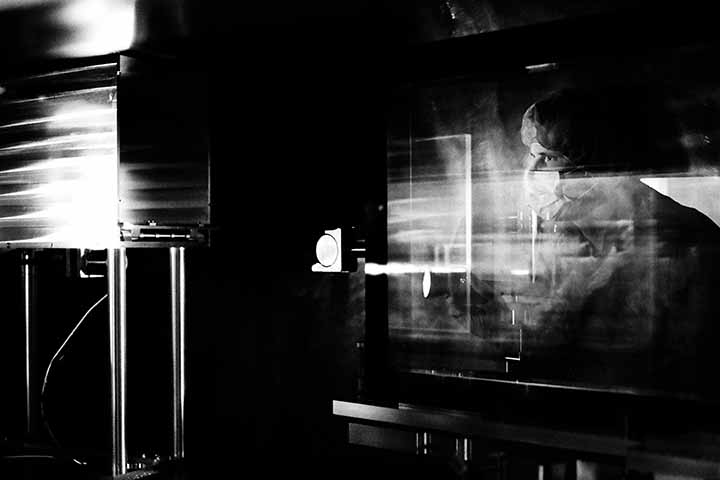 Shults' series of images draws upon the visual traditions of "grade B" science-fiction cinema that have a grainy, film noir quality that plays up the drama, mystery, and slightly unsettling atmosphere of this rarified space where some of the most extreme conditions in the universe are recreated. In The Superlative Light, Shults recasts real working scientists as the heroes of an imaginary epic who are bestowed with God-like powers to bring the stars to Earth.

The Superlative Light features an original fiction story, inspired by the photographs, by award-winning author and mathematician Rudy Rucker. Dr. Rucker's piece augments the photographs' dual modes as components of both fictional and documentary narratives. The book also features a scientific introduction by Dr. Todd Ditmire, director of the Center for High Energy Density Science and chief developer of the Texas Petawatt.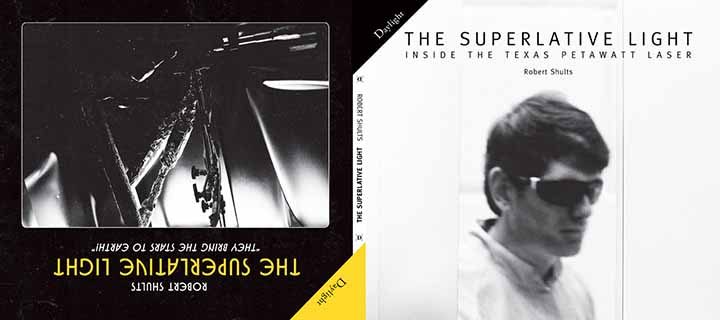 The book, which is designed by Ursula Damm, is bound using a "head-to-tail" binding that resembles old two-in-one sci-fi books which allow readers to read one novel from front to back, and then flip the book over and read a different story back to front. The front story starts with Ditmire's scientific text; the back with Rucker's sci-fi story. This playful construction highlights both the science and the art of the project and the intersection between fact and fiction. Each copy of the volume includes a unique bookmark made from specialized laser "burn paper" with an image etched directly onto its surface by the Texas Petawatt.
---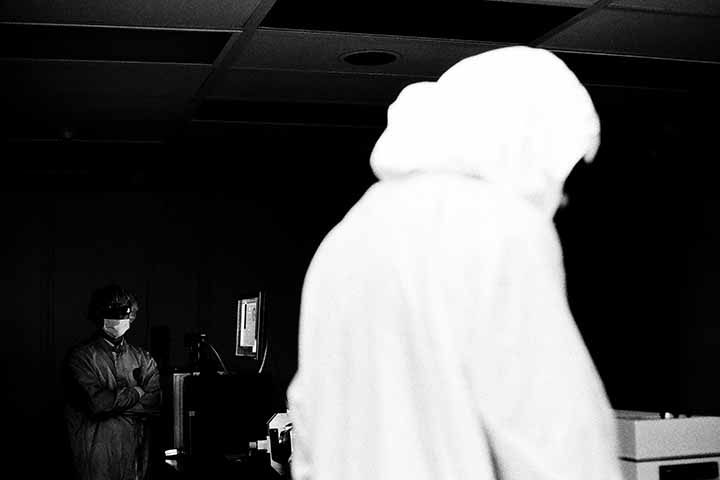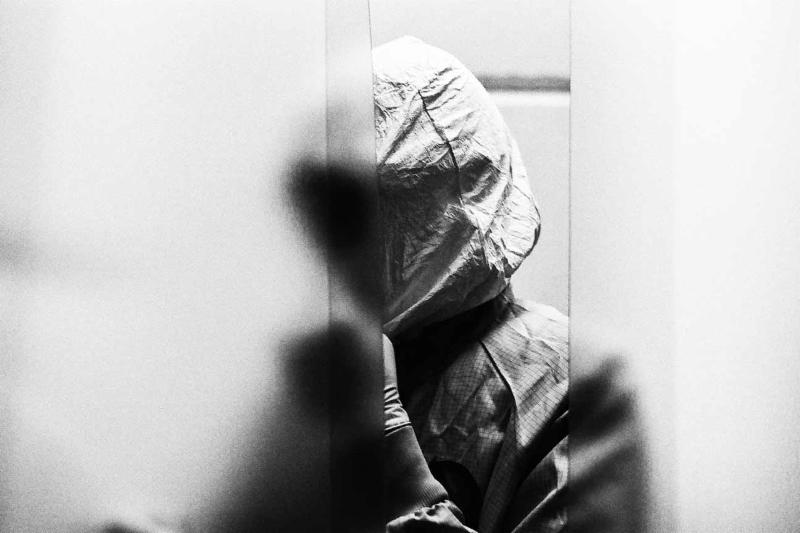 Photographer and educator Robert Shults is based in Austin, Texas. He studied photography on location in Central America with Barbara McClatchie Andrews, and has traveled and photographed extensively throughout Latin America, Britain, and the United States. From 2007 until 2010 he taught photography at the University of Texas at Austin, as part of the Informal Classes program. Shults is a Critical Mass 2014 finalist for his work in The Superlative Light. An exhibition of the work will be shown at the Daylight Project Space in Hillsborough, North Carolina in October 2014. Shults' work has been published in The New York Times, WIRED, Smithsonian, F-Stop magazine and Lenscratch. For more information, go here.

Rudy Rucker received his bachelor's degree in mathematics from Swarthmore College and earned his PhD in mathematics from Rutgers University. In the course of a three-decade academic career, he taught at SUNY Geneseo, Ruprecht Karl University of Heidelberg, Randolph-Macon Woman's College, and San Jose State University. Rucker is regarded as a contemporary master of science fiction and one of the founders of the cyberpunk literary movement. He has received the Philip K. Dick Award twice. His 37 published books include the novels of The Ware Tetralogy and nonfiction books on the fourth dimension, infinity, and computation.

Dr. Todd Ditmire earned his bachelor's degree from Harvard University in physics and art history and received his PhD in physics from the University of California at Davis. He is currently professor of physics at the University of Texas at Austin, where he is director of the Center for High Energy Density Science and the Texas Petawatt Project. He was previously a staff scientist and project leader at Lawrence Livermore National Laboratory.

Art.Science.Gallery. is a crowd-funded art gallery and science communication space dedicated to art-science fusion of all kinds. Located in the creative heart of East Austin, it is surrounded by the studios and galleries in the Canopy arts complex at 916 Springdale Rd. The gallery's mission is to provide a friendly environment to make science more accessible to everyone through science-related visual arts exhibitions and events, foster the careers of emerging and established artist-scientists and to provide professional development opportunities for scientists to become more engaging public communicators. Art.Science.Gallery. is also proud to be a Platinum Level Austin Green Business Leader.
Daylight is a non-profit organization dedicated to publishing art and photography books. By exploring the documentary mode along with the more conceptual concerns of fine art, Daylight's uniquely collectible publications work to revitalize the relationship between art, photography, and the world-at-large. For more information, visit www.daylightbooks.org. Daylight recently launched an immersive art platform to satisfy the appetite of digital consumers that features the work of established and emerging artists. To check it out, visit www.daylight.co.
When & Where

Art.Science.Gallery.
916 Springdale Rd
Building 2 #102
Austin, TX 78702


Saturday, November 15, 2014 from 7:00 PM to 10:00 PM (CST)
Add to my calendar
Organizer
Located in the Canopy fine arts complex in East Austin at 
916 Springdale Rd Building 2 #102, Austin TX 78702
Visit our art exhibits and gift shop of science-inspired art! An art space exclusively dedicated to science-art fusion, Art.Science.Gallery. has exhibited over 500 science-inspired artists since it was founded in 2012 as part of its mission to support the growing SciArt movement. 
Art.Science.Gallery. hosted over 50 free public events in 2016 alone including lectures by artists and scientists, classes & workshop, exhibits, film screenings, art projects, demos and science fairs. Our crowd-funded gallery relies on support from generous supporters like you to keep these events free and frequent. Thank you!